Located in the centre of Italy, Tuscany is known for its rolling hills, charming hilltop villages, medieval cities, Sangiovese grapes and multitude of wineries. If you're looking for a destination that ticks off all the boxes for nature, history, food and wine, you can't go wrong with Tuscany.
Take a relaxing road trip into the iconic countryside to discover Tuscany's regional cuisine and world-renowned wine regions. During your 5 days in Tuscany you will explore two of Italy's most famous wine regions, Chianti and Montalcino, and visit the romantic city of Siena.
Our comprehensive 5 day Tuscany itinerary also includes where to stay and the best time of year to visit.
Overview: 5 Days in Tuscany
Days 1-3: Chianti - stay in an authentic agriturismo and explore Italy's famous Chianti wine region

Day 4: Siena - spend a day in the romantic medieval city in the heart of Tuscany

Day 5: Montalcino - take a day trip to the prestigous wine region for a fabulous winery lunch and to taste Brunello di Montalcino wines
Disclosure: Some of the links below are affiliate links, meaning at no additional cost to you, we will earn a commission if you click through and make a purchase. We only recommend products or services we have used or that we believe will add value to our readers. Thank you for supporting us!
Best time of year to visit Tuscany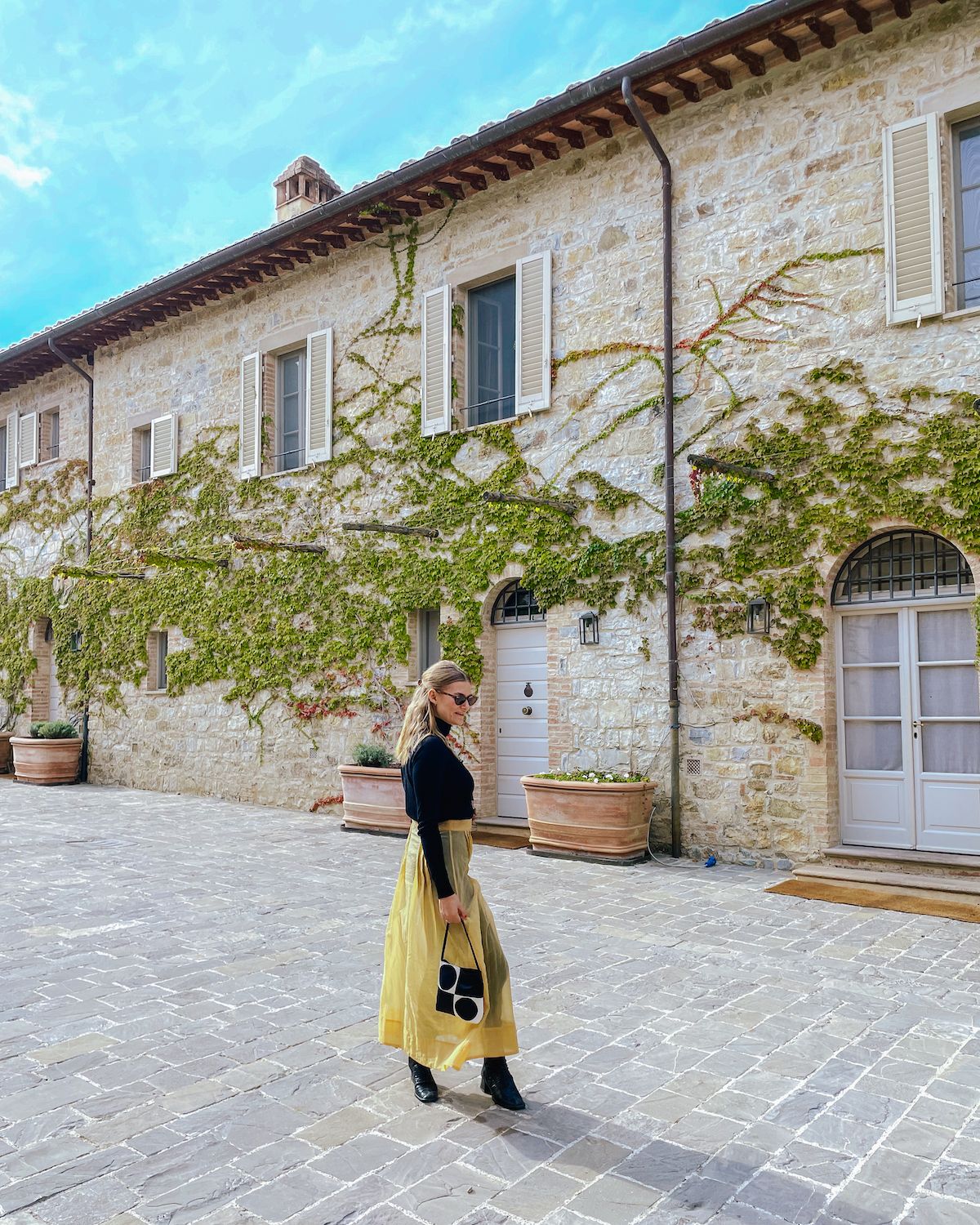 The best time of year to visit Tuscany is April-June and October. The weather is pleasant during these months and you will avoid peak tourist season (July-September), which sees larger crowds and higher prices. December - February is cold with highs only reaching 10°C.
From mid-April to May you are likely to see many flowers in bloom. If you are interested in visiting during harvest season, it generally takes place from mid-September to mid-October.
Getting around Tuscany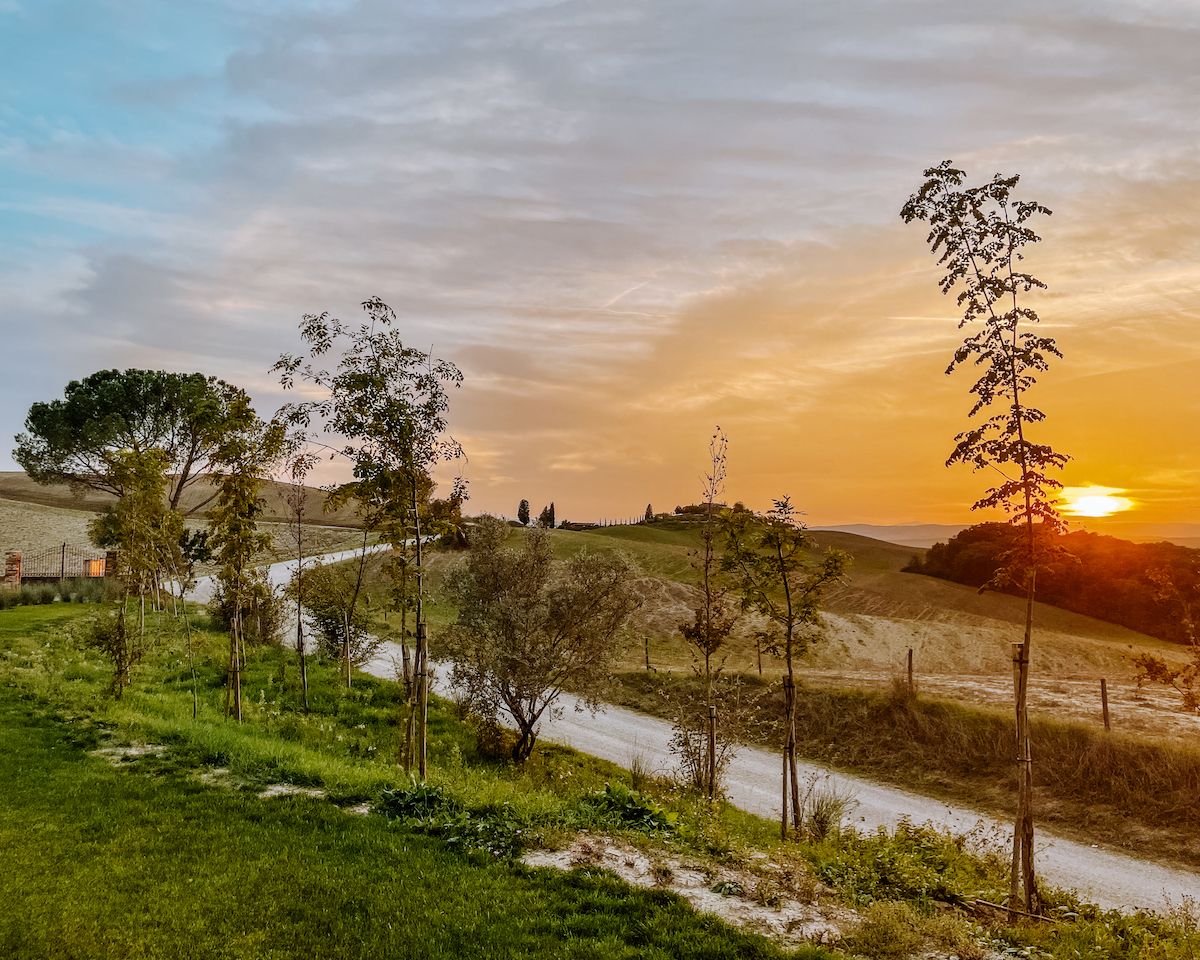 For this itinerary we recommend renting a car and organizing a private driver or group tour for the days you go winery hopping.
We found that hourly rates for private drivers can vary quite a bit. Our trick is to compare what your hotel or the winery you're visiting is quoting you (they usually partner with drivers) with the quotes you get online.
Viator and GetYourGuide are good sources for group tours
, however take note if you need to negotiate your pick up/drop off location.
Driving in Tuscany
Driving through the rolling hills and quaint towns of Tuscany is delightful. If you avoid driving through city centres like Siena, you should find driving in Tuscany no different than back at home.
🚘
Compare car rental rates in Tuscany.
Tuscany Itinerary 5 Days
Days 1-3: Chianti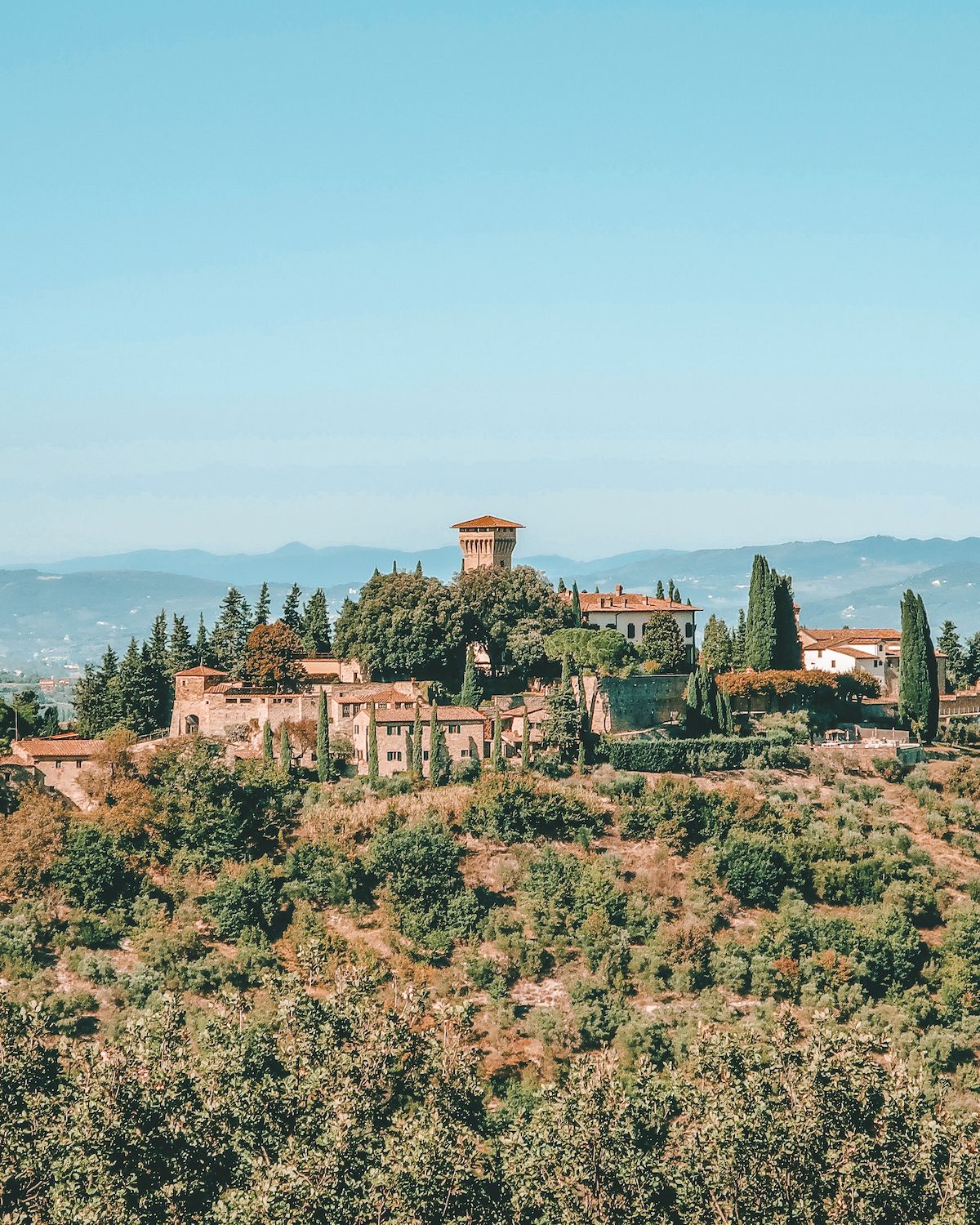 Your first stop is the famous Chianti wine region, known for its quaint hilltop towns, Chianti Classico wines and Tuscan culinary scene. Pick up your rental car at the Florence Airport and drive straight into the rolling hills. The drive takes under an hour.
Take these three days to unwind in nature, learn about wine and taste Tuscan specialties.
Where to stay in Chianti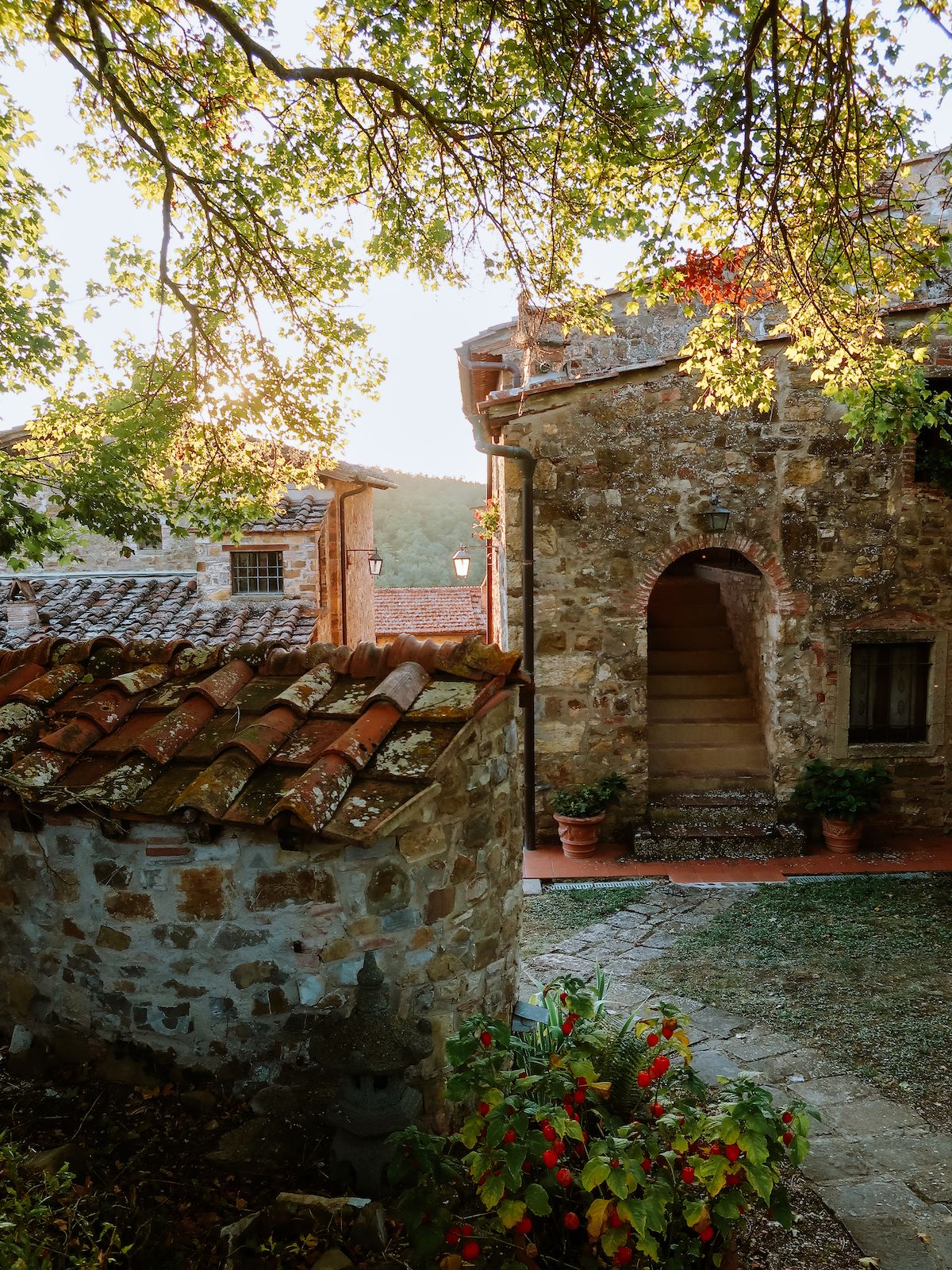 We highly recommend staying at an agriturismo, an authentic farmhouse that serves guests.
We stayed at
Podere Felceto
, an organic olive oil farm run by an Italian family near the town of Panzano. The farmhouse peacefully sits on the hillside and has an outdoor pool to relax at and take in views of the tree laden valley. It was the perfect jumping off point to discover acclaimed wineries and restaurants in the region.
One of the benefits of staying at an agriturismo is that your host knows the area better than what any online research will tell you. We got amazing restaurant and winery suggestions (which they helped us reserve) and we also pre-booked a homemade meal at the farmhouse for the third night of our stay. Their daughters, who went to cooking school in Florence, cooked for us and it was fantastic.
Staying in an agriturismo was one of the best hotel/Airbnb experiences we've ever had. It felt like staying in a gorgeous chateau, however it had a homey feel and the insights we received from the host family made it feel like a true local's experience.
Browse more agriturismo stays on Booking.com by filtering "Farm Stays".
Where to eat in Chianti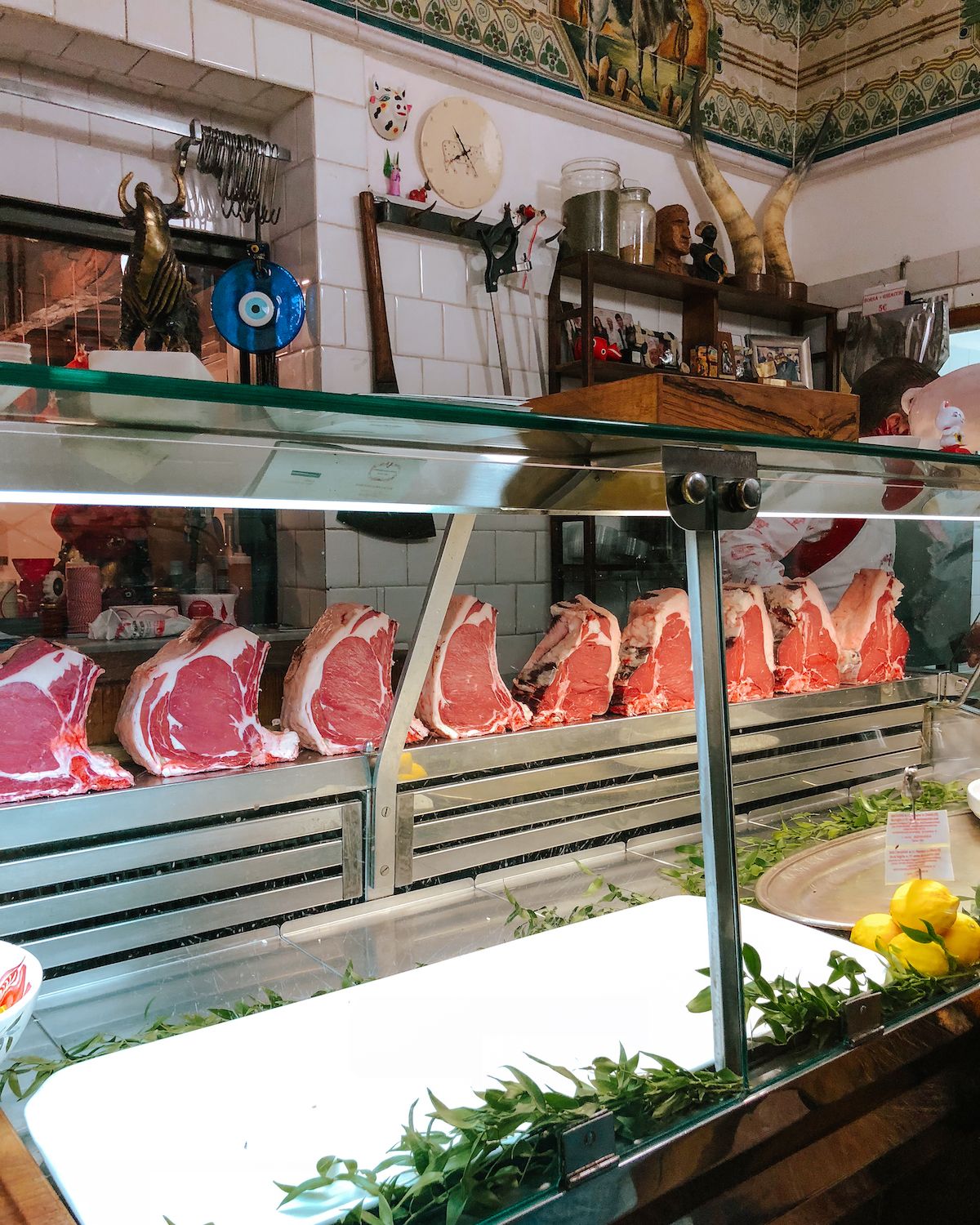 Don't miss these two restaurants nearby in the town of Panzano. Both were recommended by our host and they did not disappoint.
Best for a classic Tuscan experience: Ristorante Oltre Il Giardino
Dine at Ristorante Oltre Il Giardino for traditional dishes in a romantic setting. Pair the wild boar pappardelle with a glass of Chianti Classico wine.
Best for a unique experience: Officina Della Bistecca
Officina Della Bistecca is a steakhouse run by Dario Cecchini, one of the most famous butchers in the world. His family has been in the butchery business for eight generations and is a celebrity in the region. We arrived 15 minutes early to the butcher shop filled with cheering guests. Like a concert, AC/DC's "Highway to Hell" was blasting through the speakers while Dario cut up meat with a huge cleaver.
We were invited up some stairs to the dining floor where we were seated at a large communal table. We feasted on five varieties of cuts, which were cooked on charcoal in the same room. It was a ton of fun!
Winery hopping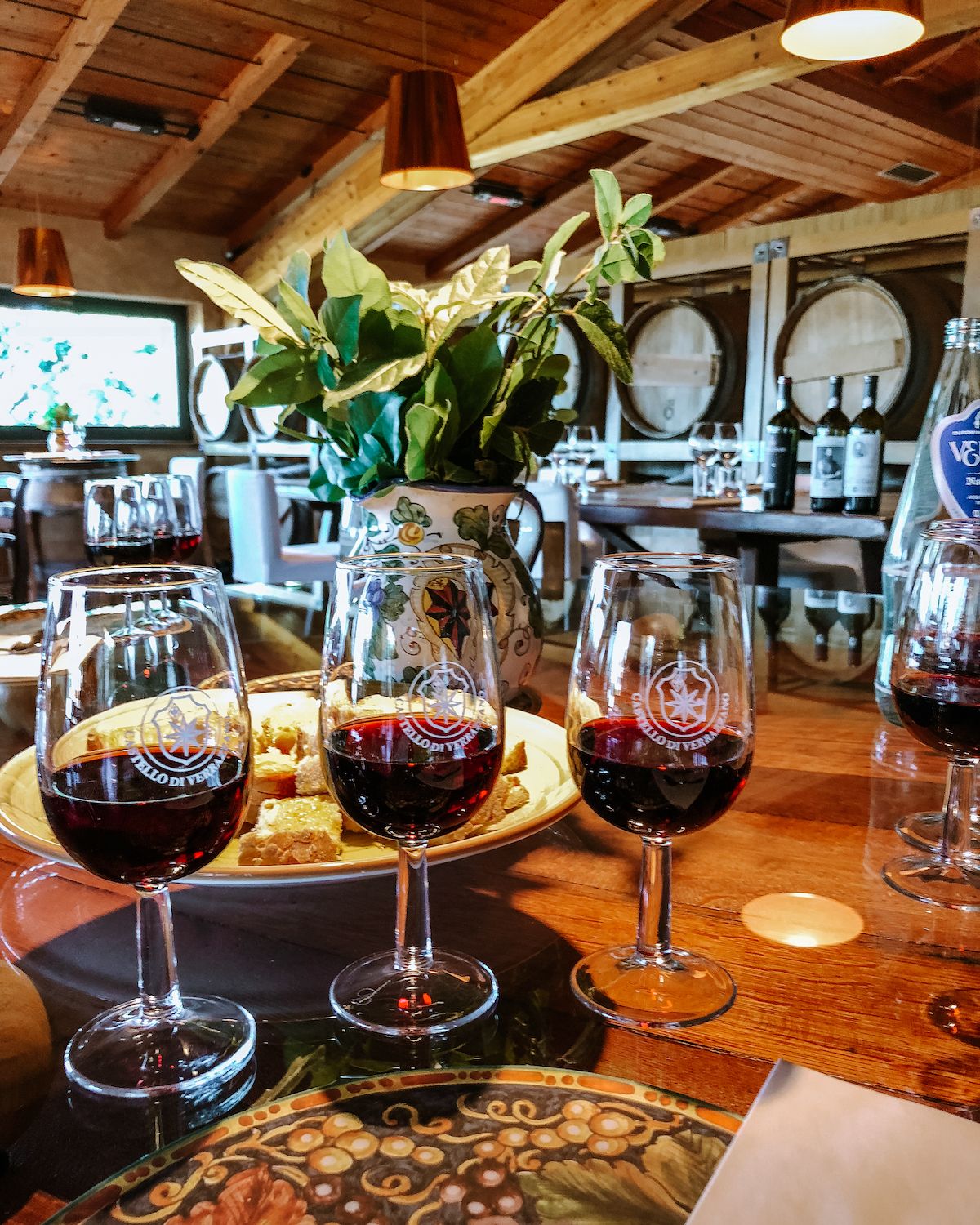 Chianti has an abundance of wineries to discover. Unlike some wine regions around the world where you can show up for a wine tasting, here, you need to book your wine tour in advance.
Our host recommended booking a wine tour at Castello di Verrazzano, a former Etruscan civilization and Roman settlement. It was one of the most informative wine tours we have been on. Our tour guide was passionate and we learned a lot about the history of the region and Chianti wines. You can easily book your tour online.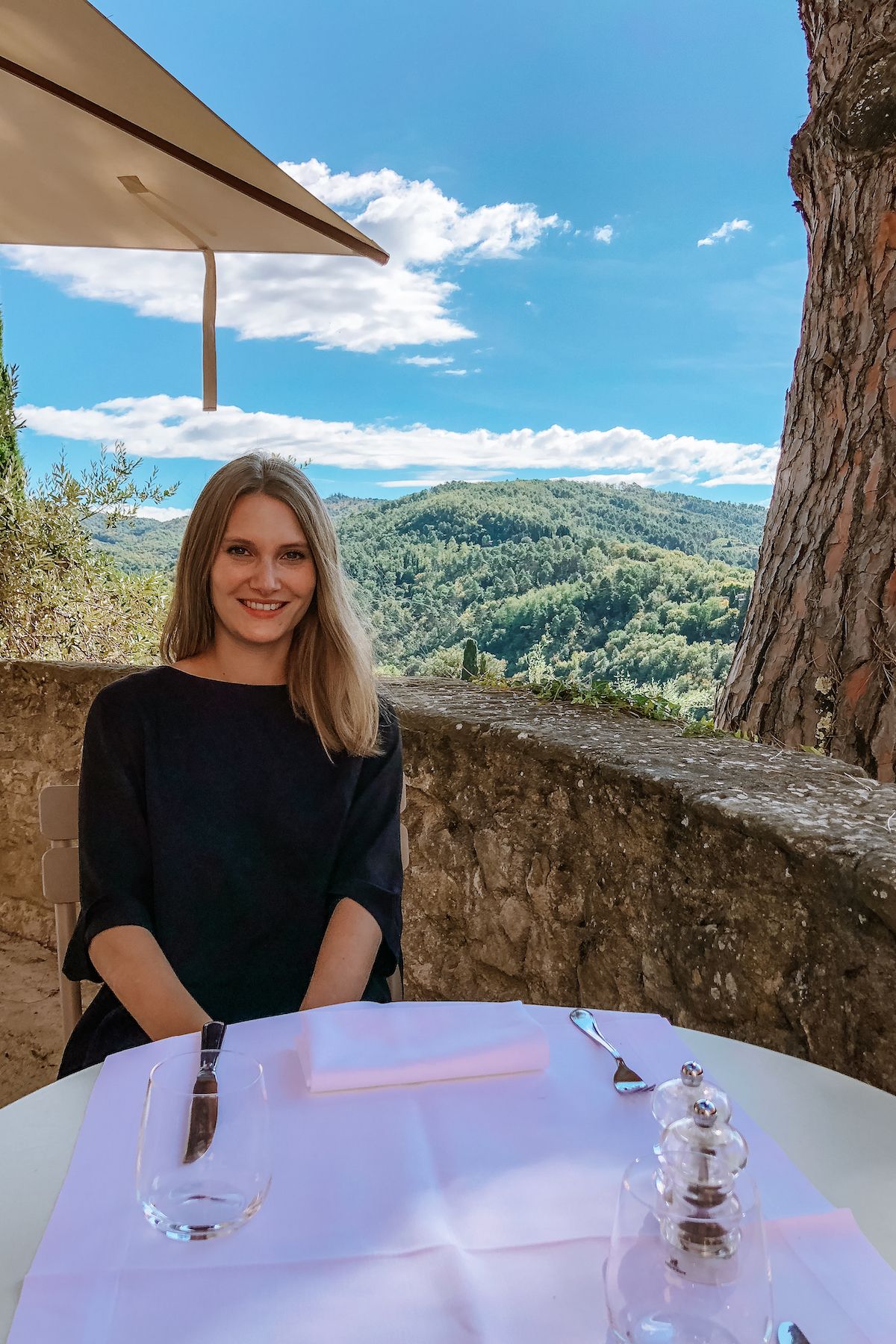 For lunch, stop at La Fattoria di Vignamaggio for farm-fresh bites on the terrace of their Renaissance villa. You can also organize a wine and olive oil tasting here. It's one of the oldest wine estates in Chianti and was even used as the setting of the Shakespearean comedy, 'Much Ado About Nothing'.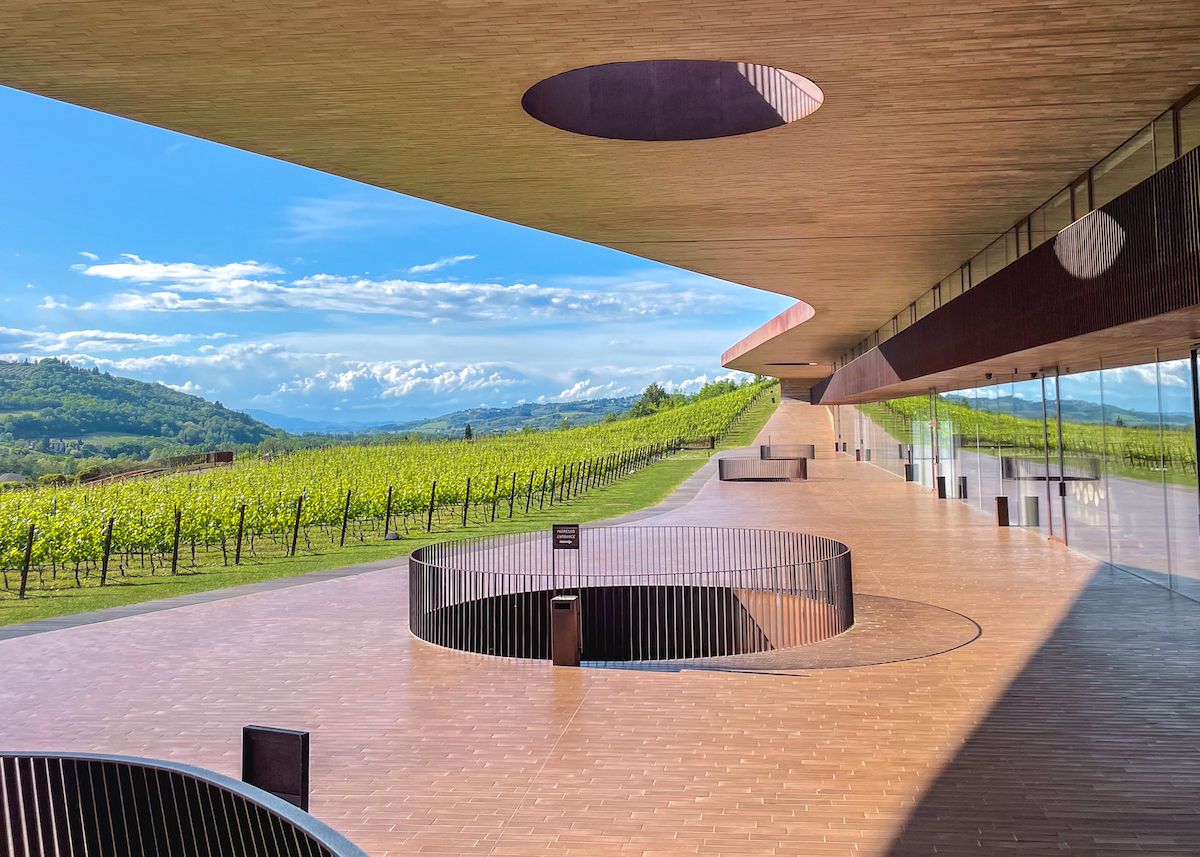 Another winery you absolutely can't miss is Antinori nel Chianti Classico, ranked the #1 Vineyard in the World in 2022. The architecture alone will blow you away – the modern masterpiece seems to meld right into the landscape. On your wine tour, not only do you get to try their highly-awarded wines, you also get to see their impressive cellar room as you learn about the winemaking process.
After your tour, try more wines at the wine shop. It's worth splurging on a tasting of their Tignanello. Afterwards, dine at their restaurant, Rinnucio 1180, nestled along the vineyard on the rooftop of the winery. Book your wine tour and table in advance.
Hiring a driver for winery hopping
We recommend hiring a driver so you can visit a few wineries in a day and not have to worry about driving. We recommend asking your host or the winery you wish to visit for driver suggestions. The drivers we found online were more expensive.
For a cheaper option, you could consider booking a group tour.
Note that the pick up point is in Florence for most of these tours so you would need to negotiate a different pick up location.
Day 4: Siena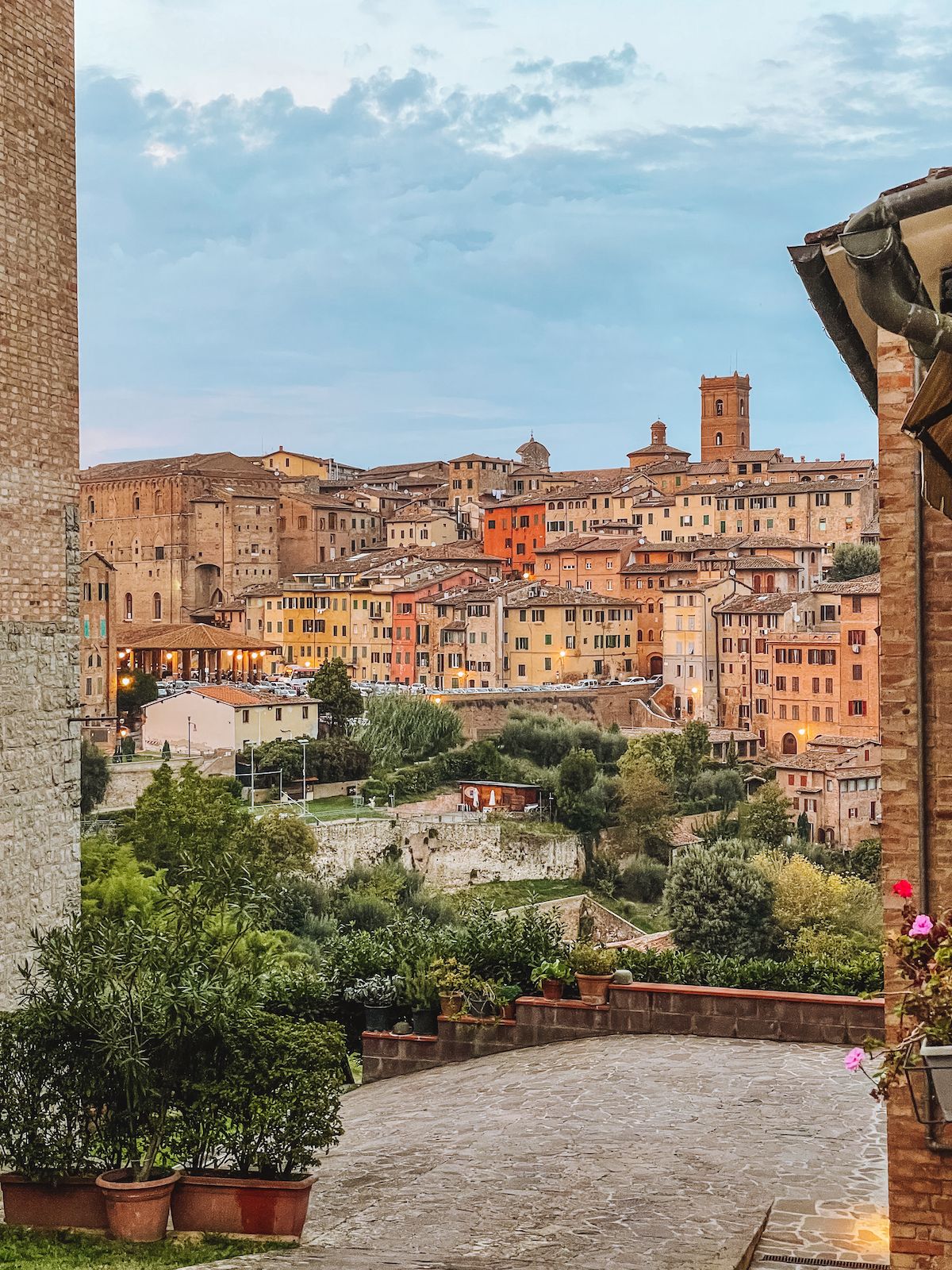 Your next stop is Siena, an unspoiled medieval city known for its Renaissance-style landmarks, Italian Gothic architecture, small cobblestone streets and the Palio horserace which takes place in its famous square. The UNESCO historic city centre lies within a 11th century fortified wall and luckily escaped damage from WWII.  
Located in the heart of Tuscany, Siena is a great base for exploring the surrounding wine regions, but also warrants a day of exploration itself. From the Chianti wine region, it's about a 45 minute drive to Siena.
Where to stay in Siena
Stay in Siena for your last 2 nights. There are many charming hotels to choose from in the historic centre.
Our top hotel picks:
What to do in Siena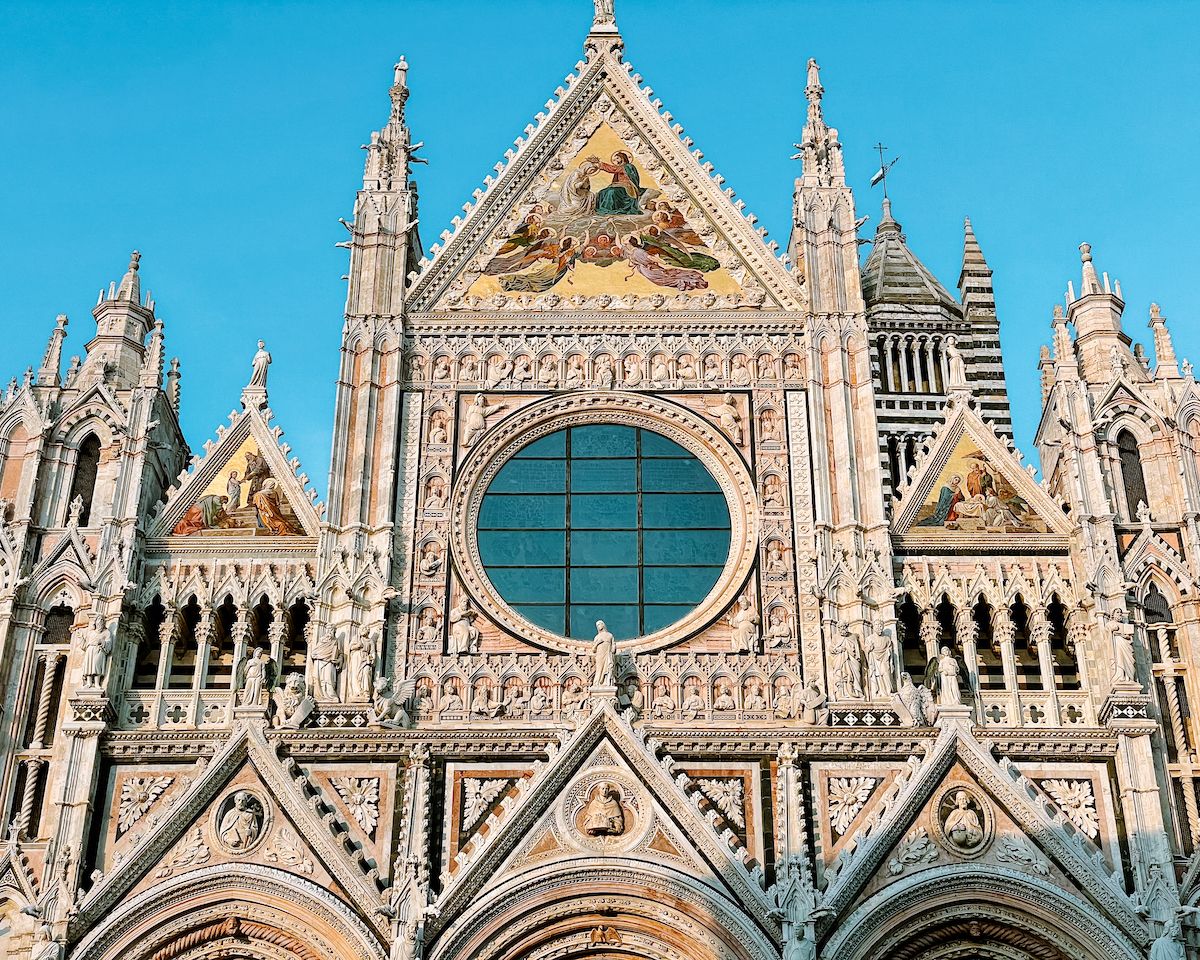 See our comprehensive one day Siena guide, which includes where to eat, where to shop and hidden gems you don't want to miss.
Here are the highlights:
🅿️ Don't make the mistake of driving into the centre of the city with its small maze-like streets. Instead park at Parking II Campo near the city wall instead.
🛍️ Try to visit Siena on a Wednesday so you don't miss the market, Mercato delle Merci, where you can buy cashmere for insanely good prices. It's a locals market with some amazing finds.
☕ Go for a coffee at Bar Il Palio in the historic square, Piazza del Campo. There is a great view of Piazza Piccolomini from here.
🍝 Eat lunch at Osteria Il Vinaio down the charming street, Via Camollia.
⛪ Don't miss seeing the architecturally spectacular Duomo di Siena.
🍹Have an aperitivo at Key Largo on their hidden balcony overlooking the square.
🍴Eat authentic Tuscan cuisine at La Taverna di San Giuseppe, one of the city's hottest restaurants.
Day 5: Day trip to Montalcino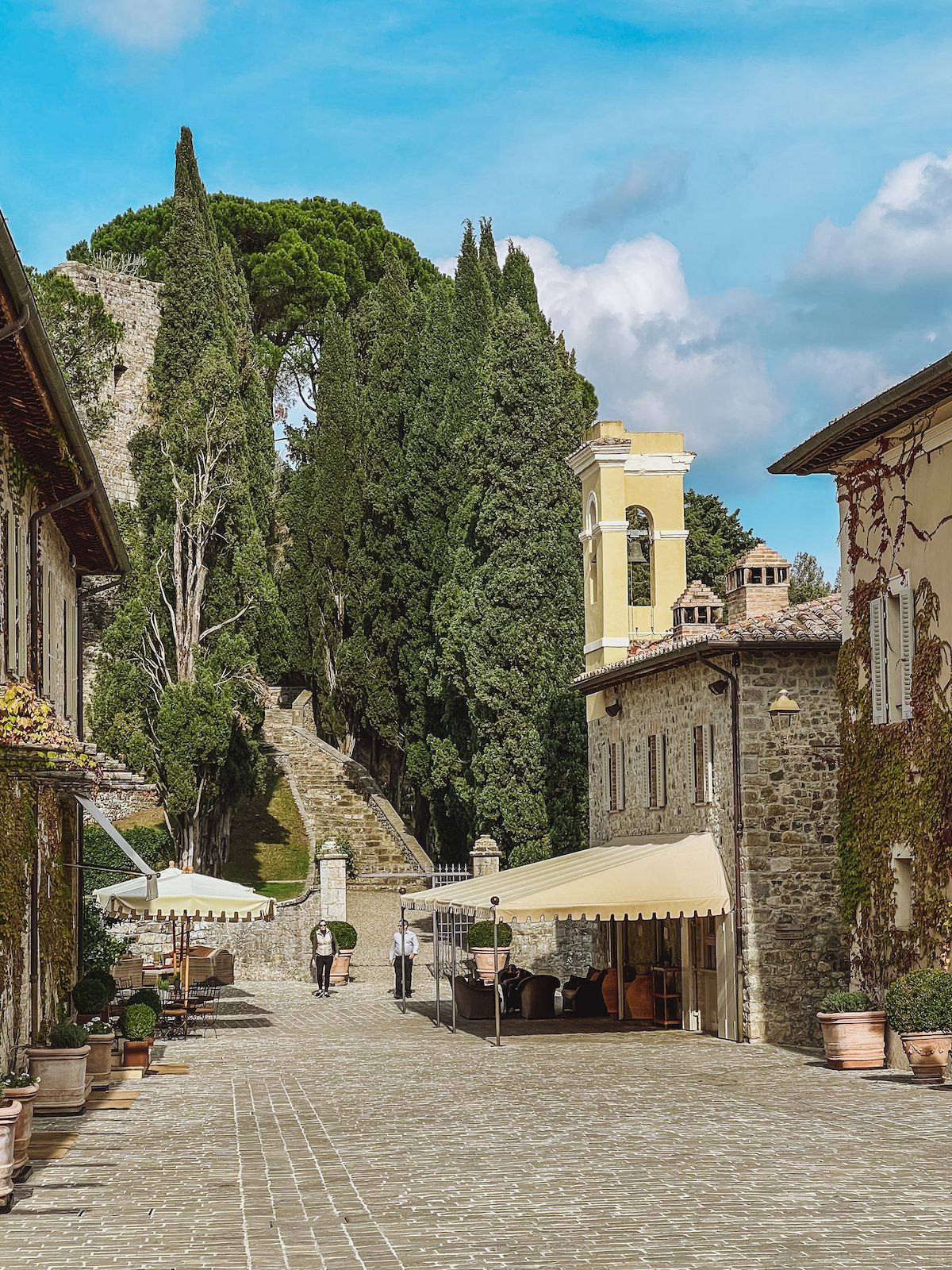 For your last day, visit Montalcino, a gorgeous wine region known for its revered Brunello di Montalcino wines. This region is where you will find Italy's elite wine estates that produce some of the most expensive wines in the country.
Both Brunello and Chianti wines use Sangiovese grapes, however Brunello is typically darker, richer and aged for longer. The soil and climate vary for each region, creating a different complexity for both. Will you be team Chianti or team Brunello?
We have two options to choose from for your day trip:
Option 1: Enjoy a leisurely wine lunch and tour at Castiglio del Bosco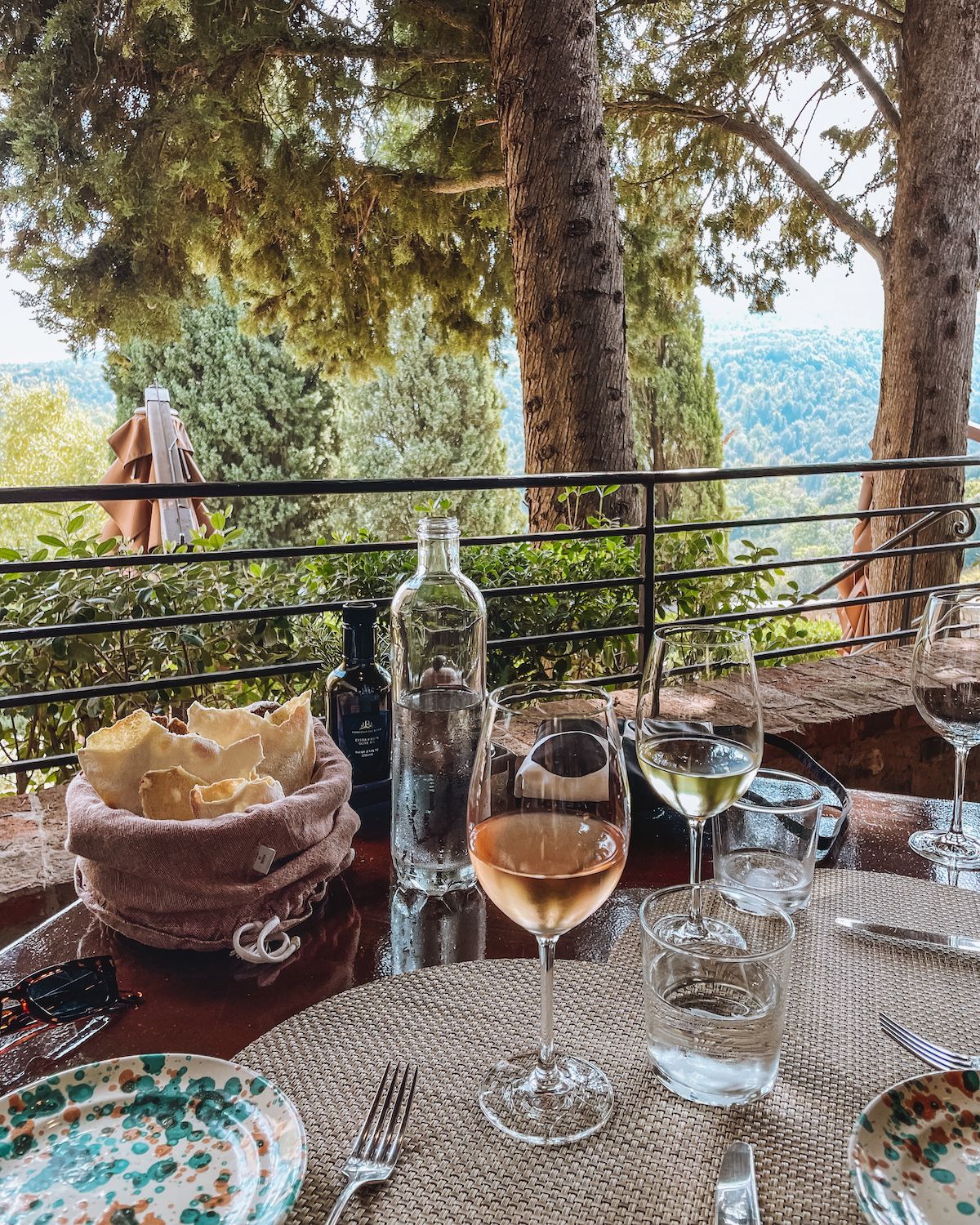 From Siena, organize a private driver to take you to Montalcino for a lovely wine lunch and tour at Castiglion del Bosco, one of the oldest estates in the region. The winery sits on Val d'Orcia, a lush green valley on Orcia River that has been a UNESCO World Heritage site since 2004. Tapered hills scatter throughout the area with fortified towns perched on top.
Staying at this distinguished winery would cost you over a whopping 1,000 € per night in low season, however you can benefit from the gorgeous estate by booking a wine tour and eating at their restaurant, Osteria La Conica, for lunch. The food is excellent and well priced, and the views from your table feel like you're in a Tuscan fairytale.
We organized our driver through the winery. They quoted us 80 €/hour compared to the 110 €/hour quote we received online.
Option 2: Take a group tour to multiple wineries in Montalcino
Another option if you wish to visit more than one winery is to book a group wine tour to Montalcino.
The
Brunello di Montalcino Wine Tasting Trip
brings up to 8 people to 3 wineries and includes a wine lunch and a walk in the historic town of Montalcino. We like how you can cancel up to 24 hours in advance.
See more group wine tours through Viator and GetYourGuide
Have a relaxed dinner back in Siena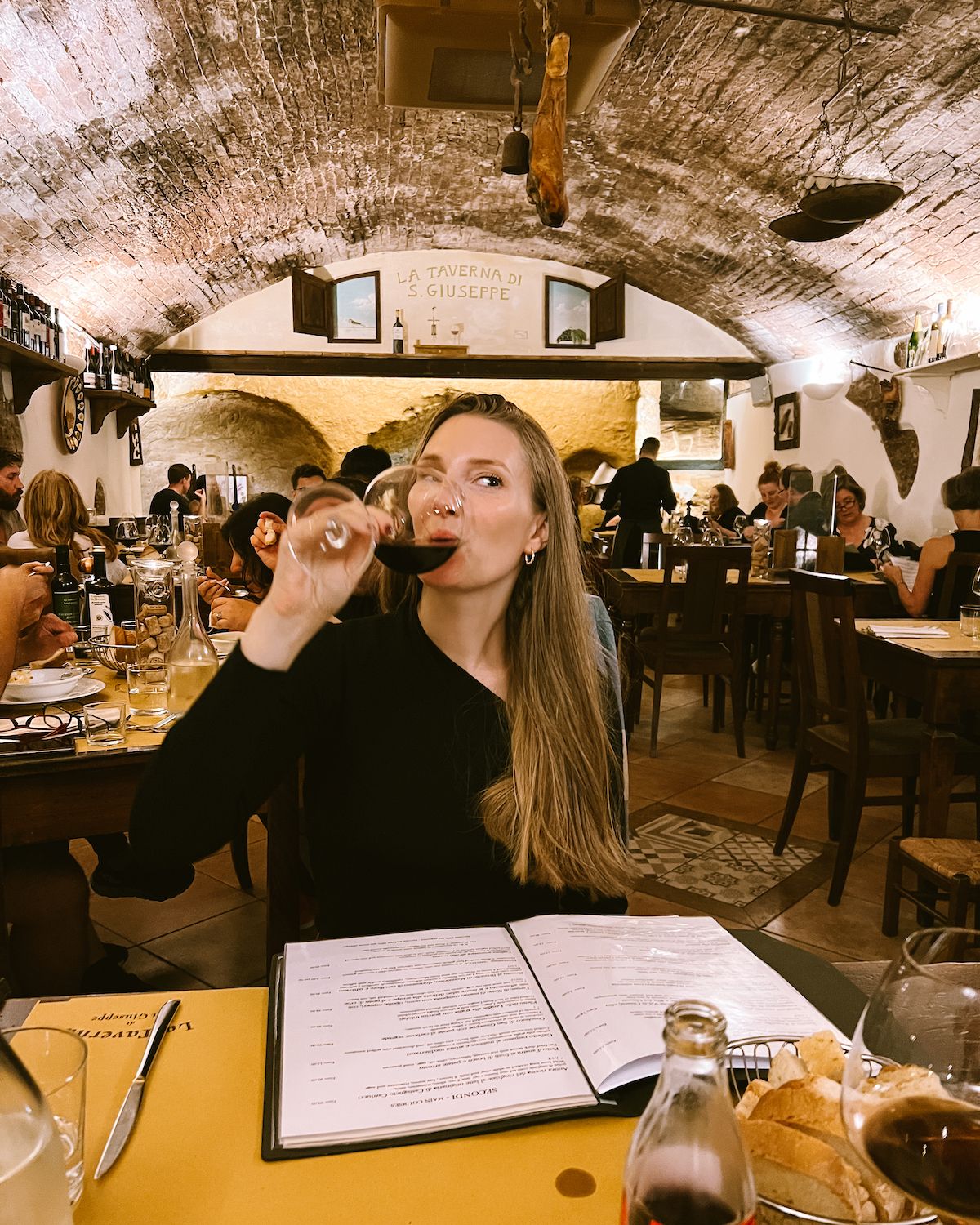 For your last meal in Tuscany, choose from one of these restaurants recognized in the Michelin guide for their high quality dishes.
Osteria le Logge ($$)
Campo Cedro ($$)
Mugolone ($$$)
Particolare di Siena ($$$)
Enjoy your five days in Tuscany!
Have more time to spend in Italy? Combine this itinerary with two days in Florence: 7 Days in Florence and Italy.
Start planning your trip to Tuscany
---
🌃 Accommodation: Booking.com is our go-to for finding places to stay. Sort by top reviewed.
🚗 Reserve your car rental: see Rentalcars.com to compare car rental prices across different companies.
🛫 Book your flight: use Skyscanner to compare flights across different airlines (we recommend booking direct with the airline however).
---
Don't miss our other Tuscany itineraries:
---
You make also like:
---
Save and pin this 5 day Tuscany itinerary for later: