We spent 19 days in Italy including stops in Venice, Bologna, Tuscany, Rome, Naples, Capri, the Amalfi Coast and Matera. With such high expectations for Italian perfection, we fought through the depressingly mediocre and came up with our ideal 2 week Italy itinerary.
Our 2 week Italy itinerary with Amalfi Coast brings you through a broad swath of cultural and culinary delights. This diverse itinerary changes in pace, allowing you to both recharge and fill your sense of adventure.
2 Weeks in Italy
Italy 2 Week Itinerary Overview

Days 1-3: Venice - get lost in the narrow streets and enjoy aperitivos along the canal

Days 4-7: Tuscany - stay at an agriturismo overlooking the countryside, eat delicious Tuscan cuisine and discover Sangiovese wines

Days 8: Naples - eat the best pizza in the world

Days 9: Capri - explore the glamourous island and unwind at the beach

Days 10-12: Amalfi Coast - escape the crowds in the beautiful village of Furore and take a boat trip along the coast to see Positano at golden hour

Days 13-14: Matera - explore the 9,000 year old city named Europe's capital of culture
---
Ultimate 2 Week Italy Itinerary with Amalfi Coast
Disclosure: Some of the links below are affiliate links, meaning at no additional cost to you, we will earn a commission if you click through and make a purchase. We only recommend products or services we have used or that we believe will add value to our readers.
Days 1-3: Venice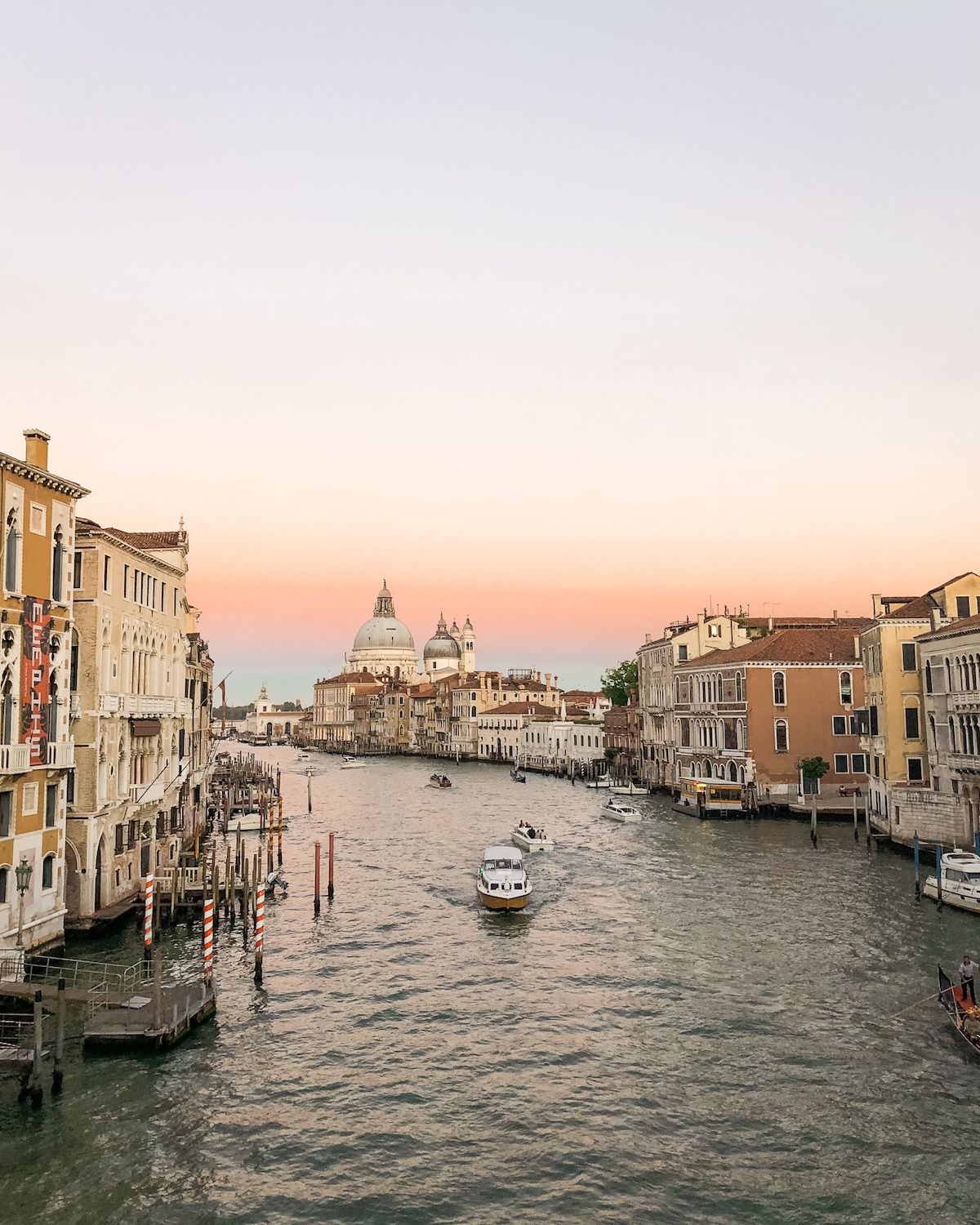 Venice is a great way to start off your journey through Italy. The ancient city built on a lagoon has gorgeous views everywhere you walk. If you're an architecture lover you will be amazed by the palaces, churches and museums you come across. Although touristy, it's one of the most unique cities in the world and shouldn't be missed.
How to get to Venice from the airport
Getting to Venice from the Marco Polo airport is easy. All you have to do is take the 'B' line water taxi directly from the airport. The price is 15 € per person one way. If you're up for the splurge, there are also private water taxis you can take.
Best neighborhood to stay in Venice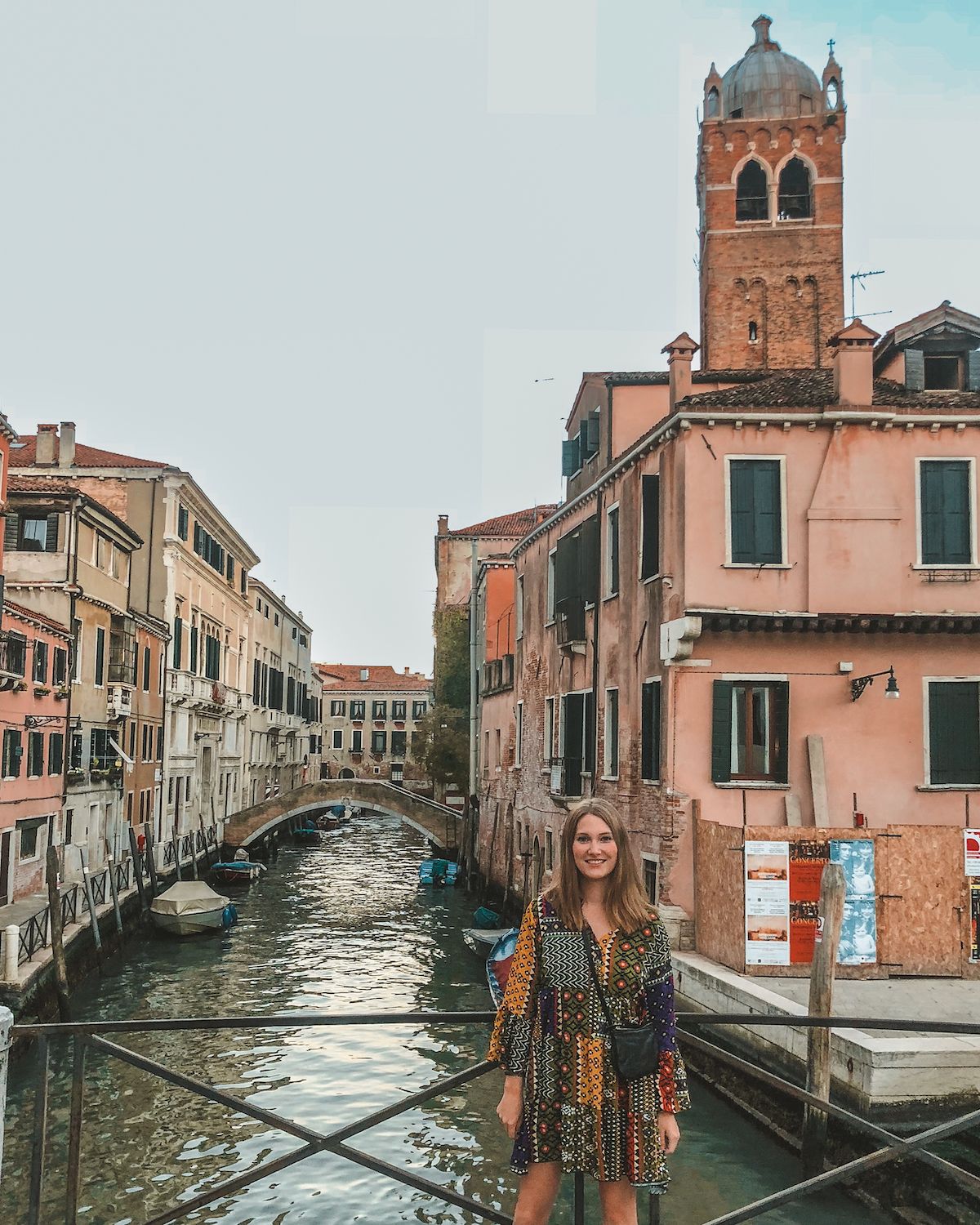 It's a known fact that Venice is full of tourists, so we were happy to stay in the quieter Cannaregio neighborhood at UNA Masion Venezia.
Our hotel was close to all of the tourist sights, but offered the tranquility found in the less travelled streets. The service was excellent with free tea and coffee throughout the day and free aperitivos from 6-8pm. Cold Prosecco on ice and tea sandwiches became part of our daily routine before going out for dinner.
See more hotels in the non-touristy neighbourhood of Cannaregio
Fun things to do in Venice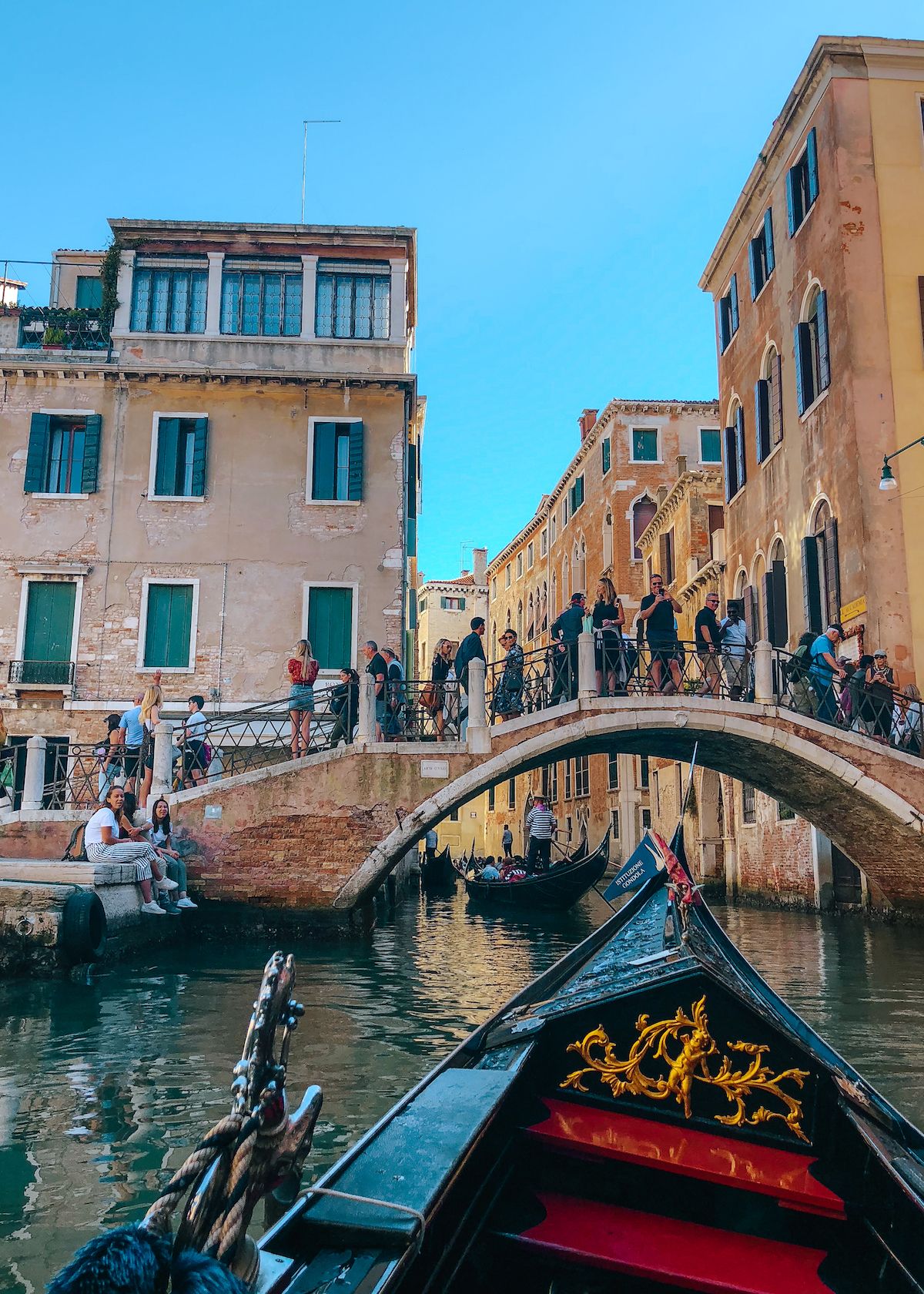 Get lost in the narrow streets and eat cicchetti along the way
The first recommendation you will usually see for Venice is to "get lost" in the streets, but it's truly the best thing to do, especially on an empty stomach! There are many narrow streets and you are bound to find a hidden cafe with delicious cicchetti. Cicchetti are savoury small snacks usually served in bars or low key restaurants. My favourite was salami and artichoke on a slice of baguette and Ari's was fig and prosciutto.
If you would prefer to have a local guide you, check out Viator's tour, "Experience Venice like a local",
where you get to taste 5 cicchetti & 5 wines. We like how there is free cancellation up to 24 hours in advance.
Bar hop and drink Aperol Spritzes
Aperol Spritzes are claimed to have been invented in Venice and consist of an orange herbal liquor, Prosecco, and soda water. We had lots of them during our three nights there and the prices ranged from 3 € all the way to 12 €! You probably guessed that the 12 € Aperol spritz's were found in St. Mark's Square, the famous piazza created in the ninth century. The cheaper Aperol spritzes were found in the less touristy areas and in bars that serve cicchetti.
Go for a boat ride in a gondola
A gondola is a traditional Venetian row boat that was once the main mode of transportation in the city. It's very romantic and great way to explore the canals, however quite pricy at a rate of 80 € for 25-3o minutes. The price is for the whole gondola, not per person. We weren't sure if we would be underwhelmed for the price, but it was one of our favourite things we did! A classic.
Budget tip:
If you're traveling by yourself and don't want to pay the whole 80 € for the gondola, there is an option to purchase a
shared gondola ticket
through GetYourGuide. We like how it has free cancellation up to 24 hours in advance.
Watch the sunset from Ponte dell'Accademiaa
The most gorgeous place we saw the sunset from was Ponte dell'Accademiaa bridge. Oranges, purples, blues, yellows and pinks lit up the sky, canal and Venetian Gothic buildings.
Our favourite place to eat in Venice: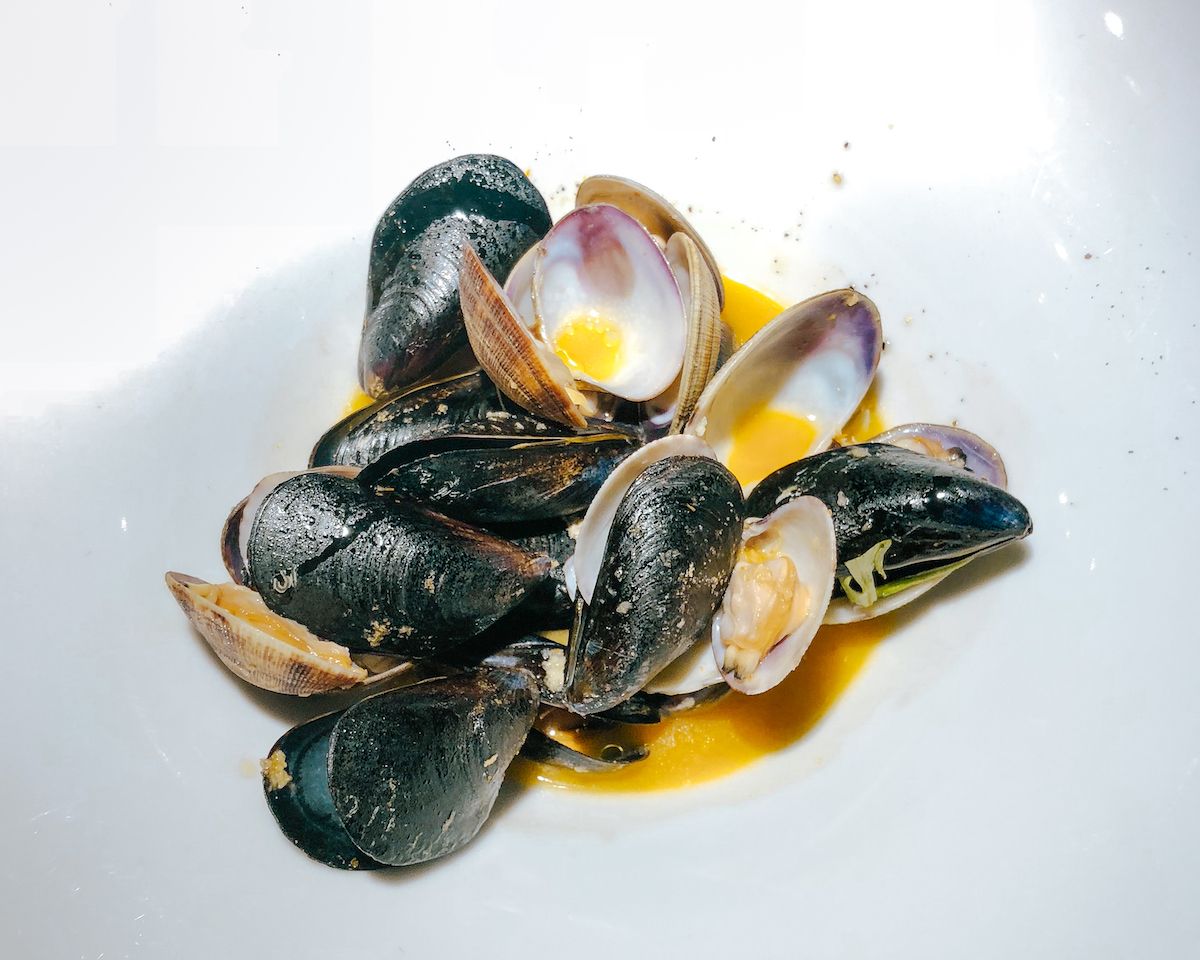 Our favourite restaurant in Venice was Enoteca Ai Artisi. The restaurant was welcoming and the wait staff friendly and enthusiastic. Our top dishes were the scallops, seared to perfection, and the mussels, which came in a delicious broth. I never liked mussels before and thought I would try one of Ari's. Game changer! I had four of them. The restaurant is small, so make sure to make a reservation in advance: (+39) 041 52 38 944.
Days 4-7: Tuscany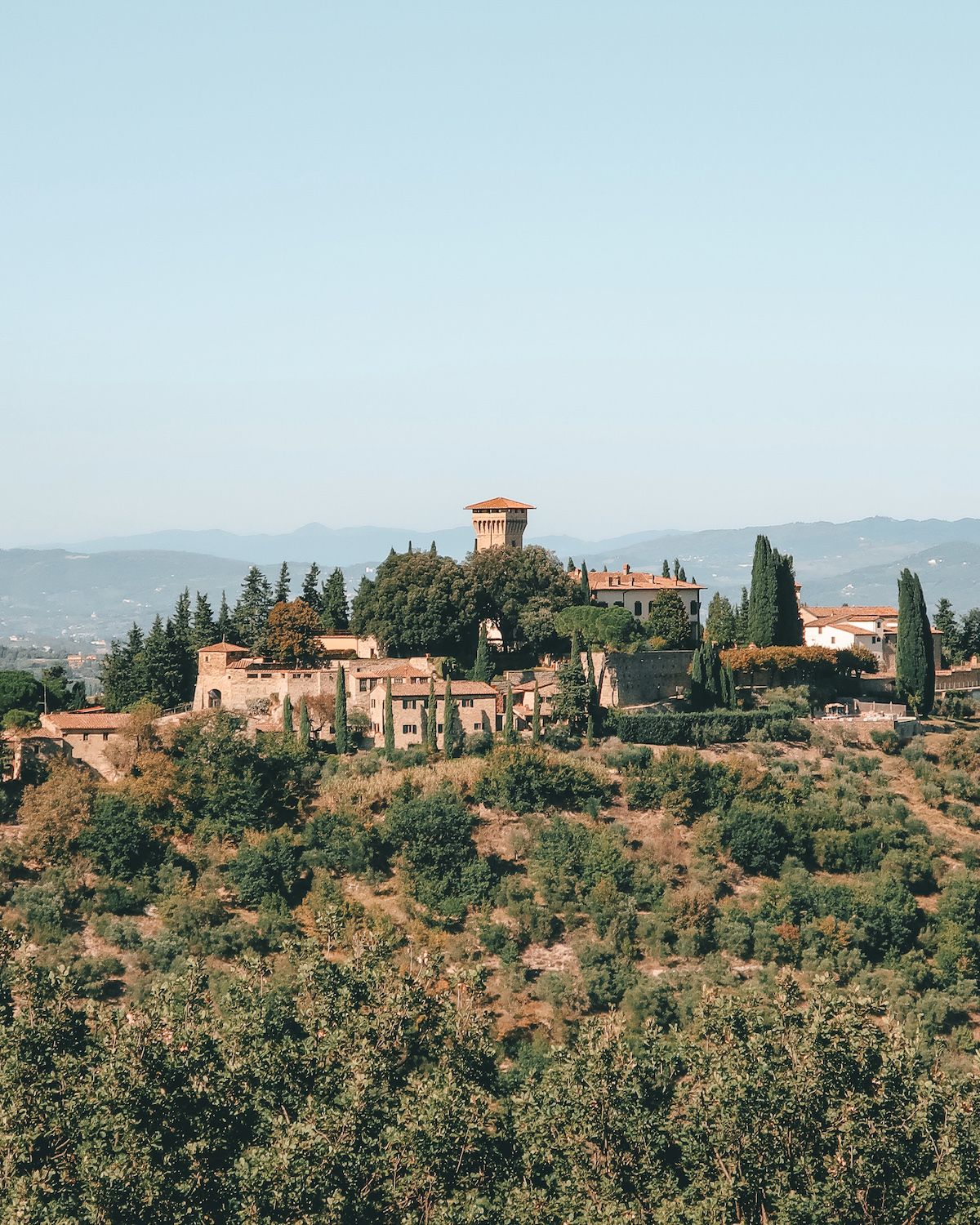 Our first time in Tuscany, we spent three nights in the Chianti region and almost immediately wished we had planned for more. It was easy to unwind in the rolling hills of the countryside and our days were spent eating delicious Tuscan cuisine and drinking Sangiovese wine. What more can you ask for!
How to get from Venice to Tuscany
It's a breeze transferring from city to city on the train. You will have to book your train ticket from Venice to Florence and then rent a car from there to drive into the Tuscan hills. The train takes around 2.5 hours.
Is business class or premium economy worth the extra price on the train? Read our guide on things to know when traveling to Italy to see our opinion.
From the Florence train station it takes about a 45 minute drive to get into the Tuscan hills where you'll find wineries and small villages.
🚆 Compare train rates from Venice to Tuscany with Trainline
🚗 Compare car rental rates in Tuscany with Rentalcars.com
Stay at an agriturismo in Tuscany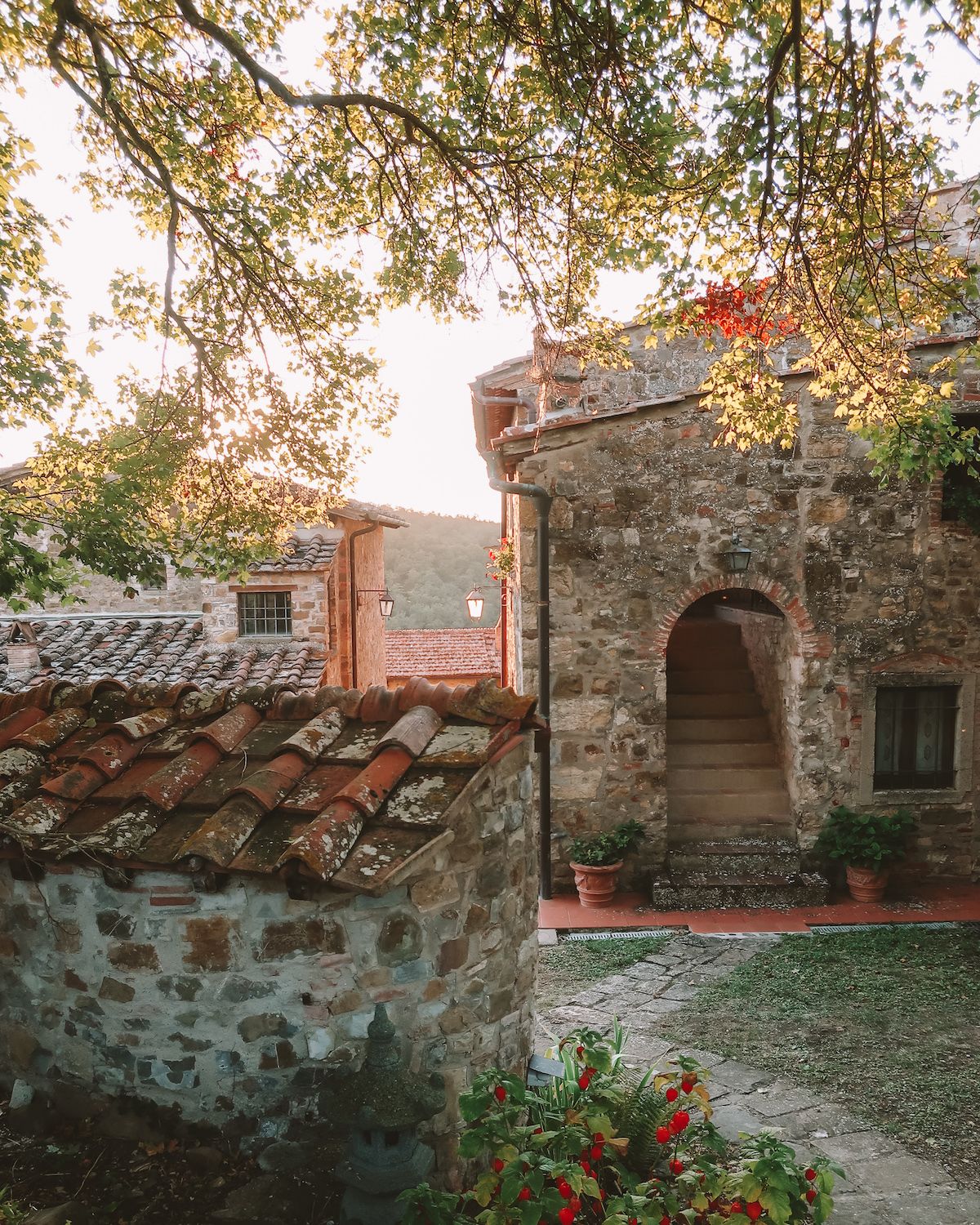 We booked our stay at an agriturismo with an Italian family near the town of Panzano in the Chianti region. An agriturismo is an authentic farmhouse that serves guests. It's a fantastic way to experience the countryside and escape the bustling cities.
We stayed at Podere Felceto, a tranquil organic olive oil farm that sits on the side of a hill overlooking a tree laden valley.
We were delighted to see a small bottle of Chianti wine, olive oil products and a bag of fresh lavender awaiting us in our room. Our friendly host made restaurant suggestions for us in the town of Panzano and gladly called to book us in. We also pre-booked a homemade meal from our hosts at the farmhouse for the third night of our stay. Their daughters who went to cooking school in Florence cooked for us and it was fantastic. It was a delight to stay in and not worry about having an extra glass of wine or shot of limoncello!
Staying in an agriturismo is one of the best "hotel/airbnb" experiences we've ever had. It felt like staying in a gorgeous chateau, however it had a homey feel and the recommendations and insights we received from the host family were stellar. It felt like we were living like locals!
Browse more agriturismo stays on Booking.com by filtering "Farm Stays".
Discover Tuscany's Sangiovese Wines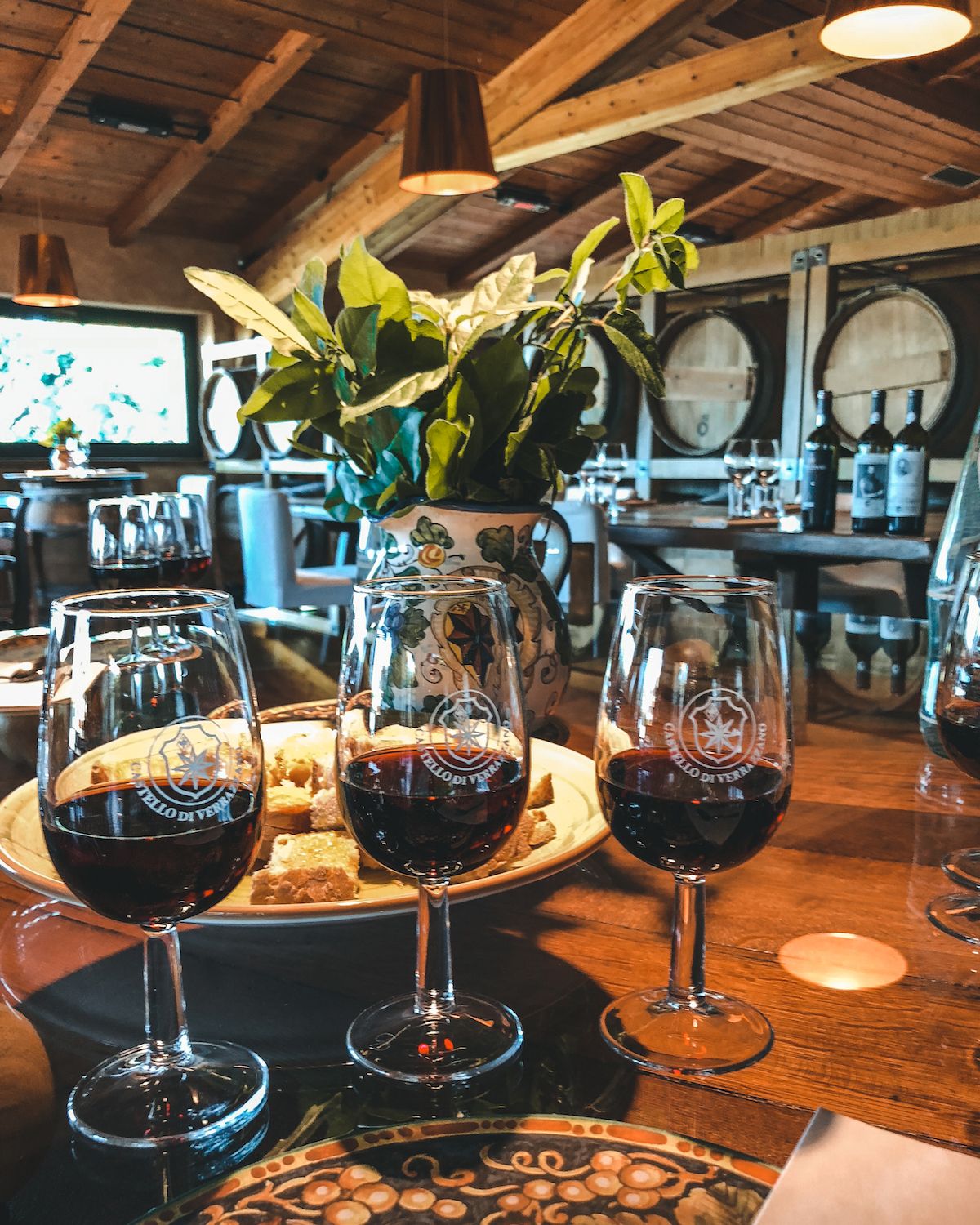 Although there are 7 wine regions in Tuscany, we recommend exploring 1-2 regions max during your 4 days visiting. There are a plethora of wineries to discover! Unlike some wine regions around the world where you can show up for a wine tasting, in Tuscany you need to book your wine tour in advance.
Three notable wine regions that we highly recommend choosing from are Chianti, Montalcino and Montepulciano. They focus on Sangiovese-based wines, a red wine grape indigenous to Italy.
Chianti - a large hilly region with seven sub-zones and the closest wine region to Florence. Look for Chianti Classico wines, which are more refined. They are made with at least 80% Sangiovese grapes and aged for 10 months.
Montalcino - prestigious wine region known for its Brunello di Montalcino wines, made from 100% Sangiovese grapes. It's the driest and warmest region in Tuscany.
Montepulciano - a renaissance hilltop town and lush valley on the Orcia River, famous for its Sangiovese-based Montepulciano d'Abruzzo wines.
Our top winery picks to get you started: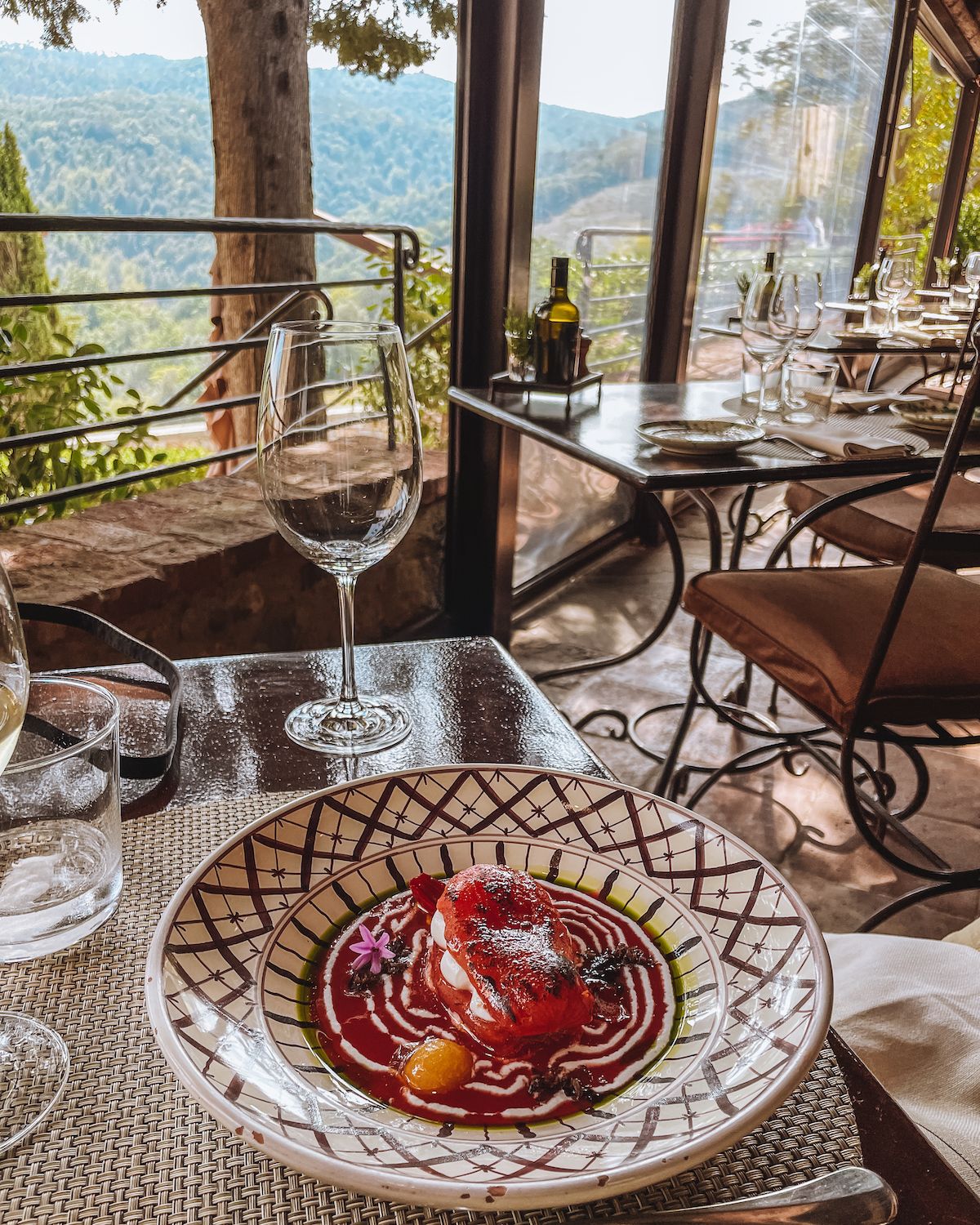 In Chianti
Wine tour and lunch Antinori nel Chianti Classico, an architecturally-impressive winery that blends into its natural surroundings. It was named the World's Best Vineyard in 2022.
Wine tour at Castello di Verrazzano, a former Etruscan civilization and Roman settlement.
Wine lunch at La Fattoria di Vignamaggio, one of the oldest wine estates in Chianti and setting of the Shakespearean comedy, 'Much Ado About Nothing'.
In Montalcino
Wine tour at Castiglion del Bosco, a prestigious winery sitting on Val d'Orcia, a UNESCO World Heritage site.
Wine lunch at Osteria La Conica for views that feel like you're in a Tuscan fairytale
In Montepulciano:
Wine tour and lunch at Salcheto, an organic and sustainable leader in the wine industry
Hiring a driver for winery hopping
We recommend hiring a driver so you can visit a few wineries in a day and not have to worry about driving. Ask your host or the winery you wish to visit for driver suggestions. The drivers we found online were more expensive.
For a cheaper option, you could consider booking a group tour through Viator or GetYourGuide
, however take note if you need to negotiate your pick up/drop off location. Most leave from Florence or Siena.
Tuscany extension option: If time allows, we recommend adding another day to your stay to explore the medieval city of Siena in the heart of Tuscany. See our one day Siena guide or 5 day Tuscany itinerary.
Day 8: Naples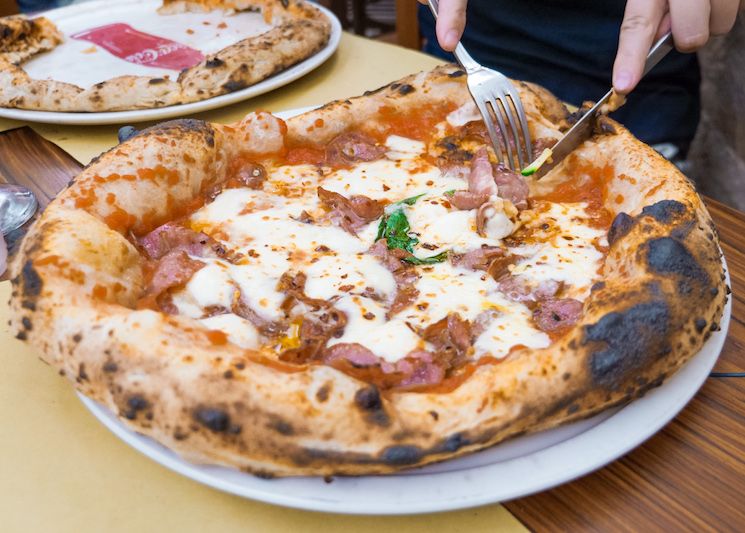 We chose Naples as our stopover along the way to Capri and the Amalfi coast, as it's a great starting hub for the region. It's also known for having the best pizza in the world.
Naples was a far cry from anything we had previously seen in Italy as it's one of the poorest cities in Europe. The only thing we knew of the city was that it's where the Italian mafia is from. Once we exited from the train station we was astonished by the shabby look of the central city and felt unsafe with strangers coming up uncomfortably close to our backpacks as we walked to our accommodation. The streets were narrow and locals drove their motorbikes very fast through crowds. It took some getting used to but ended up being ok for us.
There is an interesting charm to the city and we had the BEST PIZZA OF OUR LIVES at Sorbillo Pizza. Don't try anywhere else, just go, maybe twice! The pizzeria and its pizza maker, Gino Sorbillo, is the most famous in Naples. It's in the Michelin guide for its outstanding mouth-watering pizza. Ari is a pizza fanatic and it topped his list by far. It's worth it to stay for a night just for this.
How to get to Naples from Tuscany
You will have to drive back to Florence with your rental car and then take the train. The train takes 3 hours to get from Florence to Naples.
🚆 Compare train rates from Tuscany to Naples with
Trainline
. It's an easy way to check prices across different rail providers in Europe.
Our top hotel picks in Naples
Best boutique hotel close to Sorbillo Pizza: The Dante House (only a 6 minute walk away)
Best boutique hotel close to the train station: Domus Deorum (only a 6 minute walk away)
Day 9: Capri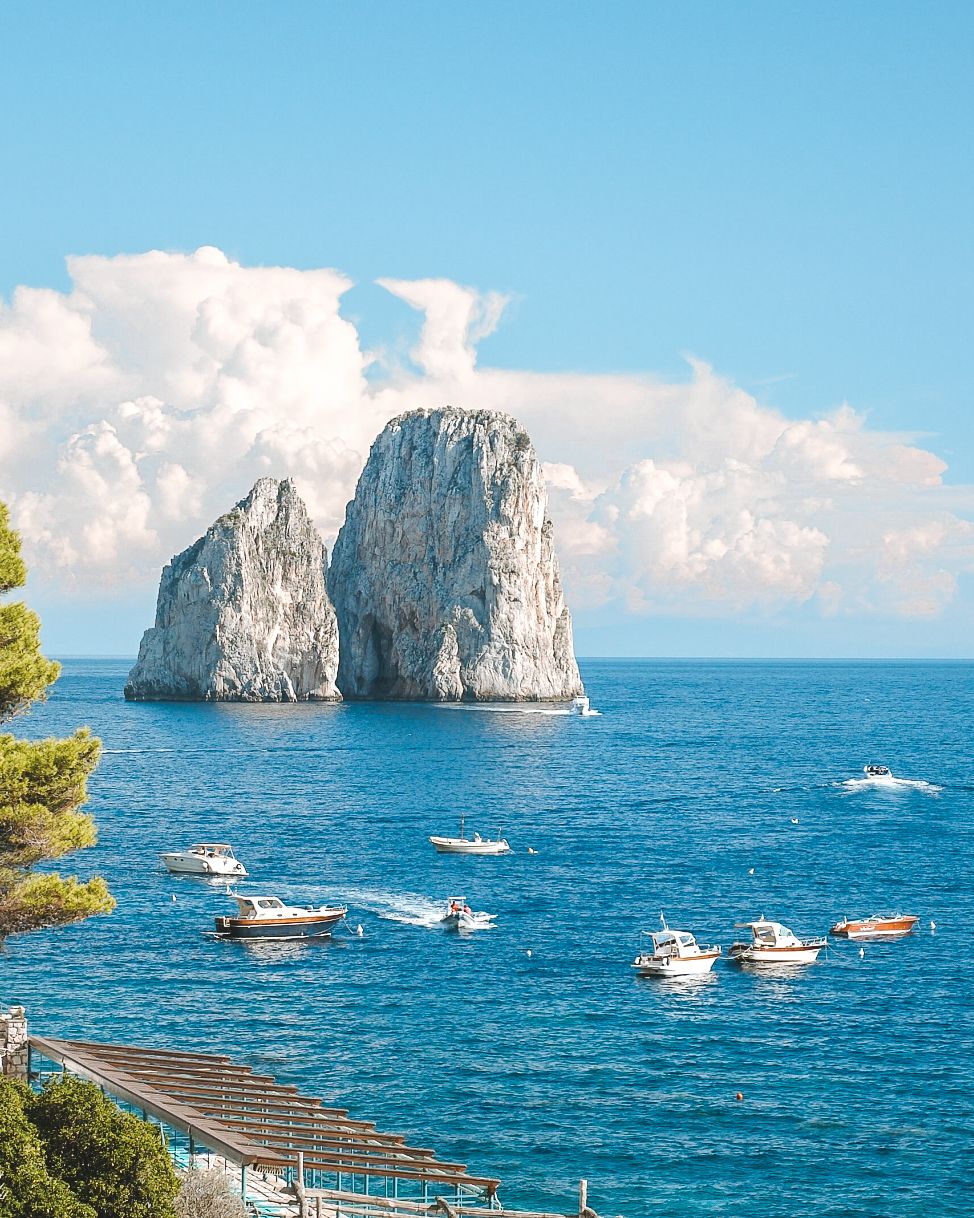 From Naples it's only an hour ferry ride away to the glamorous island of Capri. Capri is known for its beautiful coastal scenery, luxury shopping and jet-setting celebs that visit on their mega-yachts. Spend a fabulous day on the island, exploring, shopping and unwinding at the beach with an Aperol spritz.
It's worth it to spend the night here since most people just do it as a day trip. Evening time is when the crowds dissipate and celebrities come out to play after a day on their yacht.
Must do activity in Capri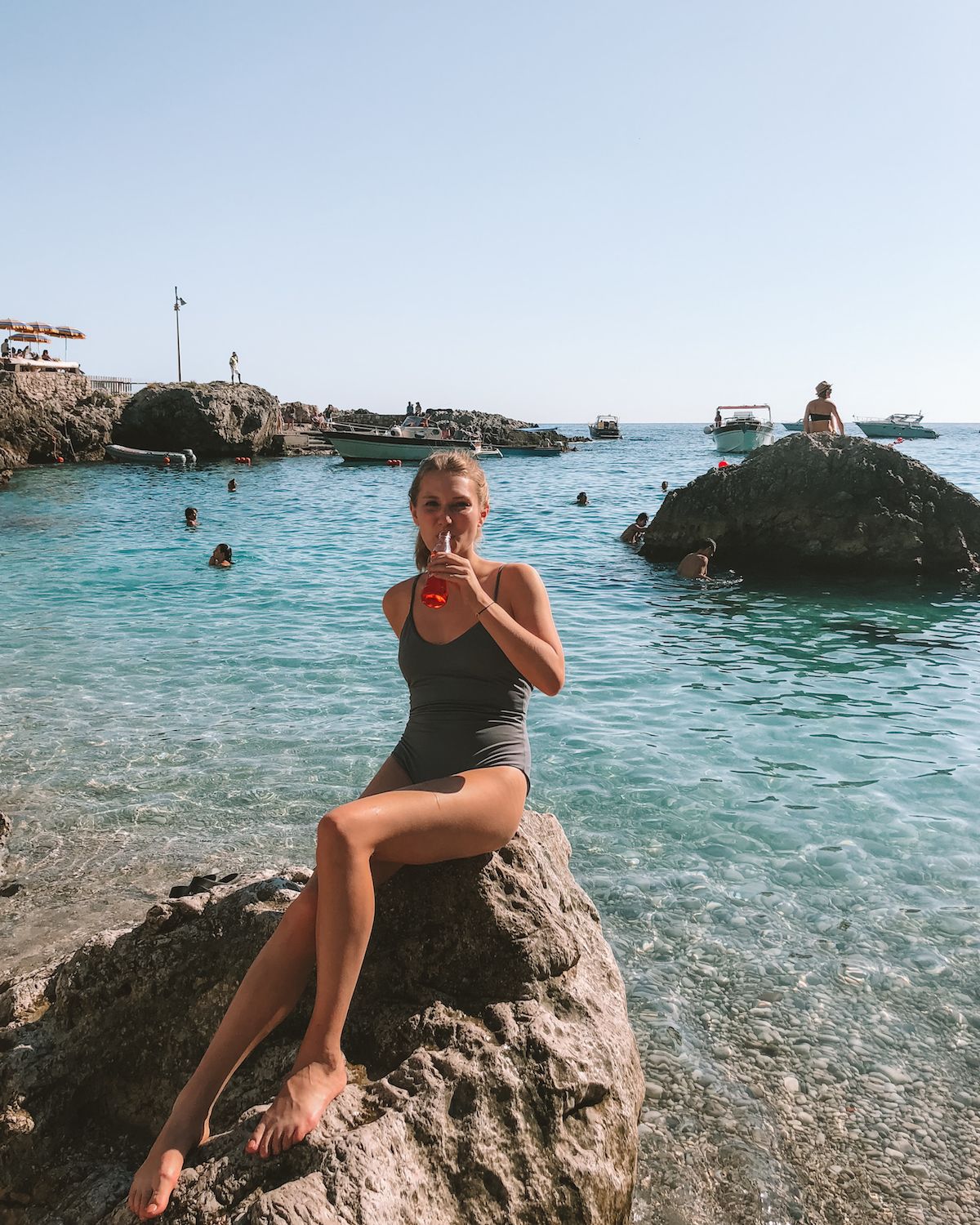 Take a scenic walk down Via Mulo to Marina Piccolo Beach
The pretty walkway takes you down to the crystal clear waters of Marina Piccolo, which has free beach access. It's great for spending the day swimming and basking in the sun. There are also paid areas on the other side of the beach that will give you access to beach chairs and umbrellas.
Our top hotel picks in Capri
For a detailed guide on how to get to Capri from Naples, see our Capri day trip guide here.
Days 10-12: Amalfi Coast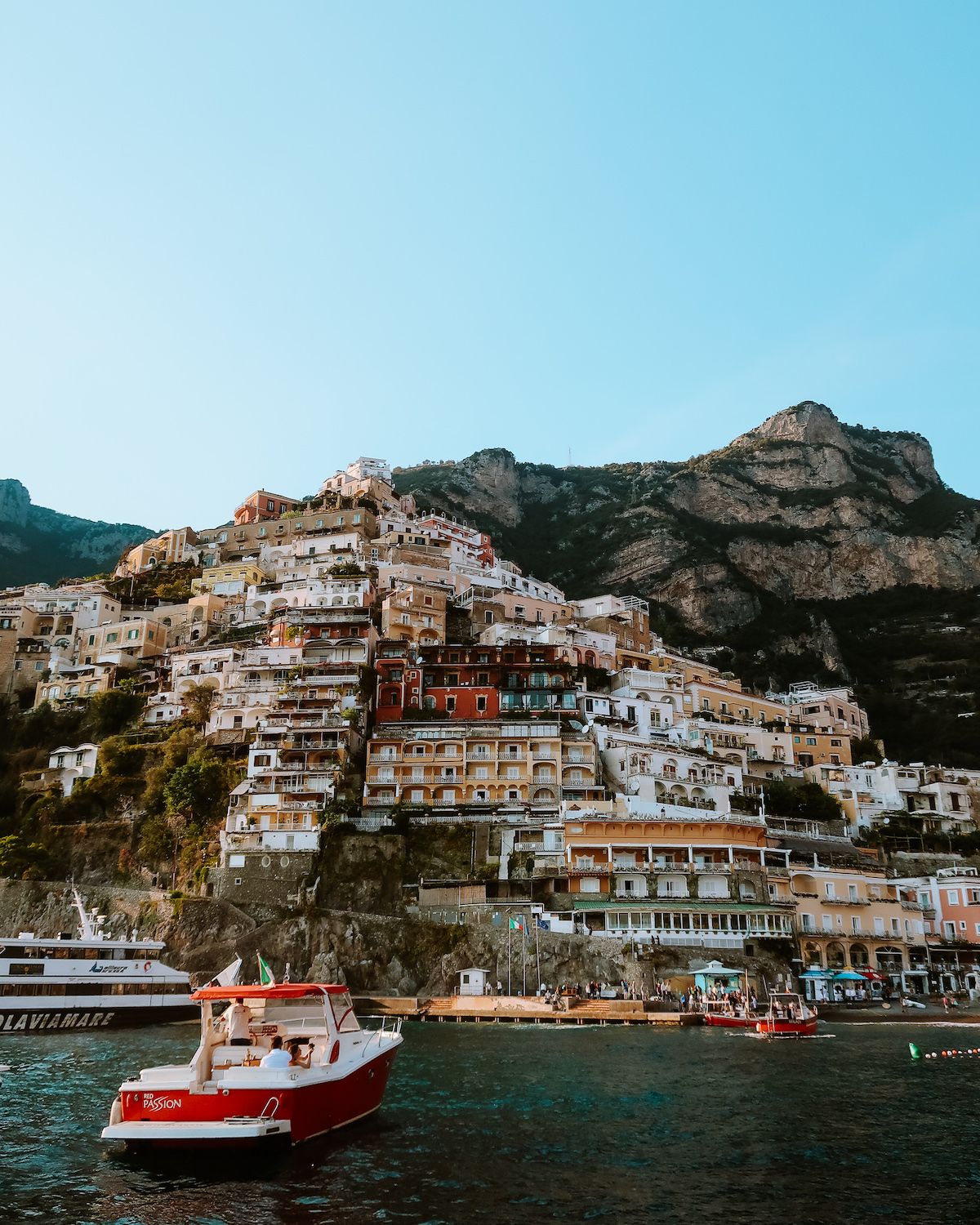 The Amalfi Coast is one of the most scenic areas in Italy. As you drive down the rugged coastline, you'll see picturesque villages scattered along the steep ridge. The region is known for its seafood and gorgeous beaches.
How to get to Amalfi Coast from Capri
From Capri it's only a 20-30 minute ferry ride to Sorrento to start your journey in the Amalfi Coast! Once you're in Sorrento, pick up your rental car and make your way towards Positano.
We recommend renting as small of a car as possible. Driving through the Amalfi Coast was not the peaceful scenic drive you see in magazines. The roads are small, windy, and filled with speedy locals and large tour busses trying to squeeze by! It's certainly manageable, but not the slow rubbernecking coastline drive you would imagine.
🚗 Compare car rental rates in the Amalfi Coast with
Rentalcars.com
Best town to stay in the Amalfi Coast to escape the crowds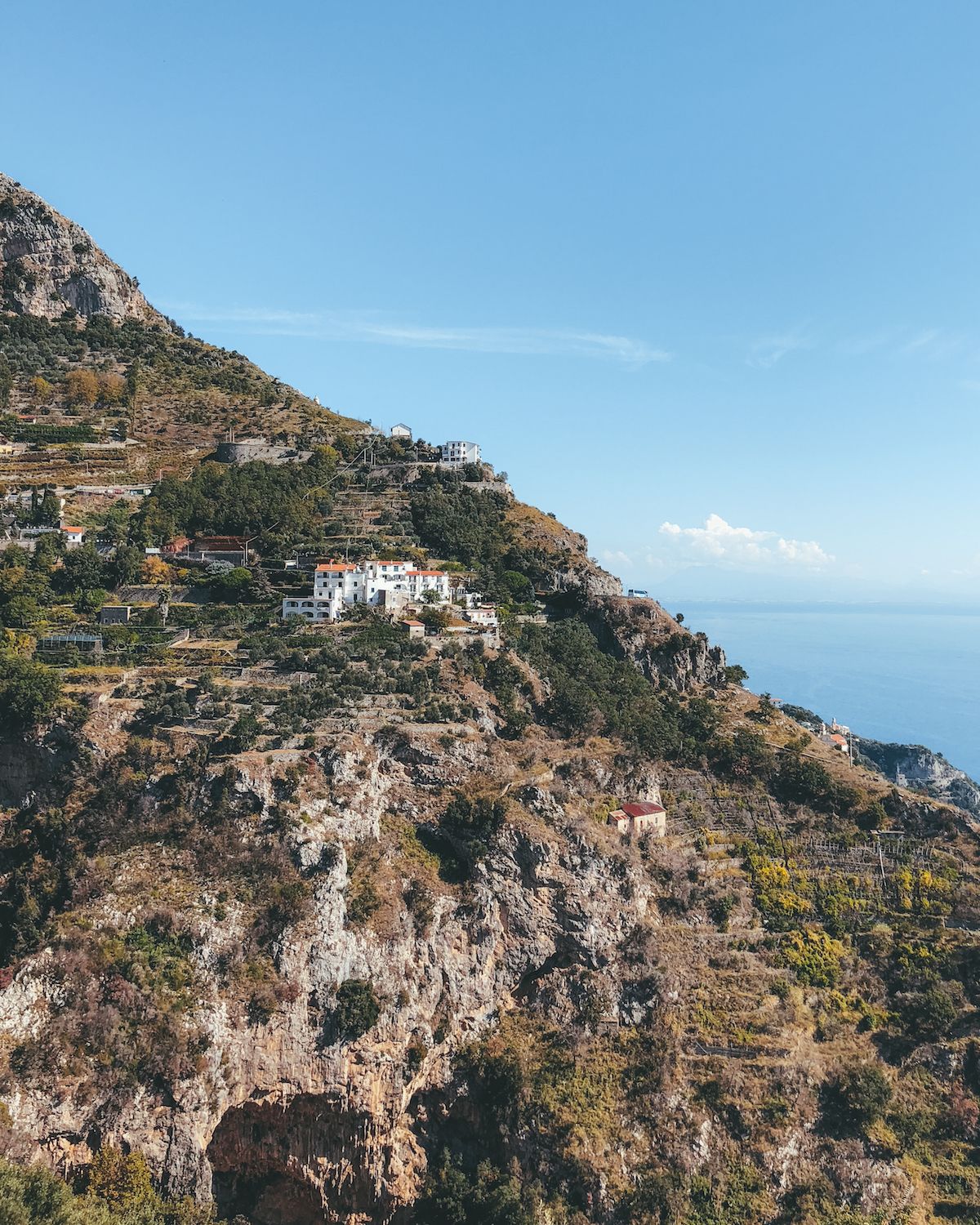 We stayed 45 minutes away from touristy Positano in the
quiet village of Furore
, where houses are scattered across the cliff. Furore is a hidden gem, known by locals as the "hidden beauty of Neverland". Perched on the ridge,
our hotel Holidays Fico D'India was easy on the budget and the perfect simple escape with beautiful sea views.
See rates for Holidays Fico D'India
Just an 8-minute walk up the hill was our favourite restaurant on the Amalfi coast, Bianca Zita Ristorante Enoteca. It has no menu but the waiter tells you what is available that day. The fish they served was delicate and well portioned.
Top things to do in the Amalfi Coast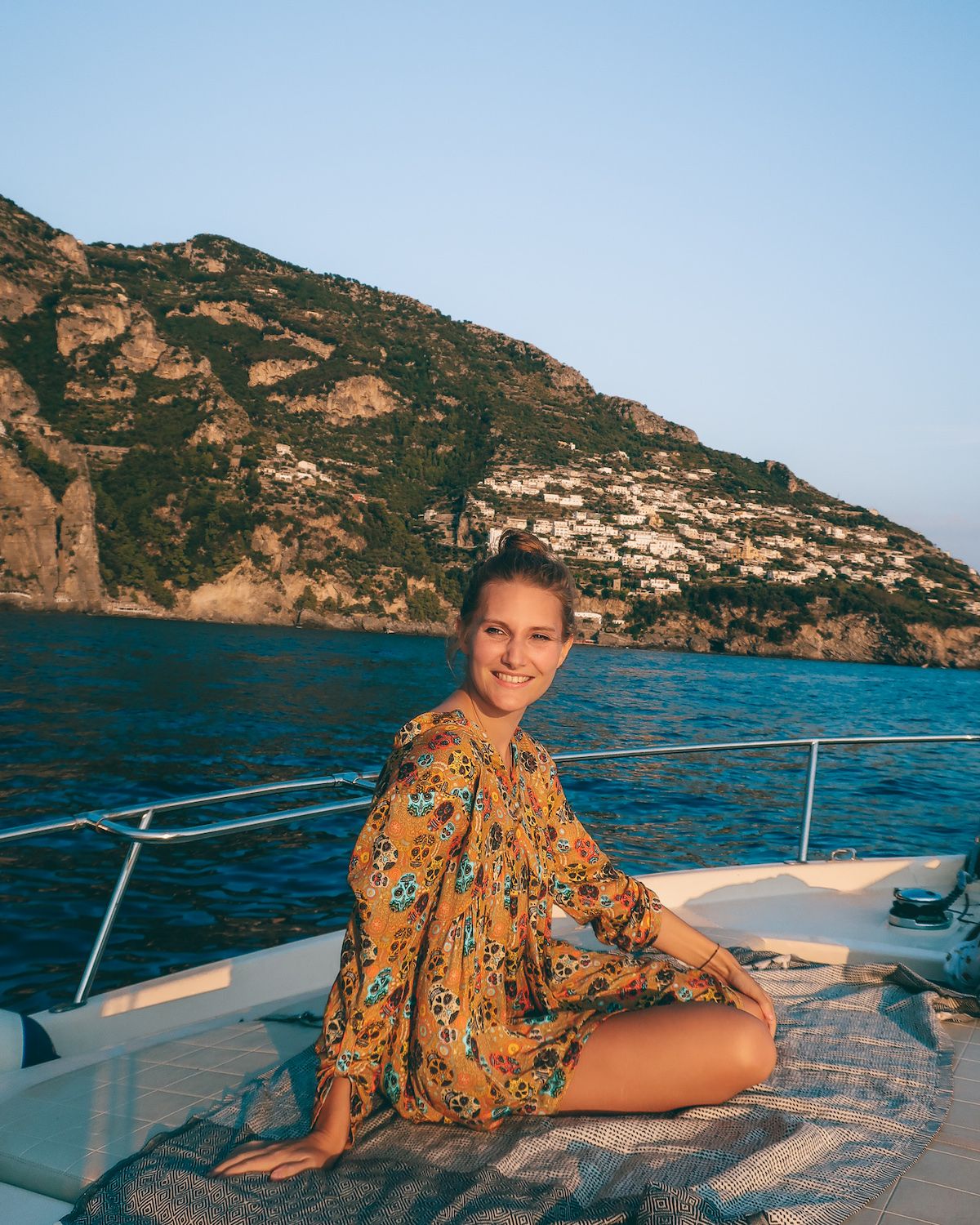 Take a day trip to Positano
Relax beachside in the Amalfi Coast's most famous town, Positano. The lively town is a fun place to explore, dine out at and admire the views. It can be easily reached for a day trip from Furore, either by car or bus. After a day of exploring, we were happy to escape the tourists and hideaway in our quiet nature escape in Furore.
Rent a boat and see the Amalfi Coast during golden hour
About 15 minutes away from Furore, you can rent a boat and captain in the town of Amalfi. We rented a private boat with some friends to see the coast and Positano from the water.
We rented a 39 foot boat and captain for four hours with the company Almafi Boats.
They had great service and a reasonable cost considering the prices to rent boats from Positano.
Our captain navigated down the coast where we saw beautiful hotels, beaches, caves and an entirely different perspective of the place. It was golden hour the whole afternoon and it was a delight to go for a swim. We played our music from the boat and brought snacks and Aperol Spritzes. Now that is relaxing!
Days 13-14: Matera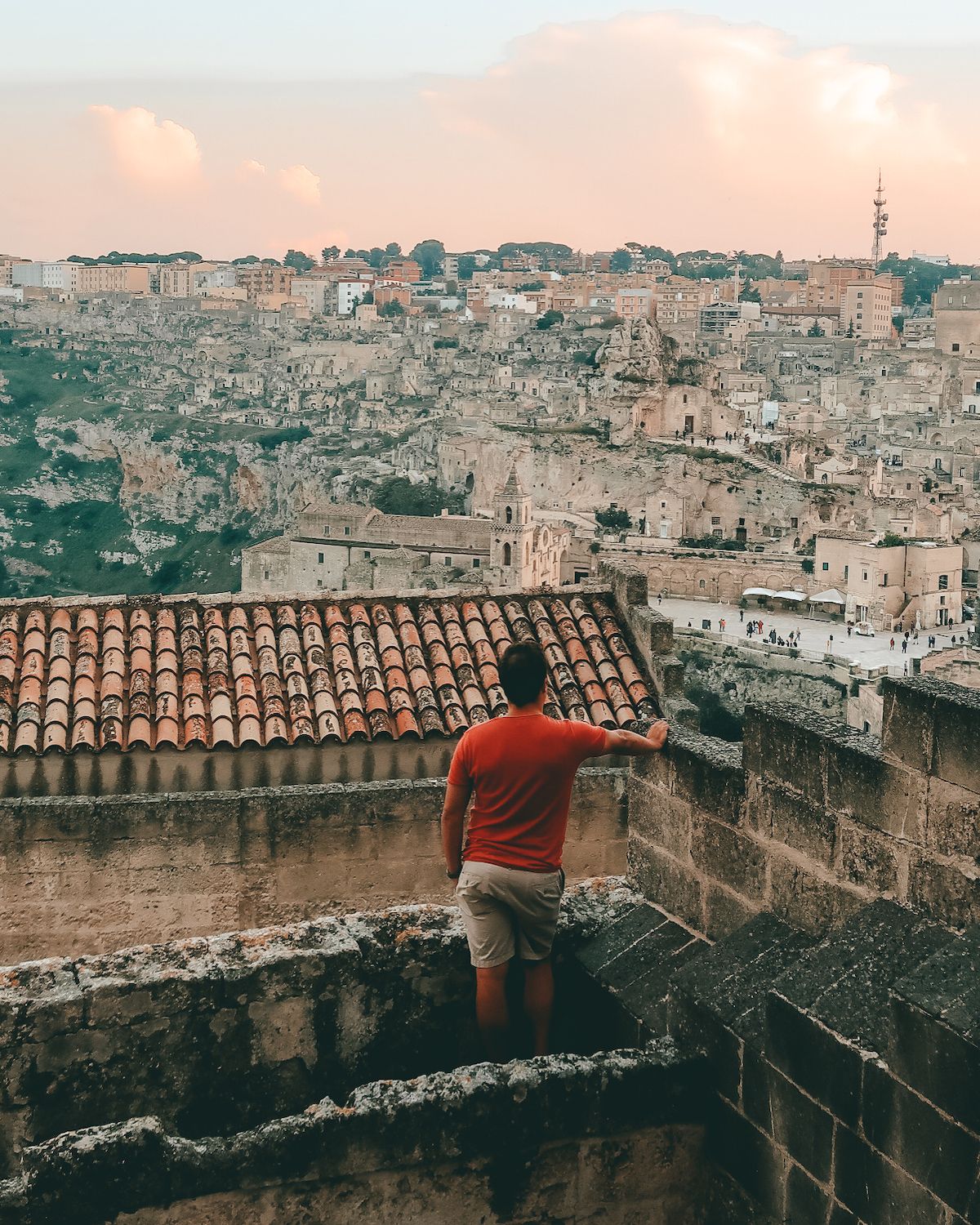 Explore one of the oldest continuously lived in cities in the world. The hidden gem of our trip to Italy was Matera. The 9,000 year old city went from an ancient civilization to a poverty-stricken area and now to Europe's capital of culture and setting for Hollywood movies. The drive from Furore to Matera was leisurely and took 3.5 hours.
See our 2-day Matera guide including the top things to do and where to stay.
Closet airport to Matera
From Matera, it's only a one hour drive to the Bari International airport, where you can drop off your rental car and fly home or to your next destination!
Enjoy your two weeks in this beautiful country!
---
Start planning your trip to Italy
---
Don't miss our other Tuscany itineraries:
If you're a wine enthusiast, you may also like Piedmont, Italy's underrated wine region renowned for its Barolo and Barbaresco wines. See our 3 Day Piedmont Itinerary,
See our itineraries that combine Italy and France: South of France and Italy road trip itinerary and 12 Day Italy and France Itinerary.
Some other Italian villages you may like:
---
See what it was like in our Italy vlogs:
---
You might also like:
---
Looking for more travel inspiration? Check out our list of 20 Dreamy Relaxation Travel Ideas
Love food? Don't miss our list of Unique Culinary Experiences Around the World.