Get ready for an unforgettable journey through the heart of Italy, where Tuscany's rolling hills, vineyards, charming hilltop villages, and medieval cities set the stage for your adventure. If you're searching for a destination that effortlessly blends nature, history, culture, cuisine and world-class wine, then Tuscany is your perfect choice.
Your 7 Days in Florence and Tuscany will be filled with unique experiences. Beginning in Florence, you'll explore iconic landmarks, enjoy a sunset picnic with city views, discover hidden gems and immerse yourself in the vibrant local scene. Next, you'll set out on a leisurely road trip into the Tuscan countryside to unwind in nature, explore hilltop villages and discover world-renowned wine regions.
This Florence and Tuscany 7 Day Itinerary includes the best places to visit and where to stay in both the city and the countryside.
Overview: 7 Days in Florence and Tuscany
Days 1-2: Florence - explore iconic landmarks, enjoy a sunset picnic with city views, discover tucked-away gems and immerse yourself in the vibrant local scene of the bohemian Oltrarno district.

Days 3-7: Tuscany - stay at an authentic farmhouse and explore hilltop villages, the famous Chianti and Montalcino wine regions, and the medieval city of Siena.
Disclosure: Some of the links below are affiliate links, meaning at no additional cost to you, we will earn a commission if you click through and make a purchase. We only recommend products or services we have used or that we believe will add value to our readers. Thank you for supporting us!
Best time to visit Florence and Tuscany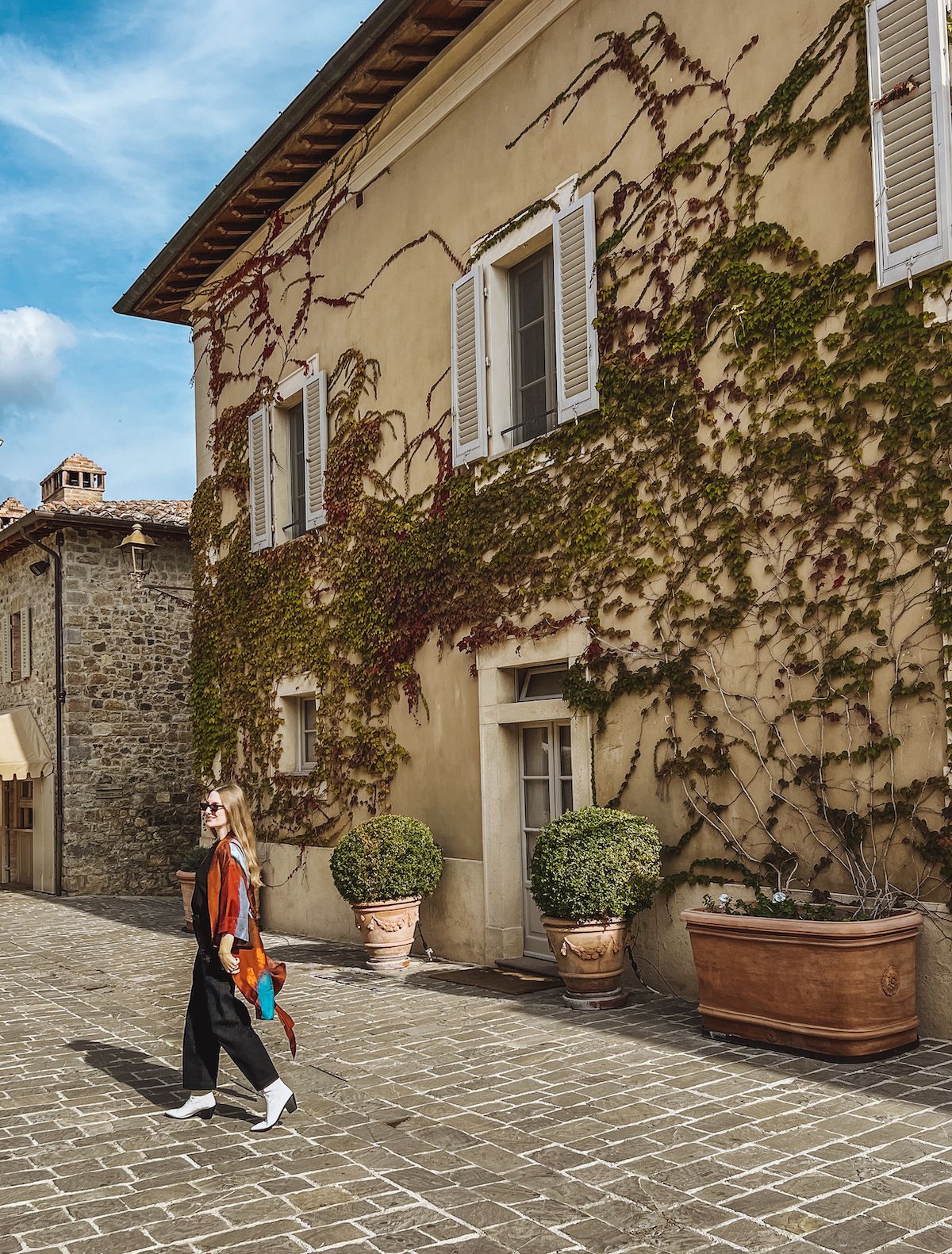 The best time to visit Florence and Tuscany is from April - June and October. These months offer pleasant weather while steering clear of the tourist rush from July to September. Summertime attracts larger crowds and pricier hotels. We recommend avoiding winter months from December - February as it gets chilly with highs reaching around 10°C.
If you want to see flowers in bloom, visit from mid-April to May. For harvest season, visit between mid-September to mid-October.
Getting around Florence and Tuscany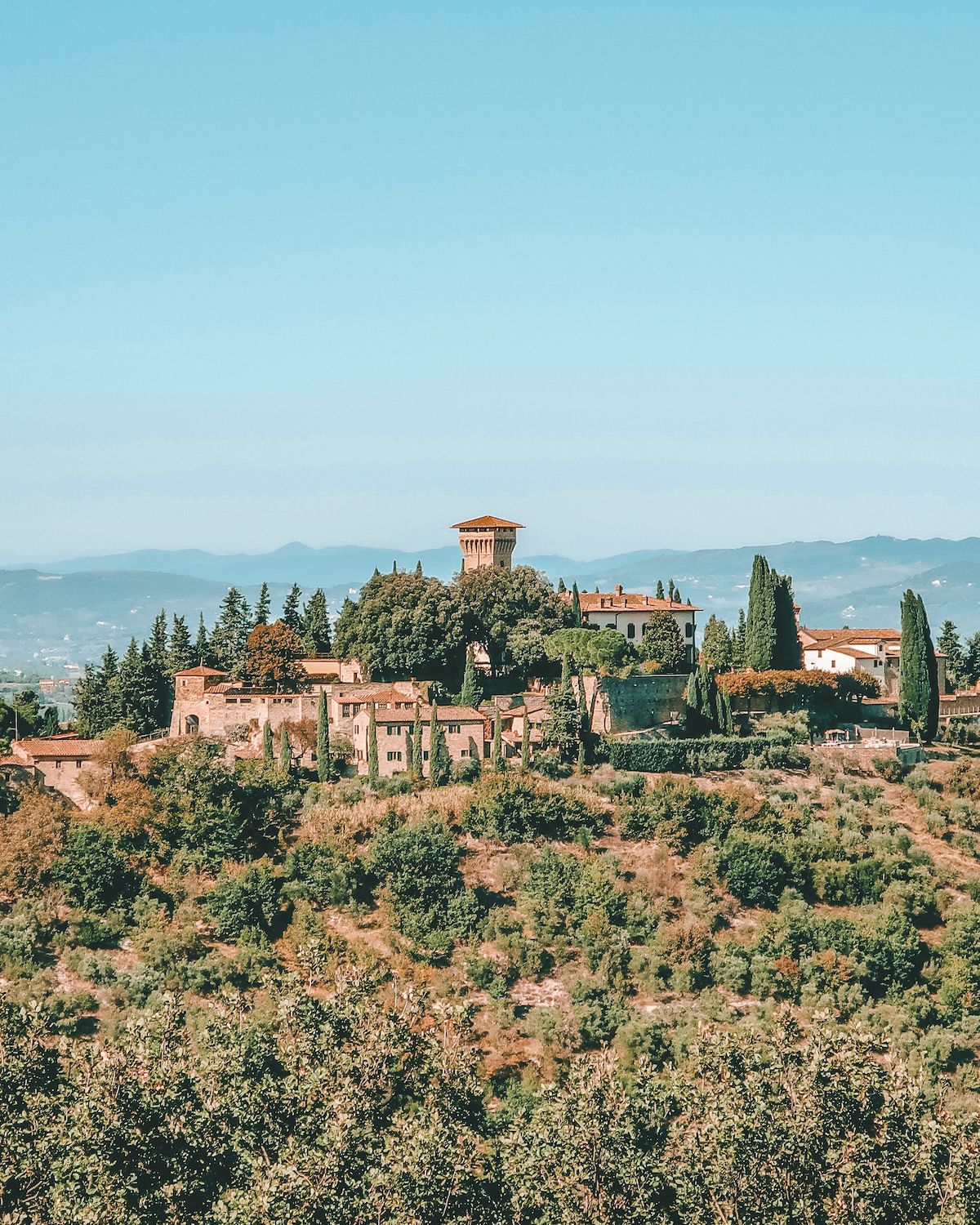 In Florence, the best way to get around is by walking. Most sights are within walking distance, however, taxis come in handy for farther away places. Uber is actually more expensive than taxis in Florence since they only offer Uber Black.
To get from the international airport to downtown Florence, there is an easy 20-minute tram that takes you to the centre of the city.
In Tuscany, we highly recommend renting a car. Driving through the rolling hills and exploring villages at your own pace is one of the best parts of visiting.
🚘
Compare car rental rates in Tuscany.
For wine-tasting days, we recommend arranging a private driver or group tour. While private driver rates can vary, we've got a helpful strategy for you: compare the quotes you get online with the rates your hotel or wineries offer (they often collaborate with drivers).
Florence and Tuscany 7 Day Itinerary
Days 1-2 Florence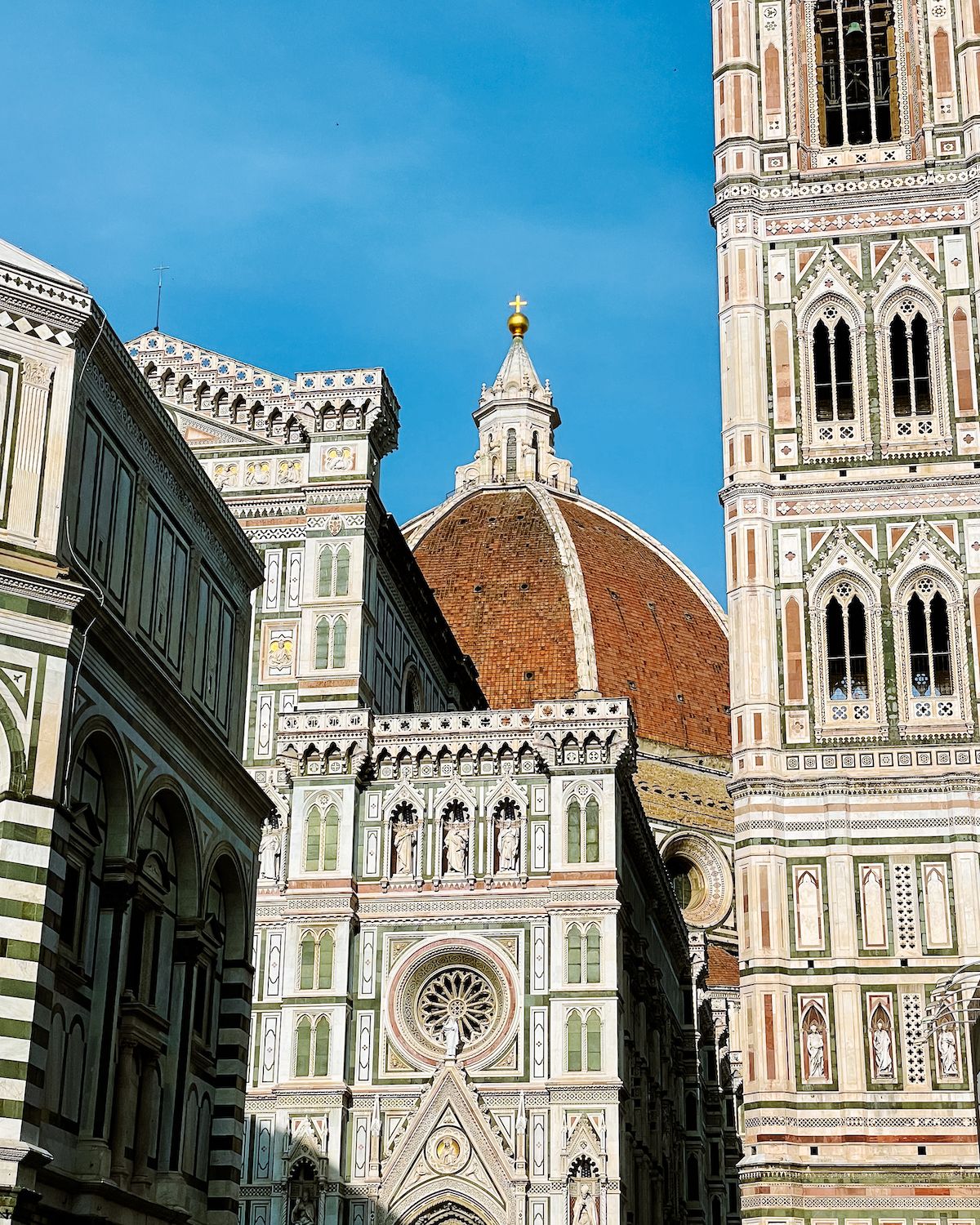 Start your journey in Florence, the birthplace of the Italian Renaissance. During your first couple of days, you will explore the city's historic centre, unveil its treasures and immerse yourself in its vibrant local scene.
Where to Stay in Florence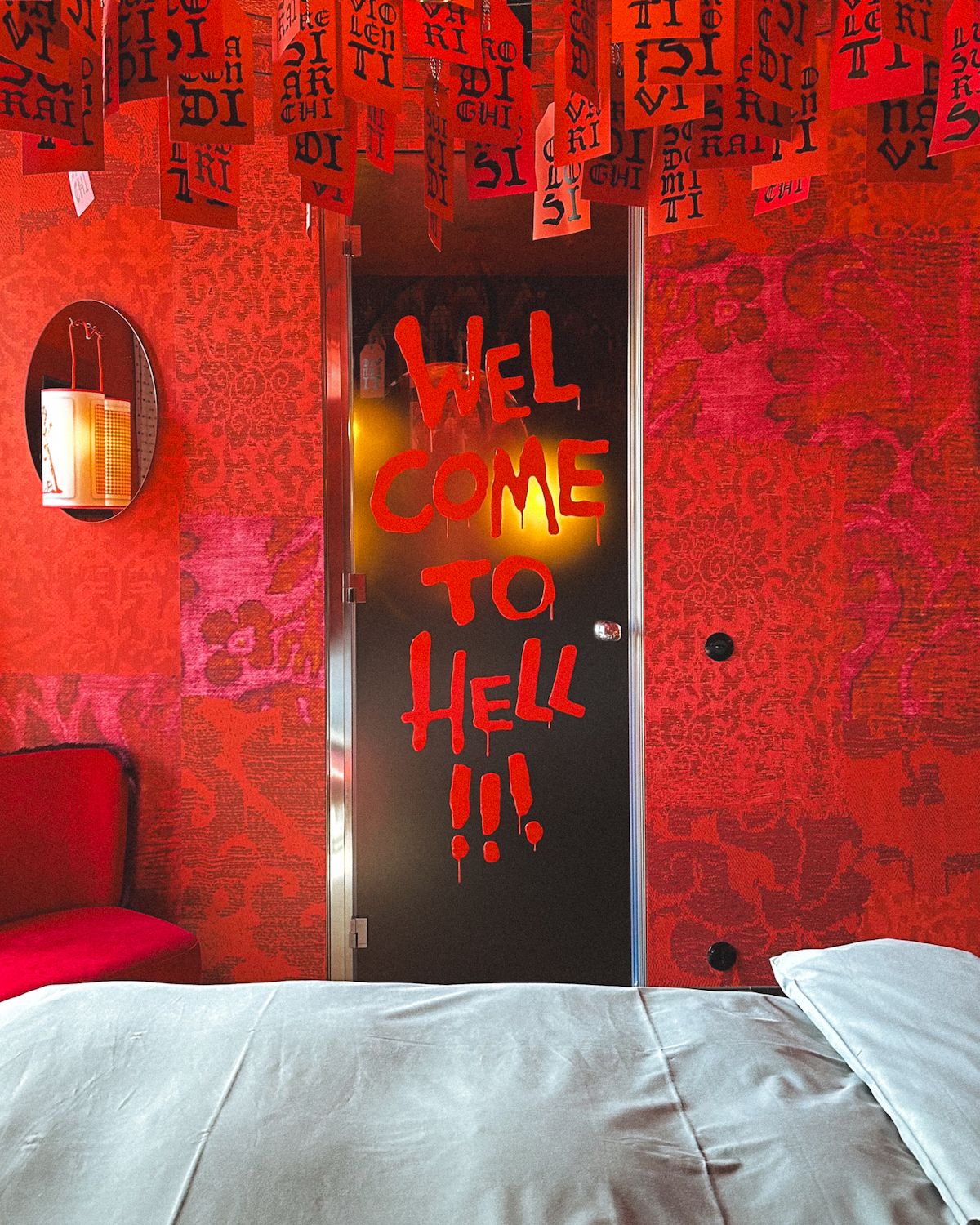 We recommend staying in a hotel near the historic centre or in the buzzy Oltrarno neighbourhood. They are both within walking distance of the best sights and offer a unique selection of boutique hotels.
While this concept may not be for everyone, we thought it was clever and tastefully done.
Inspired by Dante's Divine Comedy, each room has a "Hell" or "Heaven" theme.
While my friend refused to book the "Hell" room, it was my #1 choice. I love horror movies after all. This
hotel
is good value for the size of the rooms and is in an excellent location. You can walk to the Duomo in 8 minutes.
Browse more stays near the historic centre
Our top pick in Oltrarno: BSJ15
After Tuscany, we stayed in the creative Oltrarno neighbourhood at
BSJ15
.
The value, service and location were outstanding.
The restored 14th-century building beautifully combines its historic features with stylishly decorated rooms and contemporary art. Just note that there are no elevators, so be prepared to walk up the stairs to your room. A bonus was that were were given breakfast vouchers for a trendy cafe just up the street. The Duomo is an 11-minute walk away.
Browse more stays near Oltrarno
Day 1: Explore the artistic heart of Florence
Daytime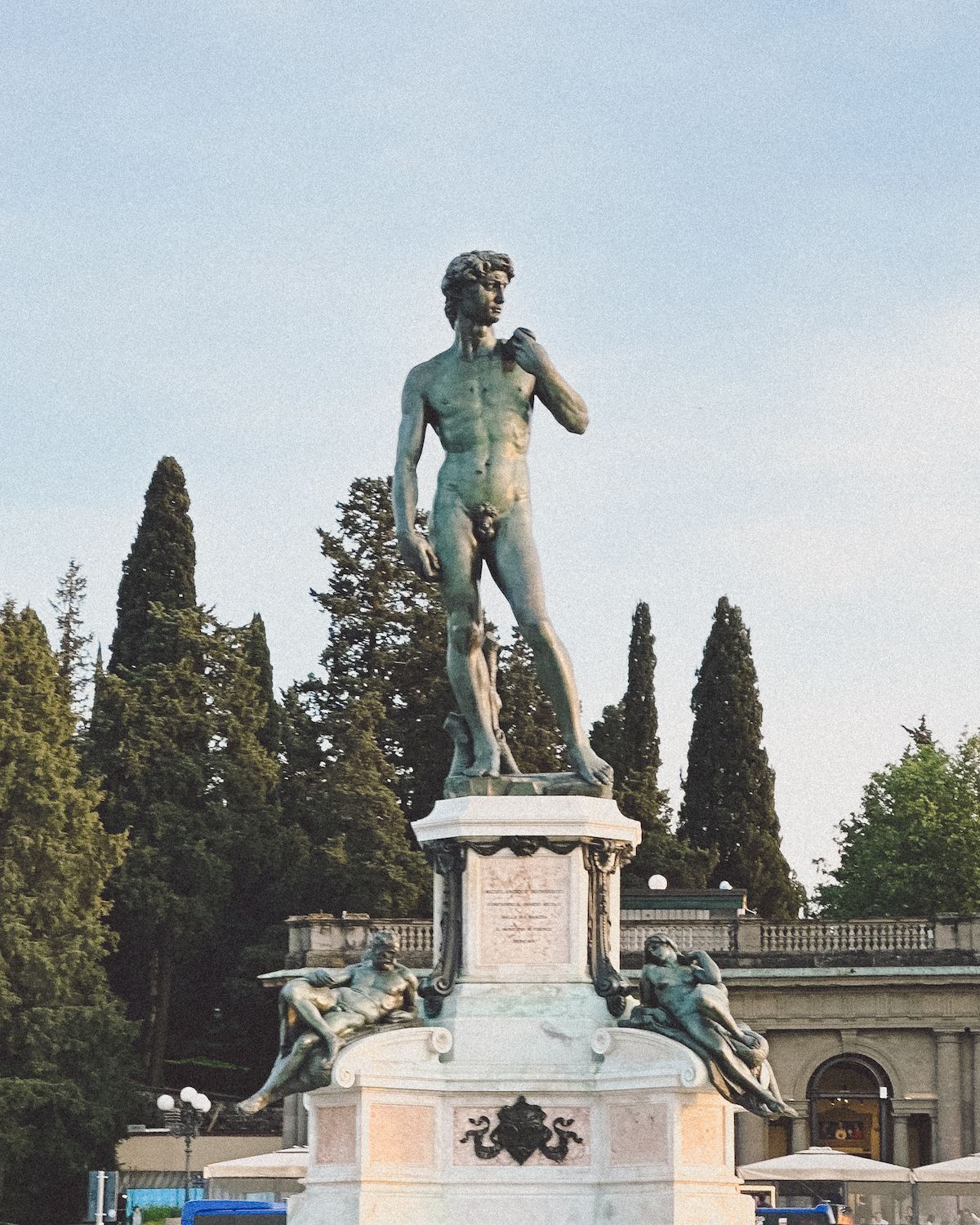 Explore the historic centre of Florence
🏛 Immerse yourself in Florence's world of art and architecture by exploring the historic central district, home to its most iconic landmarks. Here you will uncover bustling piazzas, trattorias, wine bars and fashion boutiques.
Browse
GetYourGuide
or
Viator
for
walking tours with local guides
and
skip-the-line tickets
to major cultural sites. We like how most tours and entry tickets have free cancellation up to 24 hours in advance.
🛍️ Wander along the cobblestone pathways and shop the boutiques and vintage stores. It's one of the best shopping cities we've ever been to. Also gather cheese and charcuterie ingredients, and a bottle of wine for your sunset picnic later in the evening.
🥪 For lunch, eat one of Florence's famous schiacciata sandwiches at All'antico Vinaio. Imagine rustic Tuscan bread filled with your choice of high-quality charcuterie, artisanal cheeses, fresh vegetables and flavourful spreads. It's an incredible value given the generous portion size. Our best-kept secret is that the second location beside San Marco Square has remarkably shorter queues. We visited twice and encountered no lines on both occasions.
🥔 ✨Fully Loaded Experience: forgo the sandwich and instead treat yourself to a Michelin-starred meal at Gucci Osteria da Massimo Bottura, one of the most glamorous and sought-after places to eat in Florence. When we were eating there, we saw numerous people get turned away that were hoping to get a walk-in table. Make your reservation far in advance.
👀🍹Walk around the Duomo di Firenze and pick a sidewalk cafe in the square to sit and enjoy an Aperol spritz. We saw them range from 8€ to 12€. The square provides a unique vantage point to admire the cathedral's grandeur.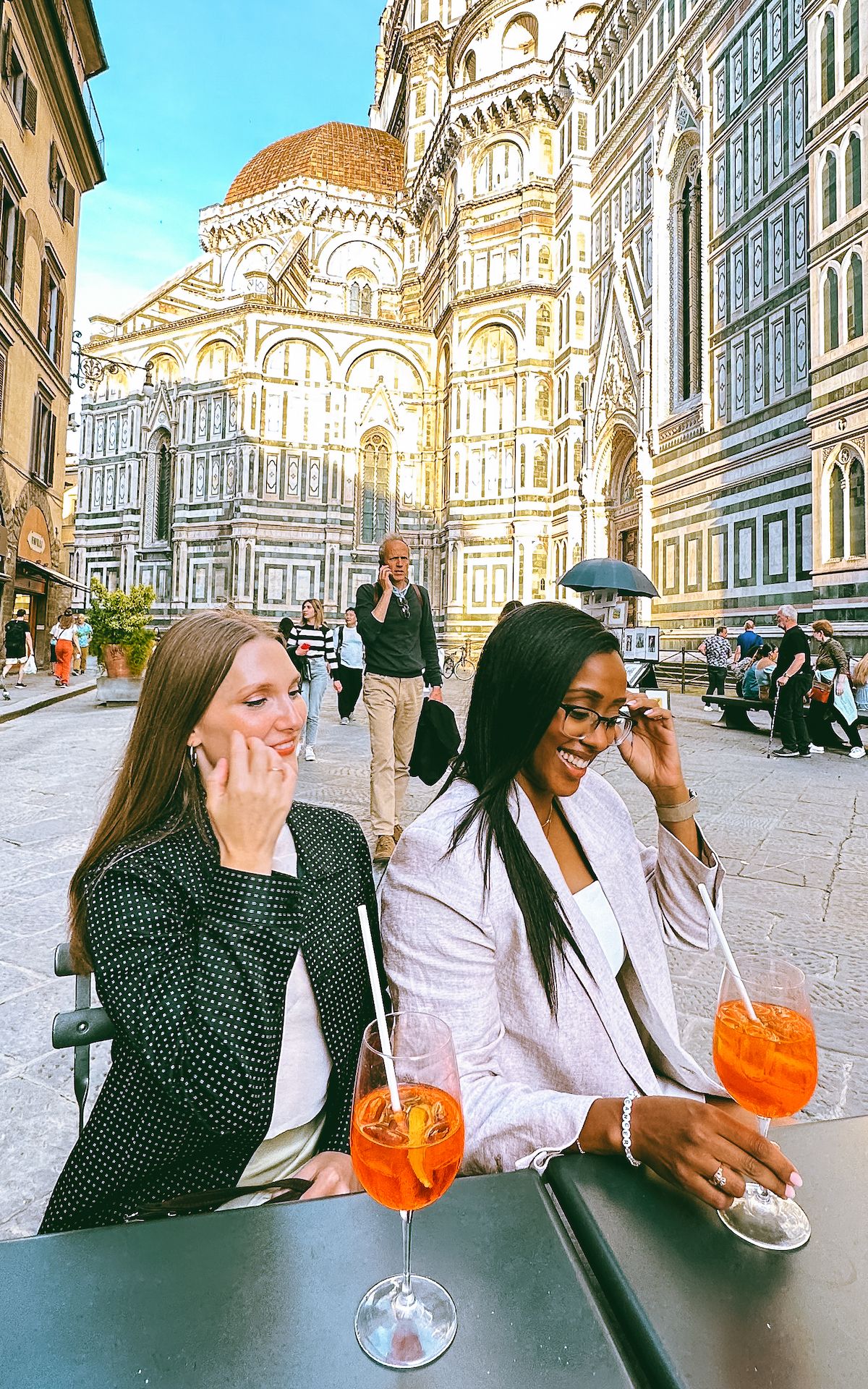 The Duomo's exterior is a masterpiece of architecture, adorned with intricate marble facades, elaborate sculptures and its red-tiled dome, designed by Filippo Brunelleschi. Starting construction in the late 13th century and taking over 140 years to complete, the cathedral is a feat of Gothic architecture.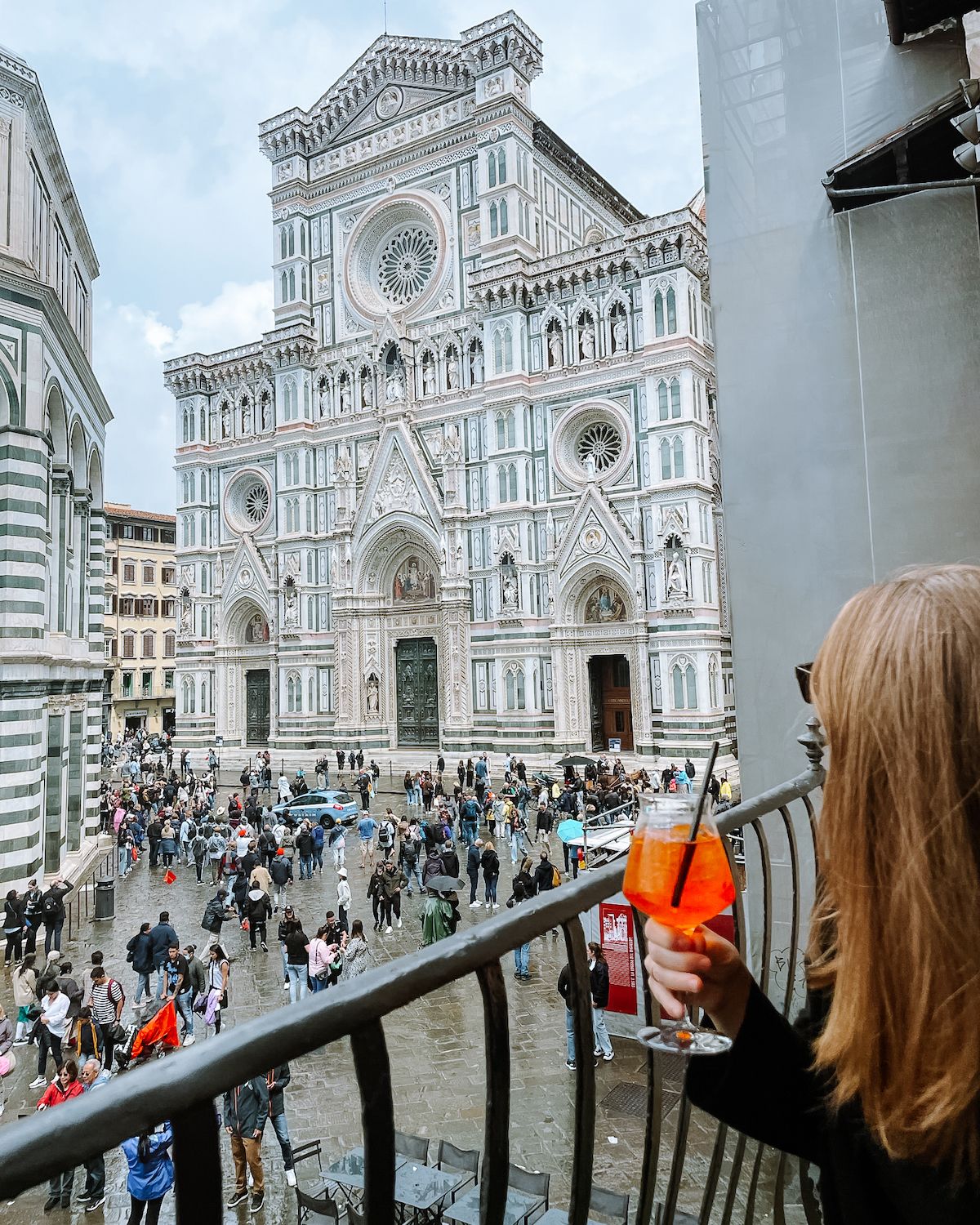 Hidden gem overlooking the Duomo: Move On - on the second floor of this bar and record store, there is a tiny terrace you can squeeze 2 people onto that overlooks the Duomo.
Evening
Enjoy a sunset picnic with panoramic city views
We heard the best place for panoramic sunset views overlooking the city was Piazzale Michelangelo. We planned to have our picnic there, but to our surprise, it was a large cement square with hordes of people trying to capture the same view. We were determined to find the perfect spot to enjoy our picnic and the view.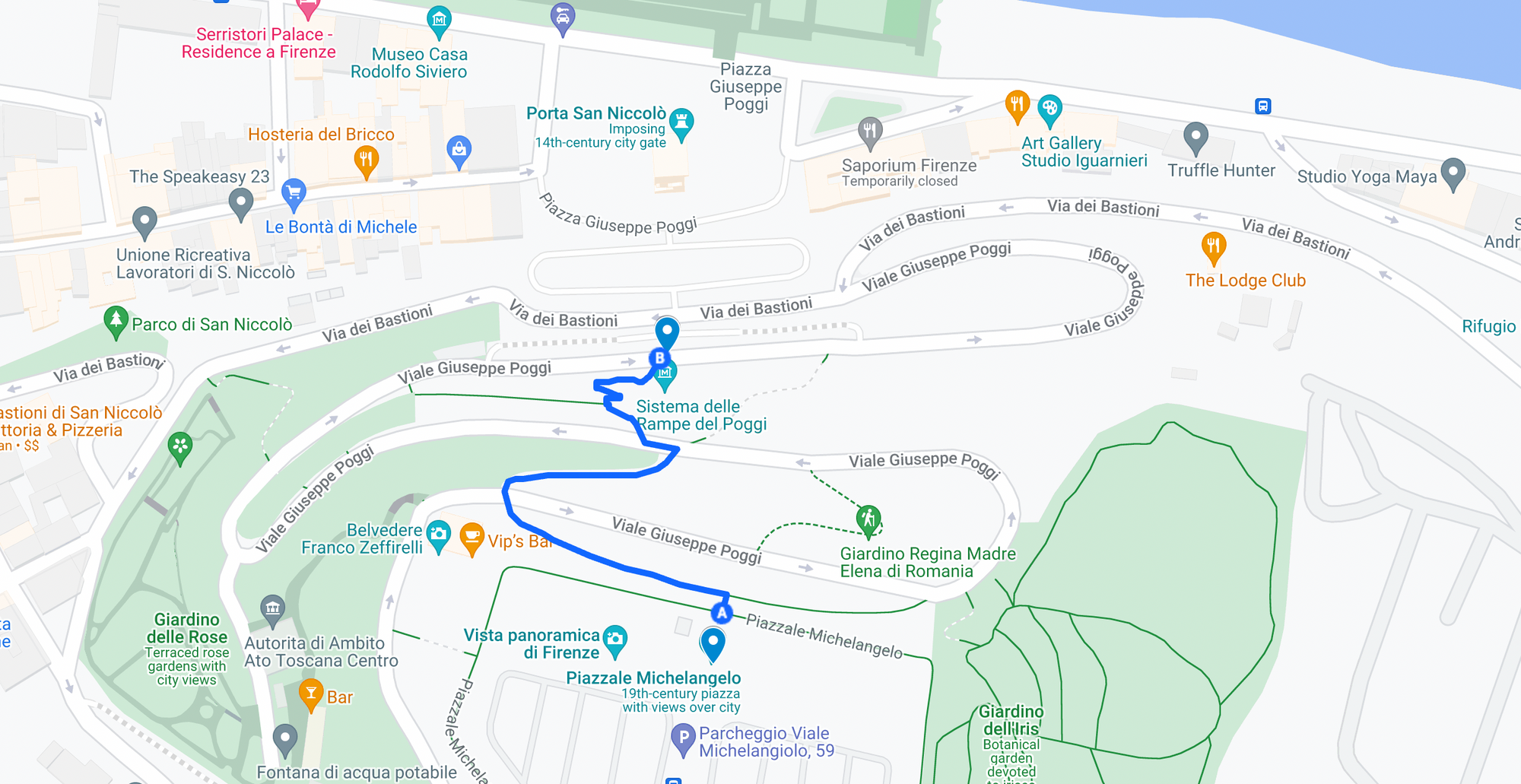 From Piazzale Michelangelo, walk down Viale Giuseppe Poggi and you'll find cement railings with flat "table tops" that you can have a standing picnic at. It was perfect for laying out our ingredients and watching the sunset. There were wayyy less people down there and it's only a 2-minute walk downhill from the square above. This was our favourite activity with did with our friends.
Drink cocktails at one of the world's best bars
From your picnic spot continue walking down the hill and make your way towards Locale Firenze, ranked #39 on the World's 50 Best Bars list. The leisurely 20-minute walk takes you back to the historic centre of Florence. Housed within a historic palace, Locale Firenze has a restored 12th-century basement and a 15th-century main floor that will whisk you away to another era.
Dress Code: no sandals or shorts for men
Day 2: Unveil Florence's Treasures
Daytime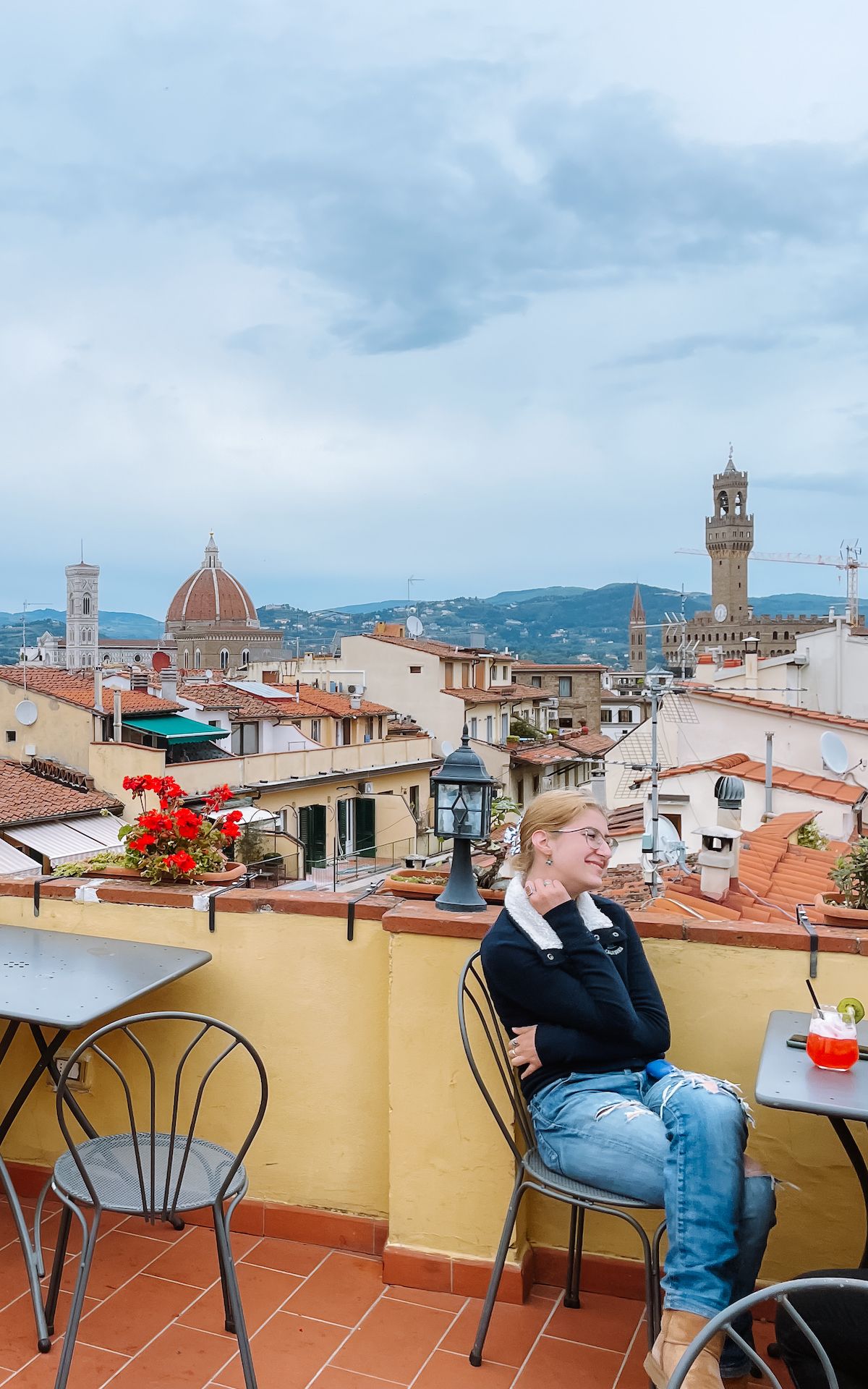 Start your morning with a cappuccino and pastry in Piazza Duomo
Make your way back to the square and choose a sidewalk cafe overlooking Santa Maria del Fiore Cathedral.
Explore the bohemian Oltrarno neighbourhood
Once a hub for Renaissance artisans and craftsmen, Oltrarno has been shaped by artists throughout the ages. Located on the other side of the Arno River, it's one of the hippest neighbourhoods in Florence. Its bohemian atmosphere, creative local scene and happening restaurants and bars make it one of the city's best neighbourhoods to visit.
Wander through Oltrarno's vibrant streets and don't miss out on the chance to browse the artisan boutiques - my friend was excited to take home the softest pair of red leather gloves.
For lunch, choose from Trattoria Sabatino or Panorama Restaurant La Scaletta. Trattoria Sabatino is a beloved family-run eatery that has been serving authentic Florentine fare since the 1950s. Their dishes are an excellent value and it was even a favourite of Anthony Bourdain. If views are your priority, book a table on the rooftop of Panorama Restaurant La Scaletta. It has wonderful views overlooking the city. There are only 4 tables on the very top called "The Florence Terrace",  so reserve in advance.
Evening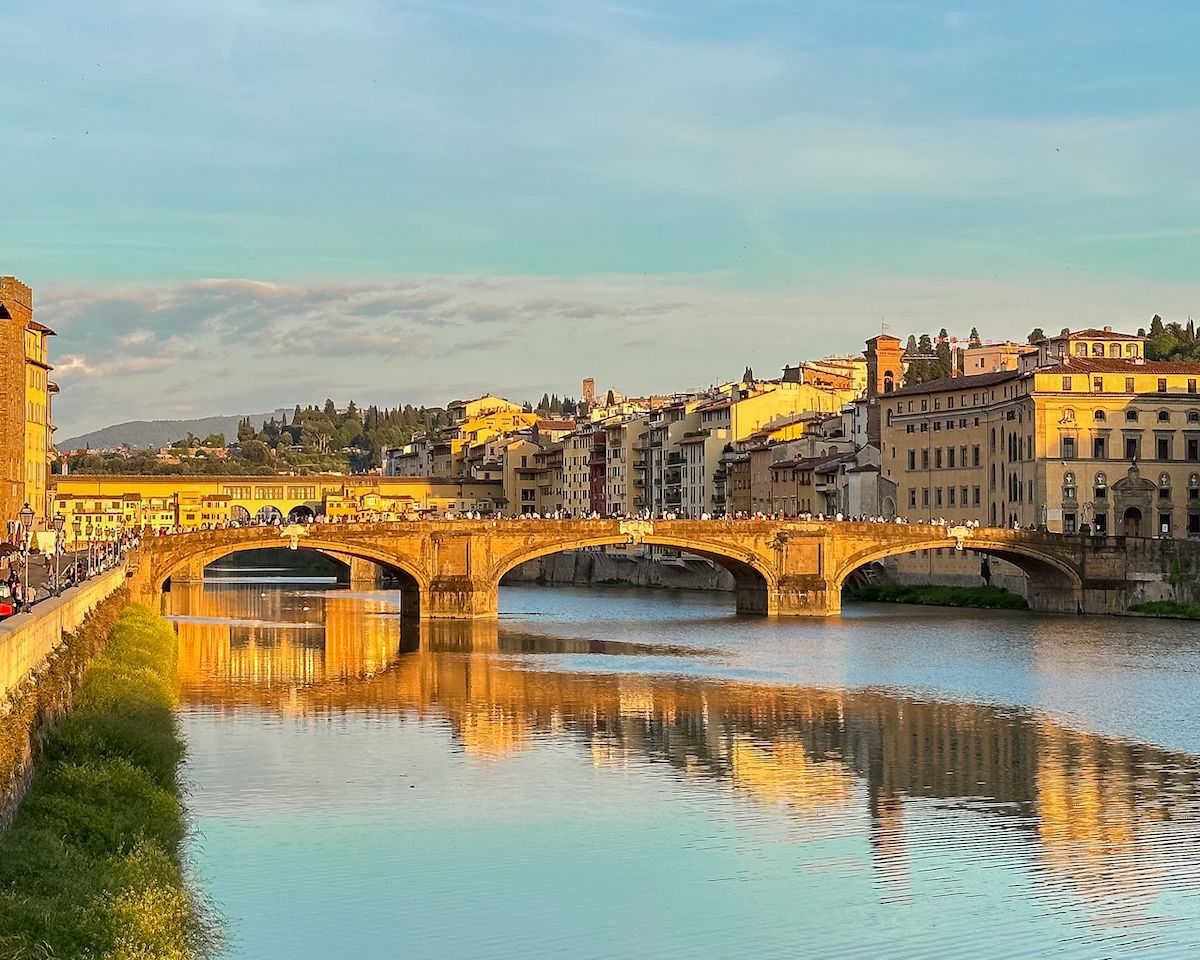 Walk across Across Ponte Alla Carraia Bridge at sunset
Although Ponte Vecchio is easily the most famous bridge in Florence, our personal favourite for walking across was the Ponte Alla Carraia Bridge. As the sun sets, the buildings and two bridges that stand ahead, Ponte Vecchio and Ponte Santa Trinita, cast a radiant yellow glow, painting a beautiful scene.
We also recommend walking across Ponte Vecchio when you have a chance. Dating back to Roman times, it's the only bridge on the Arno River that survived WWII. The peculiar bridge is lined with shops selling jewelry, art and souvenirs.  
Order a glass of wine from a wine window steeped in history
Have you ever heard of Florence's wine windows? Peppered throughout the city, these little openings, born centuries ago, are portals to a unique Florentine tradition. They were first established during the Renaissance when Noble families with vineyards on the outskirts of Florence set them up to sell their wines directly to the public. Centuries later, these windows found another purpose. When the pandemic's grip tightened, they reopened, providing a safe way to share wine and connect.

Immerse yourself in Oltrarno's vibrant local scene
Get ready for an evening in Oltrarno when the local energy comes alive. Start your night with dinner at Il Santo Bevitore, one of the city's hottest restaurants serving seasonal Tuscan classics that attract locals. Listed in the Michelin guide, you're in for a treat! The value here is very good for the calibre of dishes.
As the night unfolds, venture into the hidden gem, Rasputin, Florence's first "secret bar" that was recommended to us by a mixologist in the seaside village of Camogli. It has a sexy ambience and element of mystery with no pictures allowed inside. Crafted cocktails take centre stage in the dimly lit space. Make your reservation in advance since tables are limited.
Next walk down Borgo S. Frediano, a dynamic street with an excellent nightlife. Its numerous bars offer a range of experiences, from trendy to traditional, and is where you can easily mingle with locals and in-the-know travellers. We bar hopped starting at Floreal Bar.
Days 3 - 7: Tuscany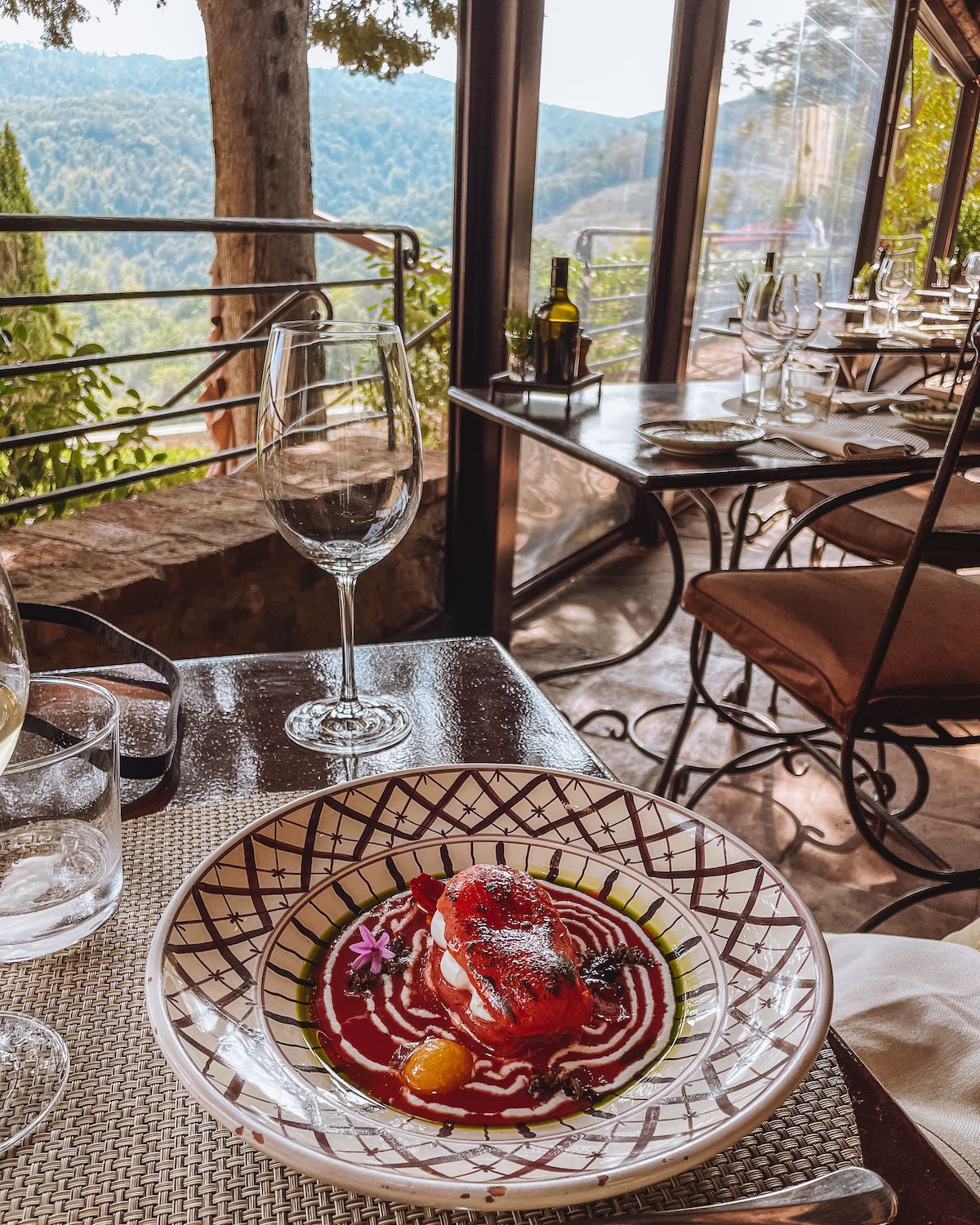 Continue your journey to the Tuscan countryside, renowned for its Sangiovese wines, like Chianti Classico and Brunello di Montalcino, medieval hilltop towns and Tuscan culinary scene. Pick up your rental car from Florence and embark on a scenic drive through the rolling hills, all in under an hour.
🚘
Compare car rental rates from Florence.
Over the next 5 days, you will immerse yourself in nature, learn about the art of winemaking, and indulge in the rich flavours of Tuscan cuisine.
Where to Stay in Tuscany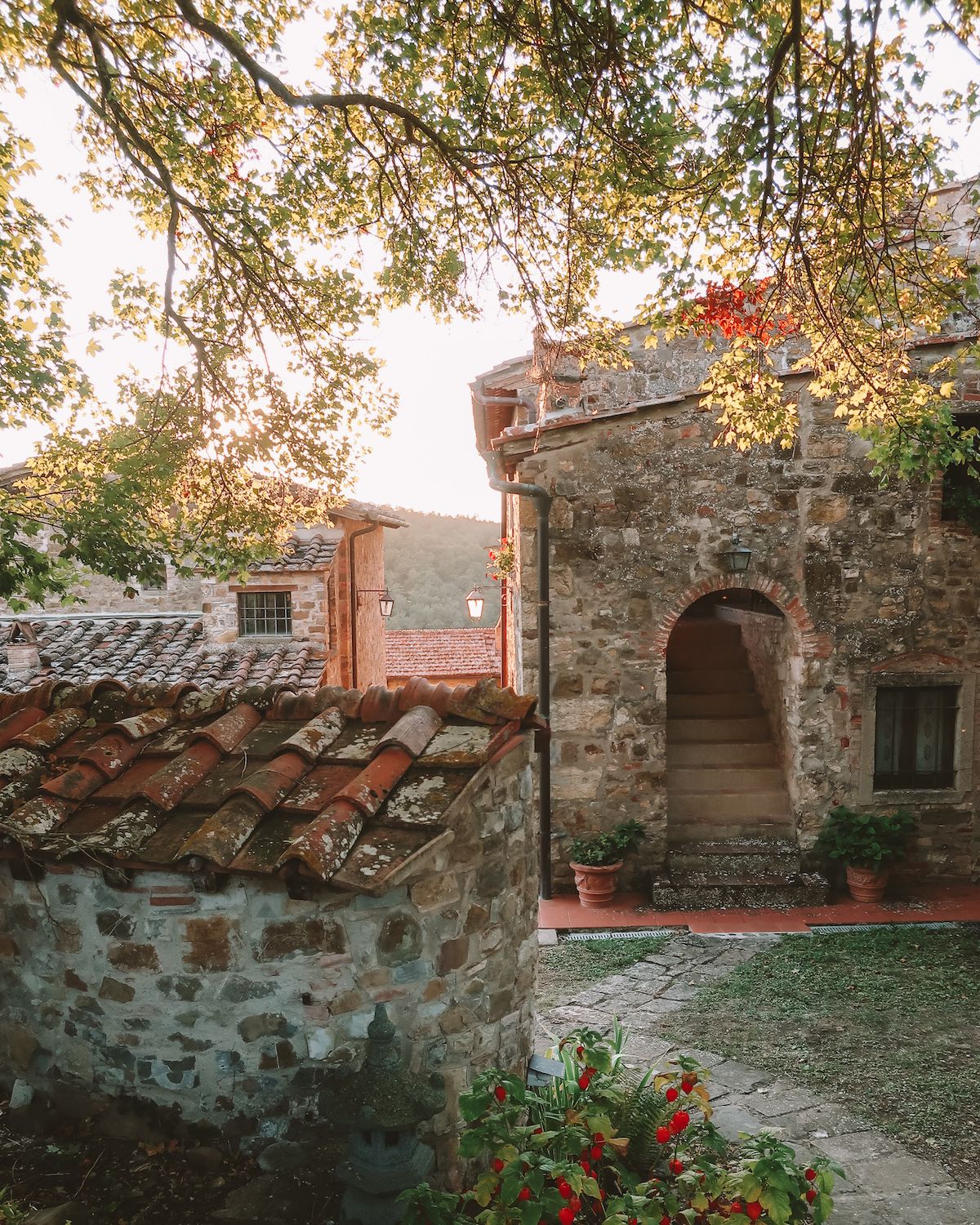 We highly recommend staying in an agriturismo, a quintessential Italian farmhouse that offers a truly local experience.
We stayed at
Podere Felceto
, a serene organic olive oil farm near Panzano. Nestled on a hillside, the farmhouse features a refreshing outdoor pool overlooking the countryside. It's the perfect base for exploring the region.
Staying at an agriturismo offers the advantage of tapping into your host's local expertise, which often surpasses what online research can provide. During our stay, we were fortunate to receive exceptional recommendations for restaurants and wineries, which they even assisted us in securing reservations for.
Browse more agriturismo stays on Booking.com by filtering "Farm Stays".
What to do in Tuscany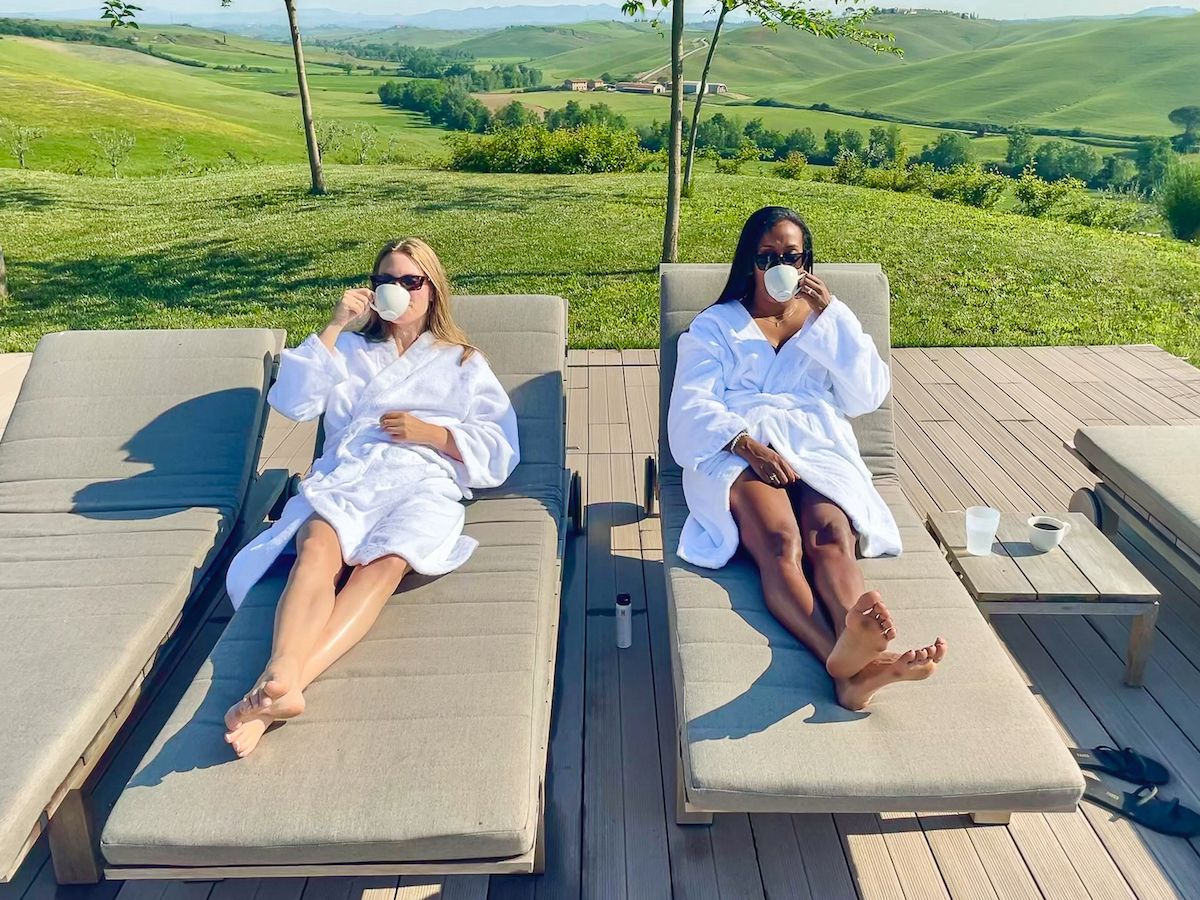 See our comprehensive 5 day Tuscany itinerary, which includes the best sights, where to eat and unique activities you don't want to miss.
Here are the Highlights:
🍇 Explore quaint villages and impressive wineries in the Chianti wine region
🐑 Unwind at your stay in an authentic Italian farmhouse
🥇Visit Antinori nel Chianti Classico, ranked the World's Best Vineyard in 2022
🥗 Enjoy fresh Tuscan lunches at charming restaurants with scenic views
🏛️ Spend the day in Siena, a romantic medieval city in the heart of Tuscany
🥩 Eat at a Tuscan steakhouse run by Dario Cecchini, one of the most famous butchers in the world.
🍷 Taste Brunello di Montalcino wines in the famous Montalcino wine region
Read the full 5 day itinerary here.
Enjoy your 7 days in Florence and Provence!
---
Get started on booking your trip to Italy
🌃 Accommodation: Book your stay in Florence and Tuscany. Booking.com is our go-to for finding places to stay. Sort by top reviewed.
🚗 Reserve your car rental: see Rentalcars.com to compare car rental prices across different companies.
🛫 Book your flight: use Skyscanner to compare flights across different airlines (we recommend booking direct with the airline however).
---
If you have less time, don't miss our other Florence and Tuscany itineraries:
---
Don't miss our other Italy travel guides:
---
Save and pin this Florence and Provence itinerary for later: