This Florence and Tuscany 4 day itinerary equally splits your time between the vibrant city of the Italian Renaissance and the Chianti and Montalcino wine regions in the Tuscan countryside. Discover culinary gems, iconic sights, impressive wineries, and medieval cities and villages during your 4 days in Florence and Tuscany.
From the best sunset picnic spot in Florence to one of the world's best wineries, we have picked out unique experiences you don't want to miss.
This itinerary also provides options based on whether you want to rent a car or not for your trip into the countryside.
Overview: 4 Days in Florence and Tuscany
Days 1-2: Florence - discover iconic landmarks and culinary gems, and immerse yourself in the vibrant local scene.

Days 3-4: Tuscany - explore the famous Chianti and Montalcino wine regions and the medieval city of Siena.
Disclosure: Some of the links below are affiliate links, meaning at no additional cost to you, we will earn a commission if you click through and make a purchase. We only recommend products or services we have used or that we believe will add value to our readers. Thank you for supporting us!
How to get around Tuscany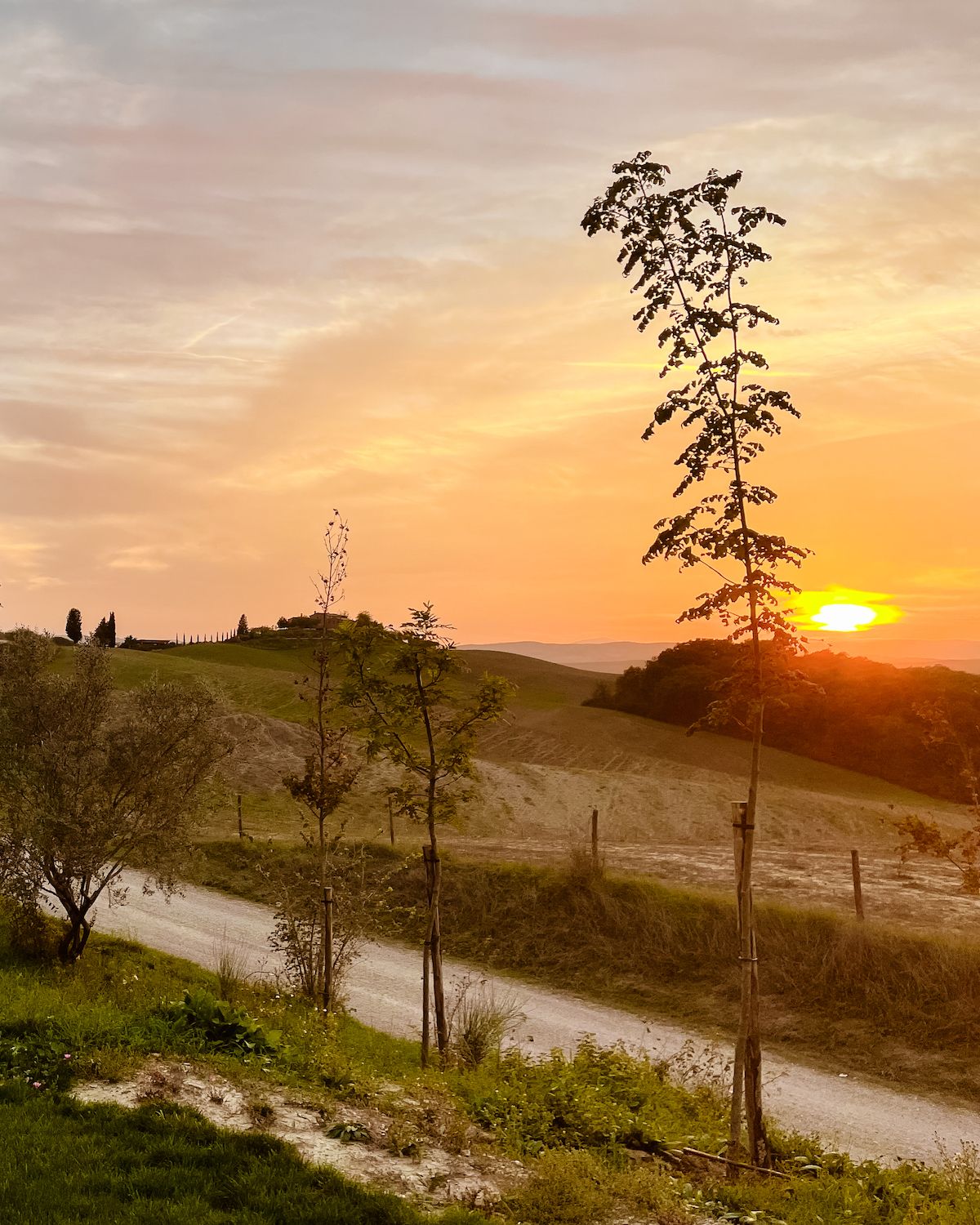 Getting from the international airport to the centre of Florence
Just take the straightforward 20-minute tram that brings you directly to the heart of the city.
Getting around Florence
In Florence, the best way to get around is by foot since most sights are located within walking distance. For farther away places, taxis are useful and actually cheaper than Uber, since only Uber Black is offered.
Getting around the Tuscan countryside
Option 1: with a car
If you're comfortable with driving, we highly recommend renting a car. Meandering through the rolling hills and exploring villages at your own pace is one of the best ways to explore the region.
🚘
Compare car rental rates from Florence.
Option 2: without a car
If you prefer not to drive, we recommend taking the train from Florence to Siena and using Siena as your jumping-off point to explore the surrounding wine regions and villages. From Siena, it's easy to organize private drivers or group tours.
🚆
See train rates from Florence to Siena.
Florence and Tuscany 4 Day Itinerary
Days 1-2: Florence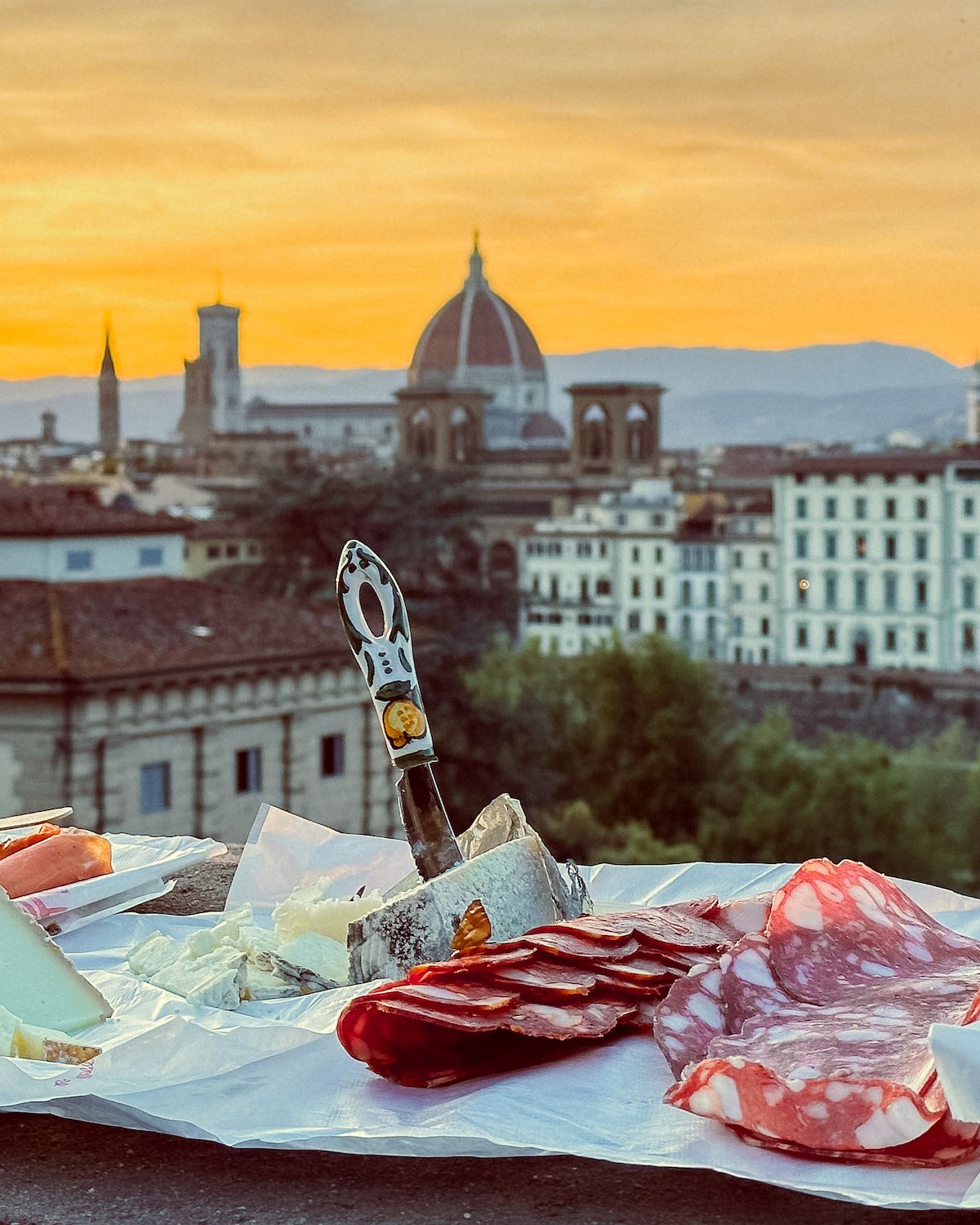 Start your journey in Florence, a captivating city where history and culture come to life on every cobblestone street you take. Its architectural beauty, lively piazzas and vibrant atmosphere make it a city that's easy to spend a few days in. Over the next two days, you'll discover iconic landmarks and culinary gems and immerse yourself in the vibrant local scene.
Where to stay in Florence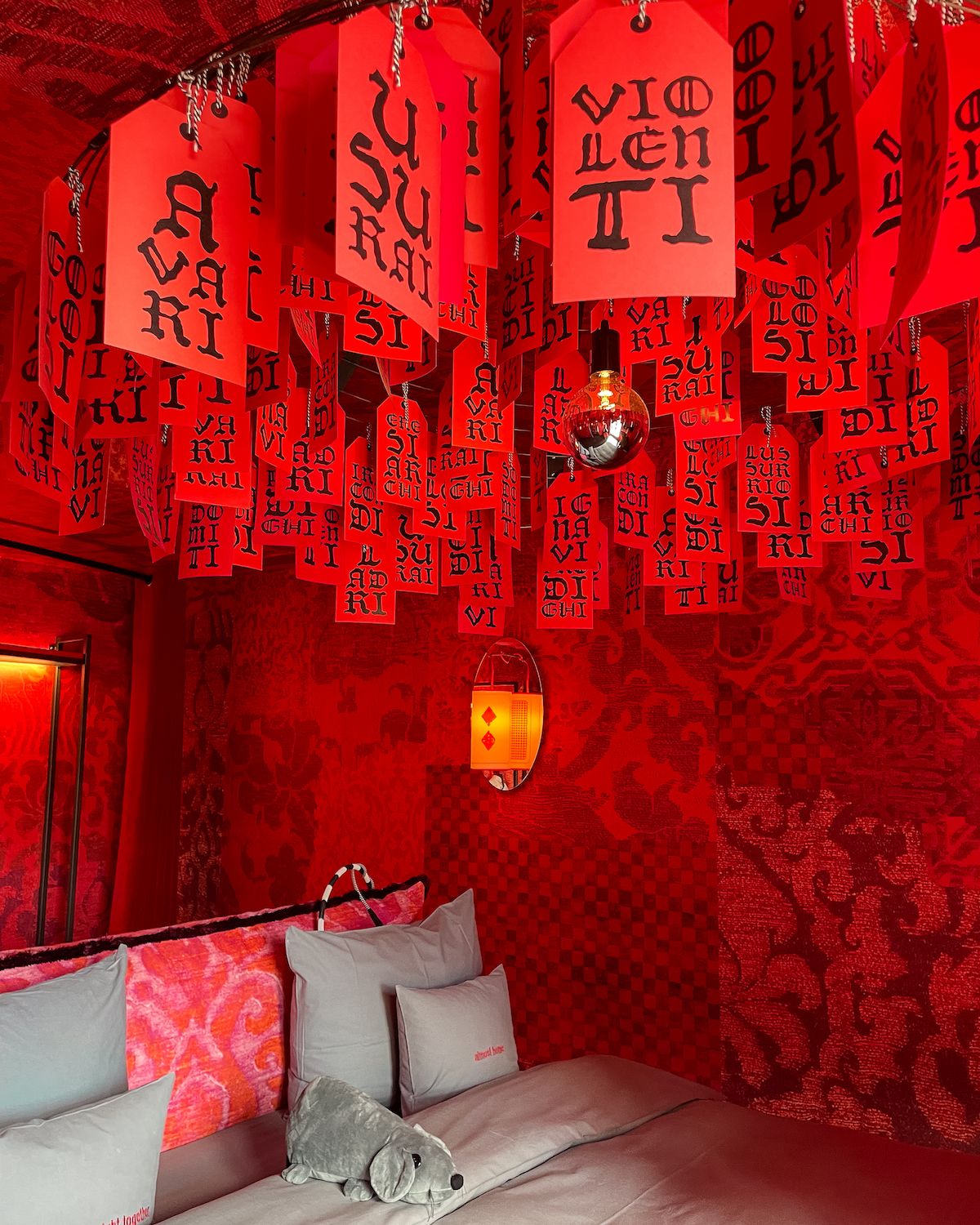 We recommend staying near the historic centre or in the vibrant Oltrarno neighbourhood,
which are both within walking distance of the best sights.
Our top pick near the historic centre is the 25hours Hotel Florence Piazza San Paolino.
Inspired by Dante's Divine Comedy, you choose from either their "Hell" or "Heaven" themed rooms. We thought this concept was fun, unconventional and tastefully executed. The hotel offers good value, alongside a prime location, allowing you to reach the Duomo in just 8 minutes by foot.
In the Oltrarno neighborhood, BSJ15 is our top pick.
Housed in a restored 14th-century building, it blends historic charm with stylishly decorated rooms and contemporary art. It may have no elevators, but its excellent value, service, and location make up for it. If you're looking to stay in a hip district, Oltrarno is a great choice.
Browse more stays in Florence
What to Do in Florence in 2 Days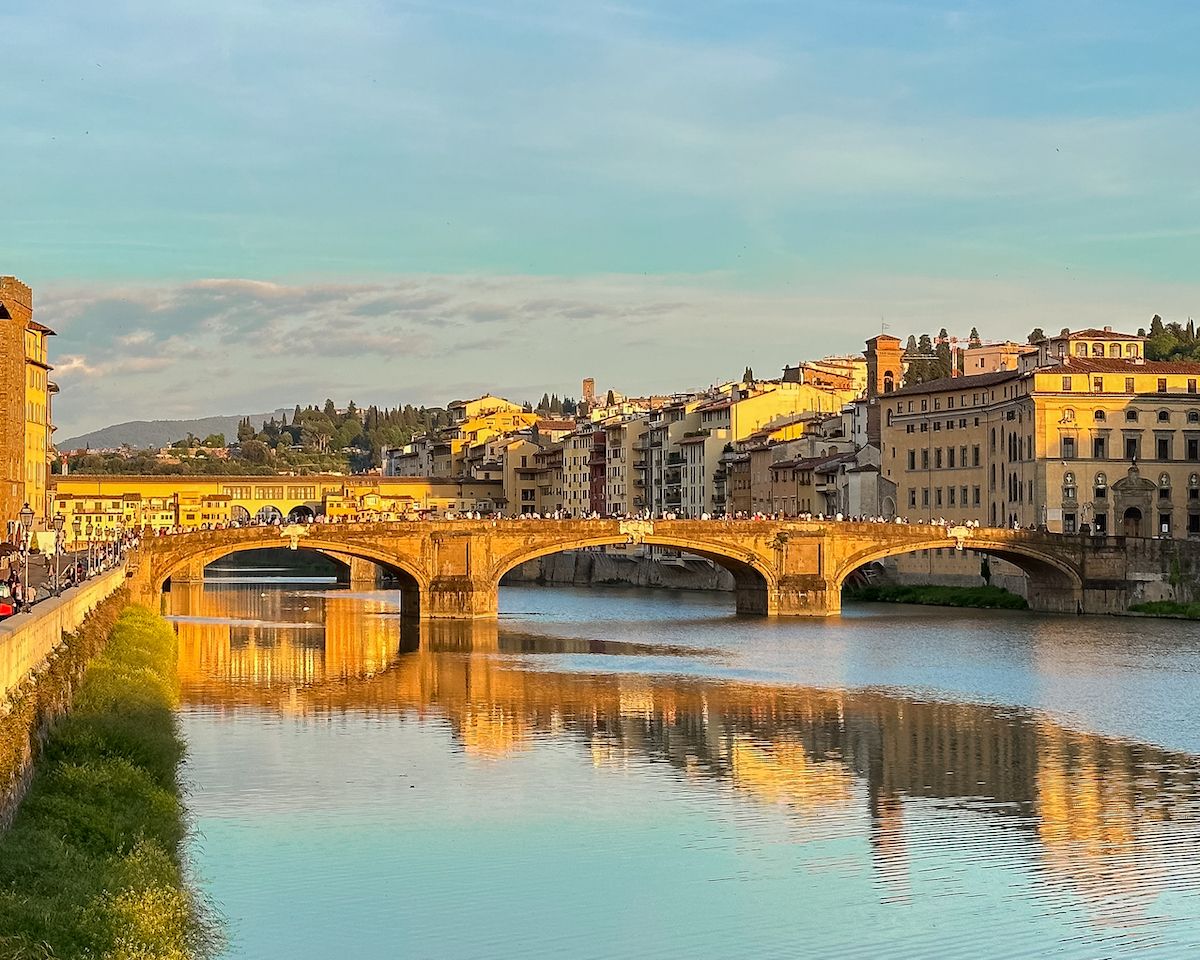 Fun things to do in Florence
🛍️ Shop the historic centre and the buzzing Oltrarno district. Around the centre, you'll find plenty of contemporary boutiques, renowned fashion houses and vintage stores. On the other side of the Arno River in Oltrarno, you'll find tons of artisan shops and quirky boutiques.
👀 Consider joining
guided walking tours led by locals
or grab
skip-the-line tickets
to access the city's iconic cultural sites with ease.
🍹Stroll the Piazza Duomo and unwind at a sidewalk cafe overlooking Santa Maria del Fiore Cathedral. We ordered a couple of spritzes and admired the view of the Gothic-style cathedral built over a total of 140 years. Our top tip: on the second-floor terrace of Move On, a bar and record store, there is a tiny terrace you can squeeze two people onto overlooking the Duomo - it's perfect for a rainy day retreat.
🧺 Enjoy a sunset picnic overlooking the city. Having heard that Piazzale Michelangelo was the ultimate sunset spot overlooking the city, we planned for a picnic there, only to find it swarmed with people all seeking the same view. We decided to explore further and, just a short two-minute walk down the hill to Viale Giuseppe Poggi, we discovered the ideal picnic spot. With considerably fewer people and cement railings serving as convenient "table tops," we set up for a standing picnic while watching the sun descend over the city horizon. It was our favourite activity we did!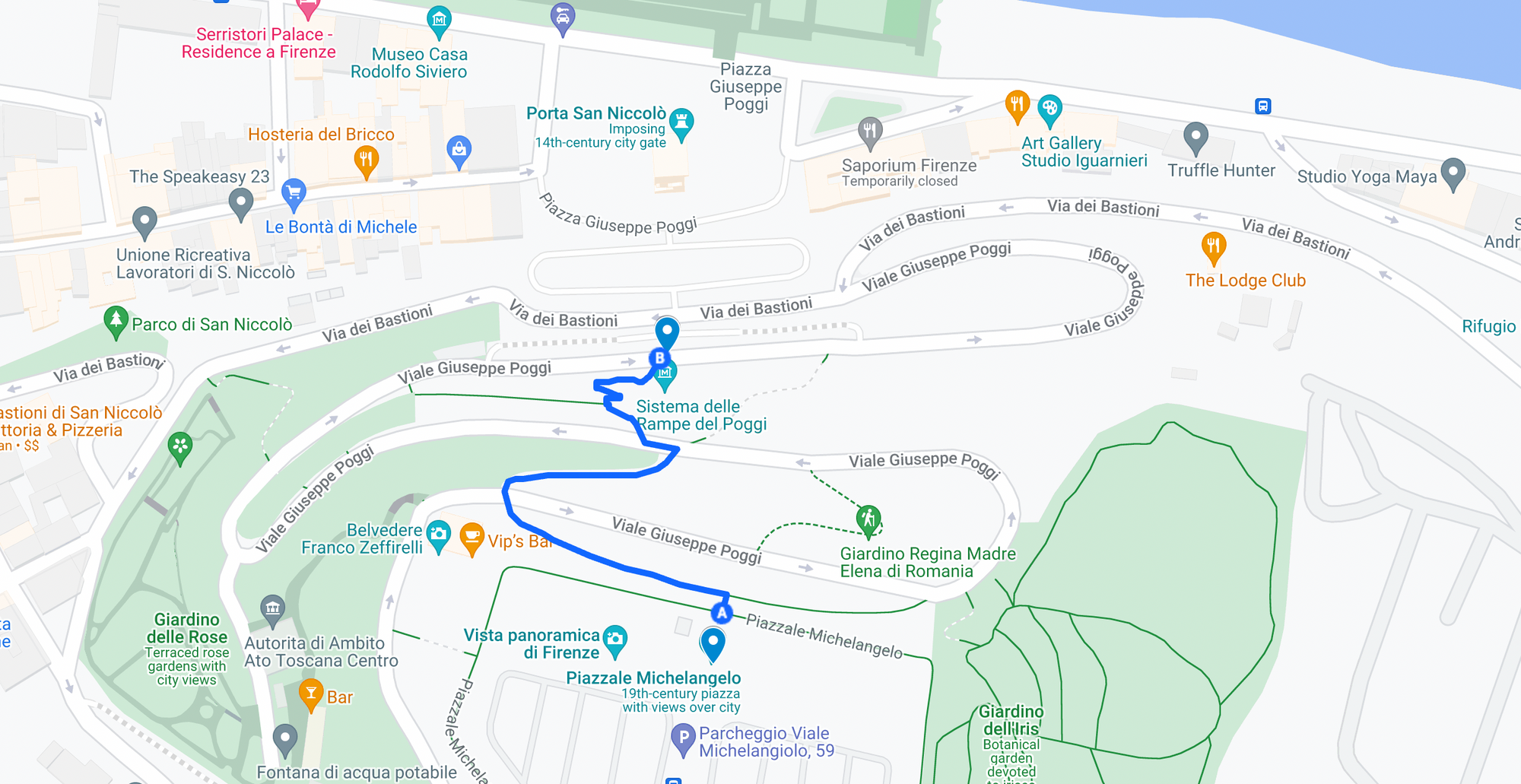 🍷 Order a glass of wine from a wine window dating back to the Renaissance period. Spread across the city, these windows once allowed noble families with vineyards to sell wine publicly. Recently, because of the pandemic, they reopened, providing a safe way to share wine and interact.
🌉 Experience another stunning sunset by walking across Ponte Alla Carraia bridge. As the sun sets, the surrounding buildings and two bridges ahead, Ponte Vecchio and Ponte Santa Trinita, cast a golden glow. Also, be sure not to overlook the opportunity to walk across Ponte Vecchio. Dating back to Roman times, it's the only bridge on the Arno River that survived WWII.
Where to eat in Florence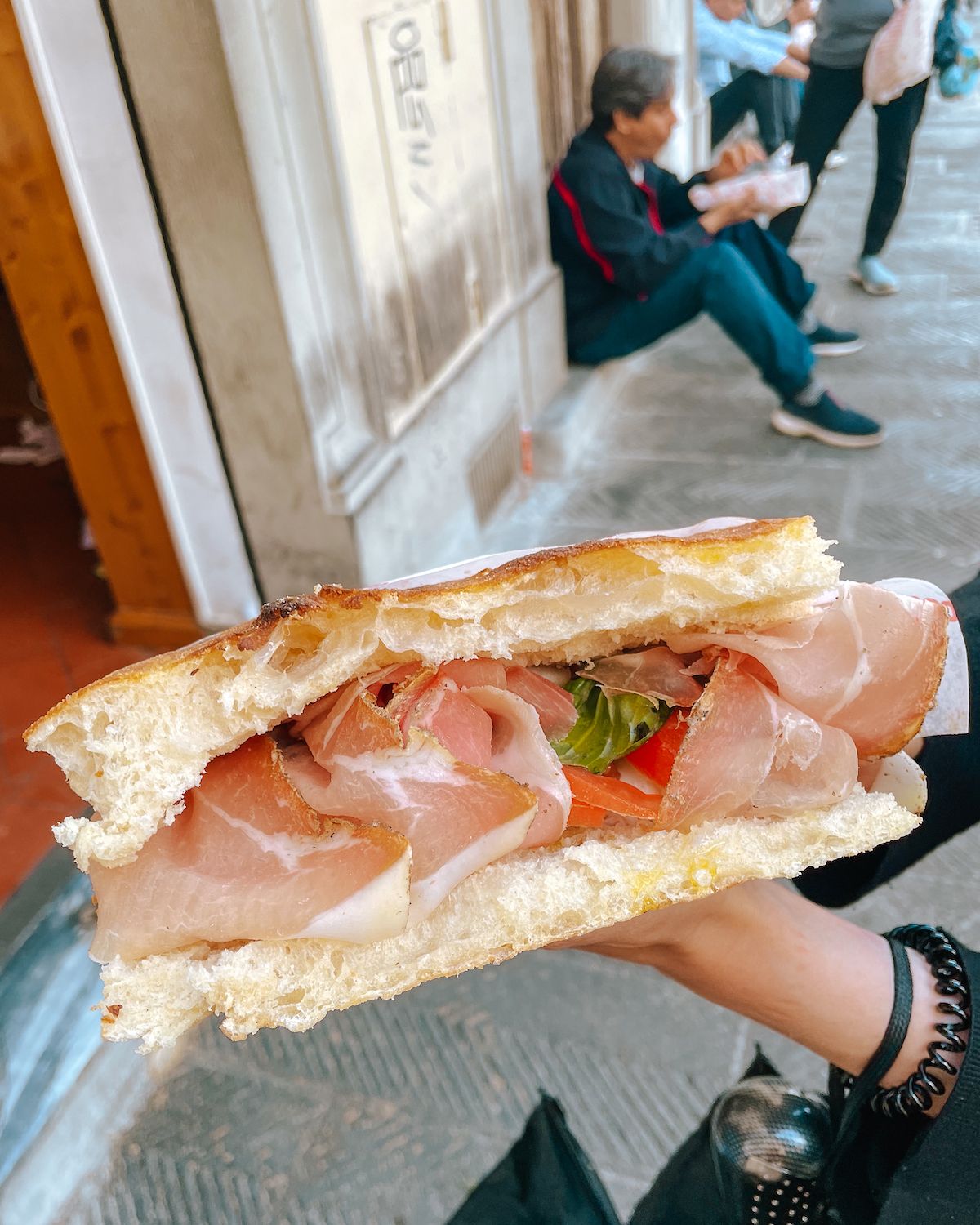 For lunch
All'antico Vinaio ($) - this is the place to try Florence's famous schiacciata sandwiches. Picture hearty Tuscan bread loaded with charcuterie, artisanal cheeses, fresh veggies, and delectable spreads. Top tip: to beat the crowds, head to their second location near San Marco Square.
Panorama La Scaletta ($$$): For cityscape dining, book a spot on "The Florence Terrace", with just four tables. Make your reservation far in advance to snag a table on the very top.
Gucci Osteria da Massimo Bottura ($$$$) - indulge in haute cuisine and high fashion at this Michelin-starred restaurant. Its glamorous interior, innovative dishes and exciting people-watching make it a fun lunch to dress up for. Reserve your table far in advance.
For dinner
Trattoria Sabatino ($): Taste true Florentine dishes at Trattoria Sabatino, a family-run joint and favourite of Anthony Bourdain. Authenticity and tradition are on the menu here.
Il Santo Bevitore ($$): Experience Oltrarno's lively evening ambience at Il Santo Bevitore, a local hot spot offering seasonal Tuscan classics. This Michelin-recommended spot guarantees quality and value - remember to reserve by phone.
Where to party in Florence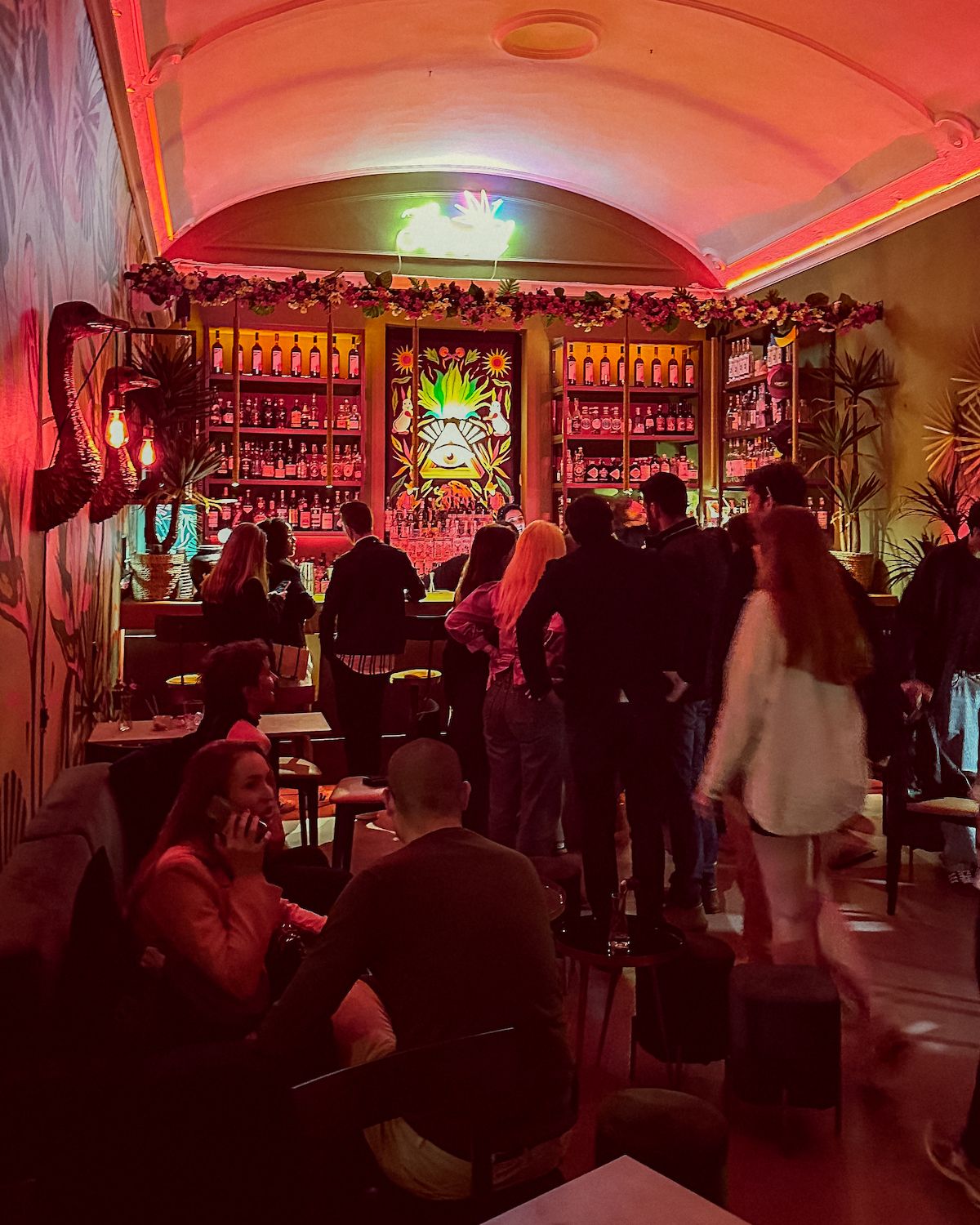 Socialize with hip locals and in-the-know travellers in the vibrant Oltrarno district. Walk down Borgo S. Frediano, an energetic street lined with a mix of edgy and classic bars, and cap off your night with an artisanal cocktail at Florence's original "hidden bar," Rasputin.
Days 3-4: Tuscany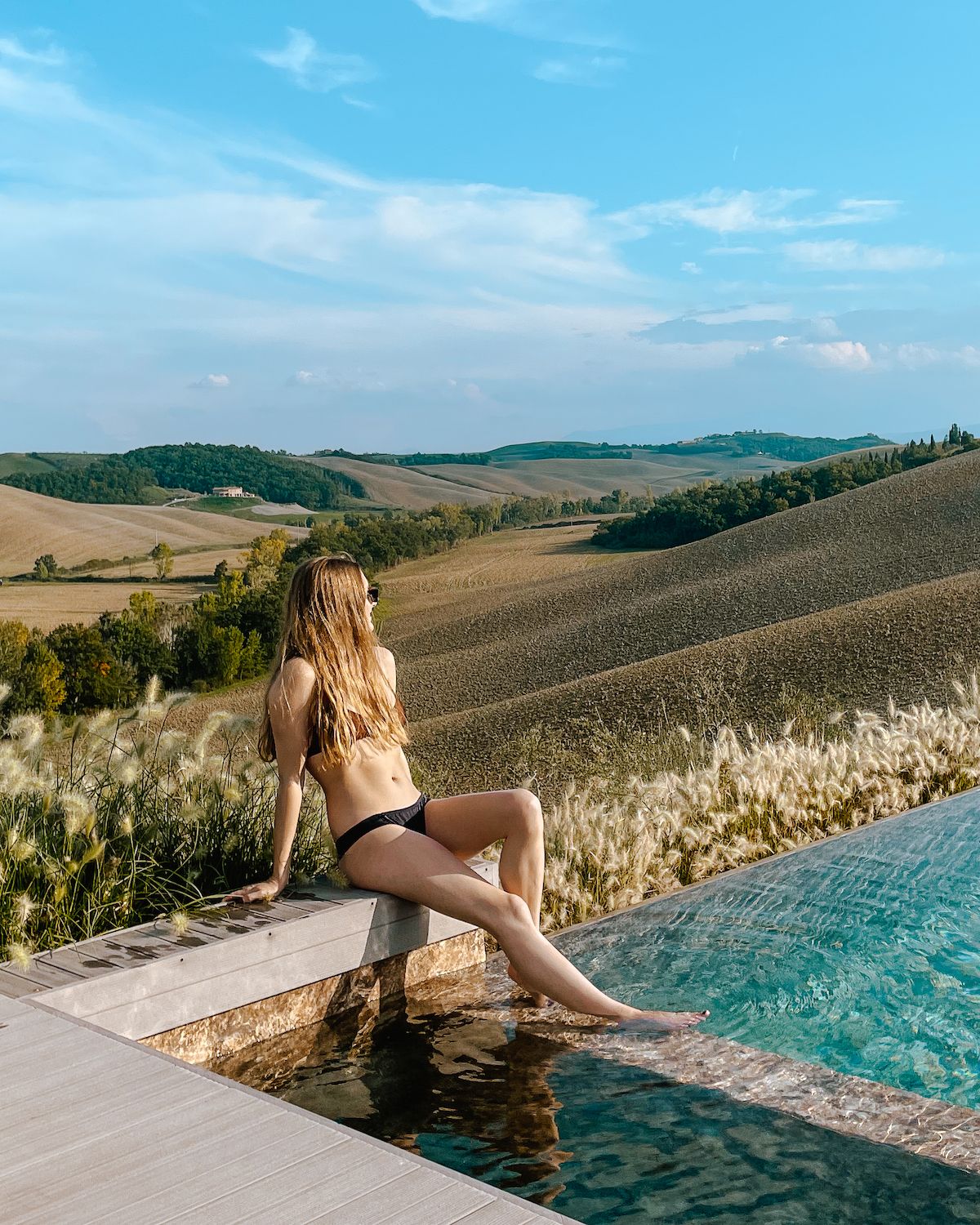 Continue your journey into the Tuscany countryside known for its endless rolling hills, medieval villages and renowned Sangiovese wines, like Chianti Classico and Brunello di Montalcino.
Over your last two days, you'll unwind in the scenic surroundings, learn about Sangiovese wines and eat authentic Tuscan dishes.
Where to stay in Tuscany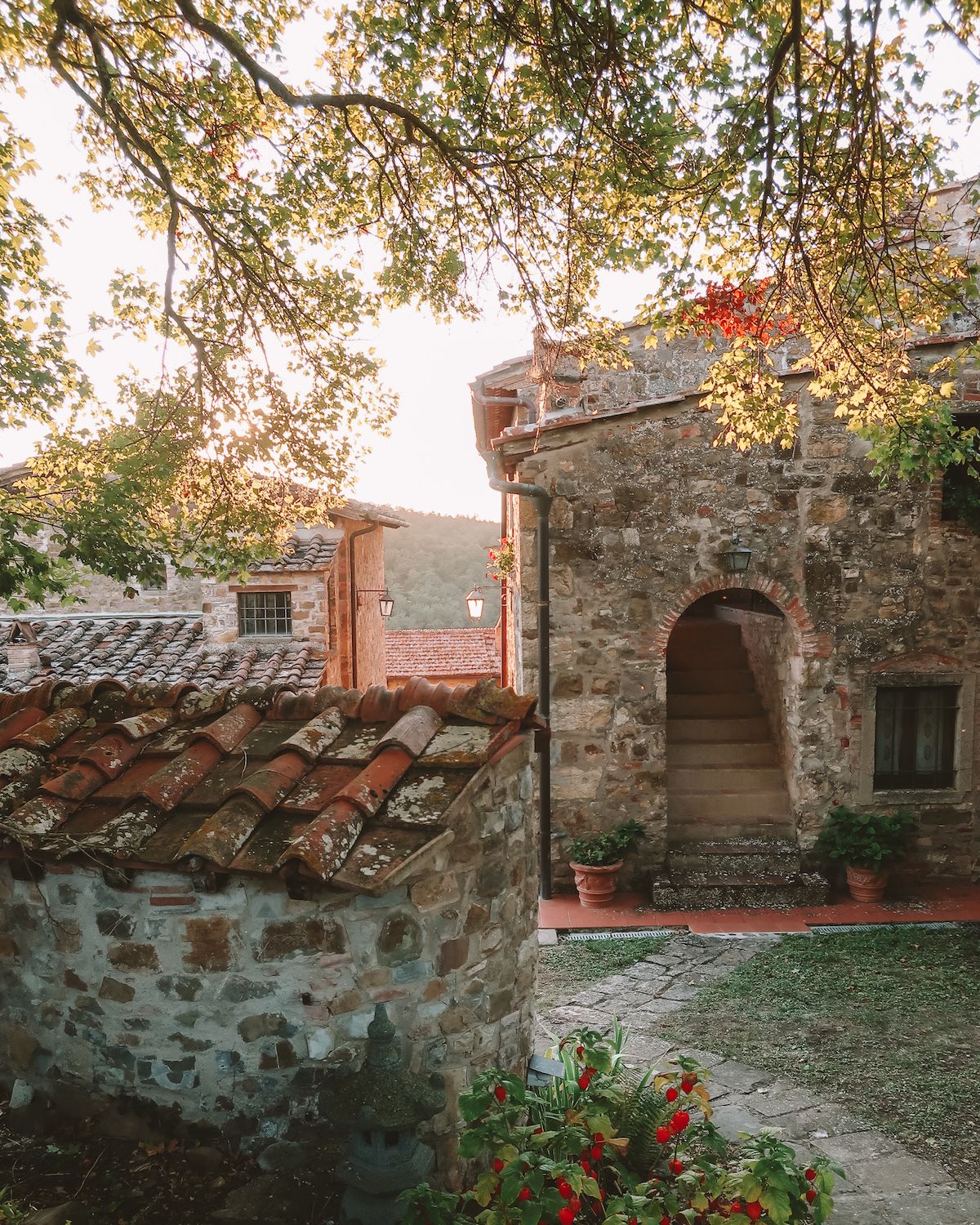 Option 1: if you rent a car
If you plan to rent a car from Florence,
we absolutely suggest staying in an agriturismo, an authentic farmhouse offering accommodation.
We stayed at
Podere Felceto
, a tranquil organic olive oil farm located near the charming town of Panzano. Tucked away on a hillside, we enjoyed spending our downtime at the outdoor pool offering views of the idyllic countryside.
What makes staying in an agriturismo particularly special is the opportunity to tap into your host's intimate knowledge of the area.
During our stay, we were fortunate to receive suggestions for local restaurants and wineries, and our host even went the extra mile to help us secure reservations. 🛏️
Browse more agriturismo stays on Booking.com by filtering "Farm Stays".
🚘
Compare car rental rates from Florence.
Option 2: if you don't rent a car
If you would rather not drive, we recommend taking the
train from Florence to Siena
and using this smaller medieval city as a base for exploring the surrounding wine regions. From Siena, it's easy to organize private drivers or group tours.
Our top hotel picks in the historic centre of Siena:
Browse more hotels in the Siena city centre.
We like to sort by top reviewed.
Day 3: Chianti Wine Region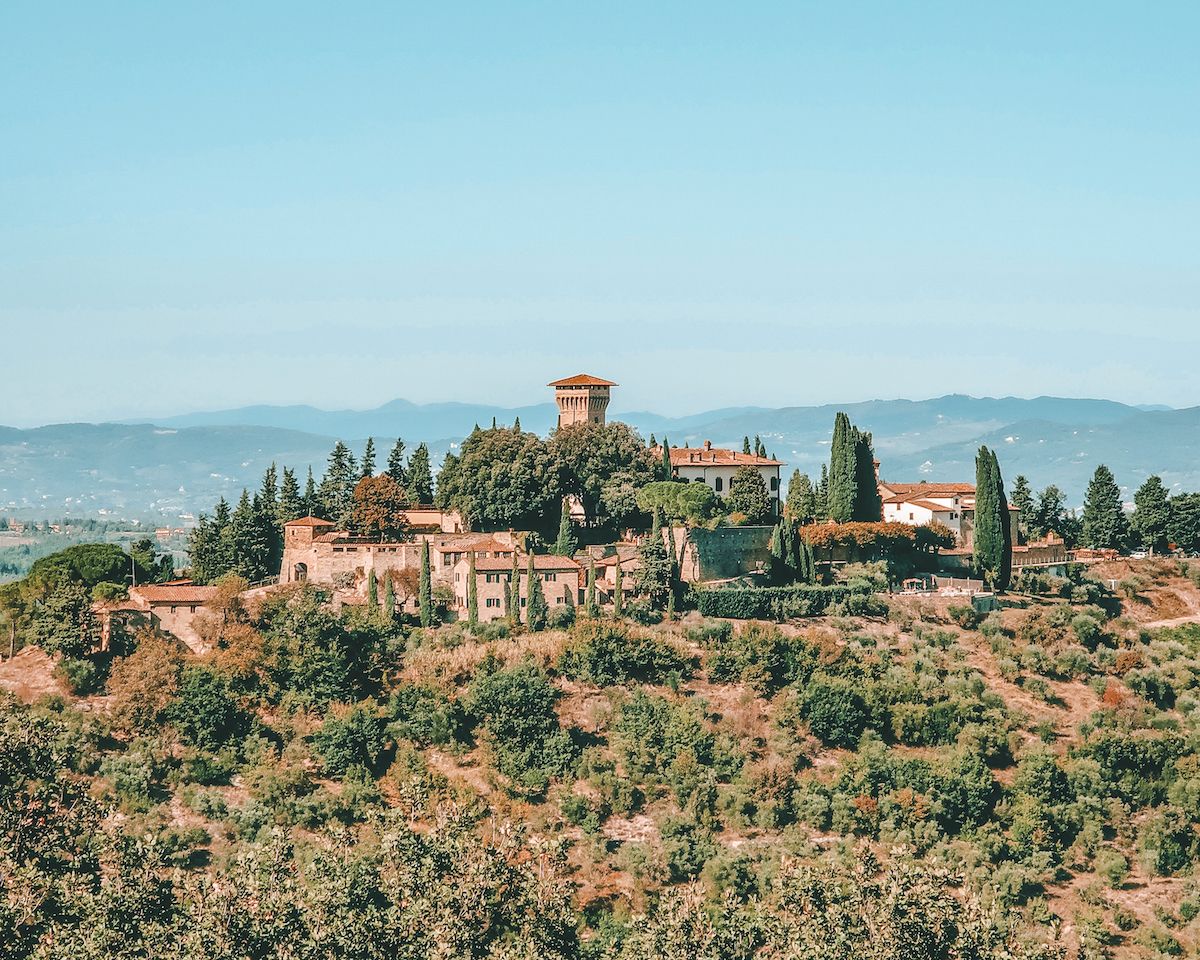 Explore the Chianti wine region known for its rolling vineyards, charming medieval villages, and Chianti Classico wines.
You could either drive or if you wish to taste multiple wines, hire a
private driver
to take you around. If you're on a budget, check out group tours of the Chianti region with
GetYourGuide
and
Viator
.
Our top winery picks in the Chianti Wine Region
Antinori nel Chianti Classico
- crowned the
World's Best Vineyard
in 2022, this winery is a must-visit with its impressive architecture that blends seamlessly into the natural surroundings. Book a wine tour to try their acclaimed wines and explore their impressive cellar while learning about winemaking. After the tour, visit the wine shop for more tastings. We highly recommend getting a tasting of their renowned Tignanello! It was our favourite wine we tasted.
Book your tour online in advance
.
Castello di Verrazzano
- A local tipped us off to Castello di Verrazzano and what a gem it turned out to be! This winery, with its roots in an old Etruscan and Roman settlement, hosted one of the best wine tours we've been on. We learned about the rich history of the region and gained deep insights into the world of Chianti wines.
Book your tour online in advance
Also take time to walk through the beautiful villages of Panzano, Greve and Montefiore.
Where to eat in the Chianti wine region
For lunch, our top recommendation is Rinnucio 1180, the rooftop restaurant nestled along the vineyards of Antinori nel Chianti winery. After your wine tour, it's the perfect place to enjoy a leisurely lunch with your favourite glass of Antinori wine. Book your table far in advance.
Our local host recommended Ristorante Oltre Il Giardino and Officina Della Bistecca in the village of Panzano and they didn't disappoint.
Ristorante Oltre Il Giardino oozes traditional charm and serves up classic dishes in a setting that's perfect for a romantic dinner. You must try their wild boar pappardelle - it pairs wonderfully with a glass of Chianti Classico wine.
Officina Della Bistecca is a unique steakhouse run by Dario Cecchini, a world-famous butcher. His family has been in the meat game for eight generations! When we arrived for aperitifs before dinner, the butcher shop was buzzing with excitement, with AC/DC's "Highway to Hell" cranked up and Dario working his magic with a massive cleaver. We were then led upstairs to a communal table where we had a blast trying five different cuts, all cooked over charcoal in the same room.  
Day 4: Montalcino Wine Region & Siena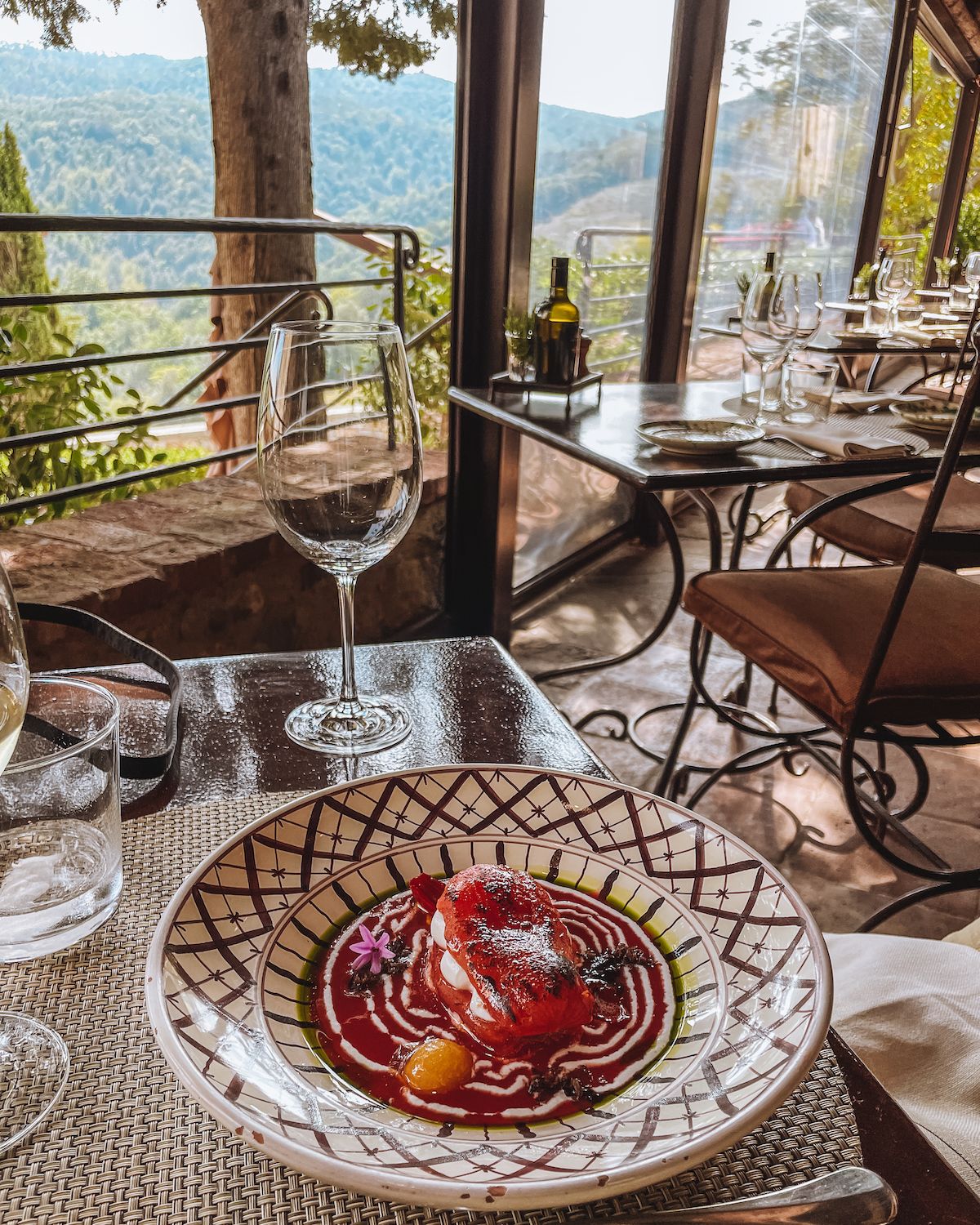 Day trip to Montalcino
Finish off your adventure to Tuscany with a day trip to Montalcino, a wine region renowned for its exquisite Brunello di Montalcino wines. This part of Italy is home to some of the country's top-tier wine estates, crafting some of the most exclusive wines around.
Both Brunello and Chianti wines share the common foundation of Sangiovese grapes, yet Brunello distinguishes itself with a deeper, richer character and a lengthier aging process. The distinct soil and climate conditions of each region create different complexities in their wines. Will you prefer Chianti Classico or Brunello?
Option 1: Enjoy a scenic lunch and wine tour at Castiglion del Bosco
Arrange a private driver to take you to Castiglion del Bosco, one of Montalcino's oldest estates. It's nestled in Val d'Orcia, a picturesque green valley and UNESCO World Heritage site since 2004. You'll be surrounded by those iconic rolling hills and charming villages.
Staying at this luxurious winery is quite the splurge, costing over a grand a night in the low season. However, you don't need to stay there to experience the estate. Book a wine tour and indulge in a scenic lunch at Osteria La Conica. It has views that feel like a Tuscany fairytale. Their dishes are fresh, flavourful and reasonably priced, especially if you order their pizzas. We arranged our private driver through the winery, which was cheaper than what was quoted to us online.
Option 2: Take a group tour to multiple wineries in Montalcino
Alternatively, if you wish to explore multiple wineries for a good price and not have to worry about driving, consider booking a group tour to Montalcino.
The
Brunello di Montalcino Wine Tasting Trip
brings up to 8 people to 3 wineries and includes a wine lunch and a walk in the historic town of Montalcino. We like how you can cancel up to 24 hours in advance.
See more group wine tours through Viator and GetYourGuide
Spend the evening in the medieval city of Siena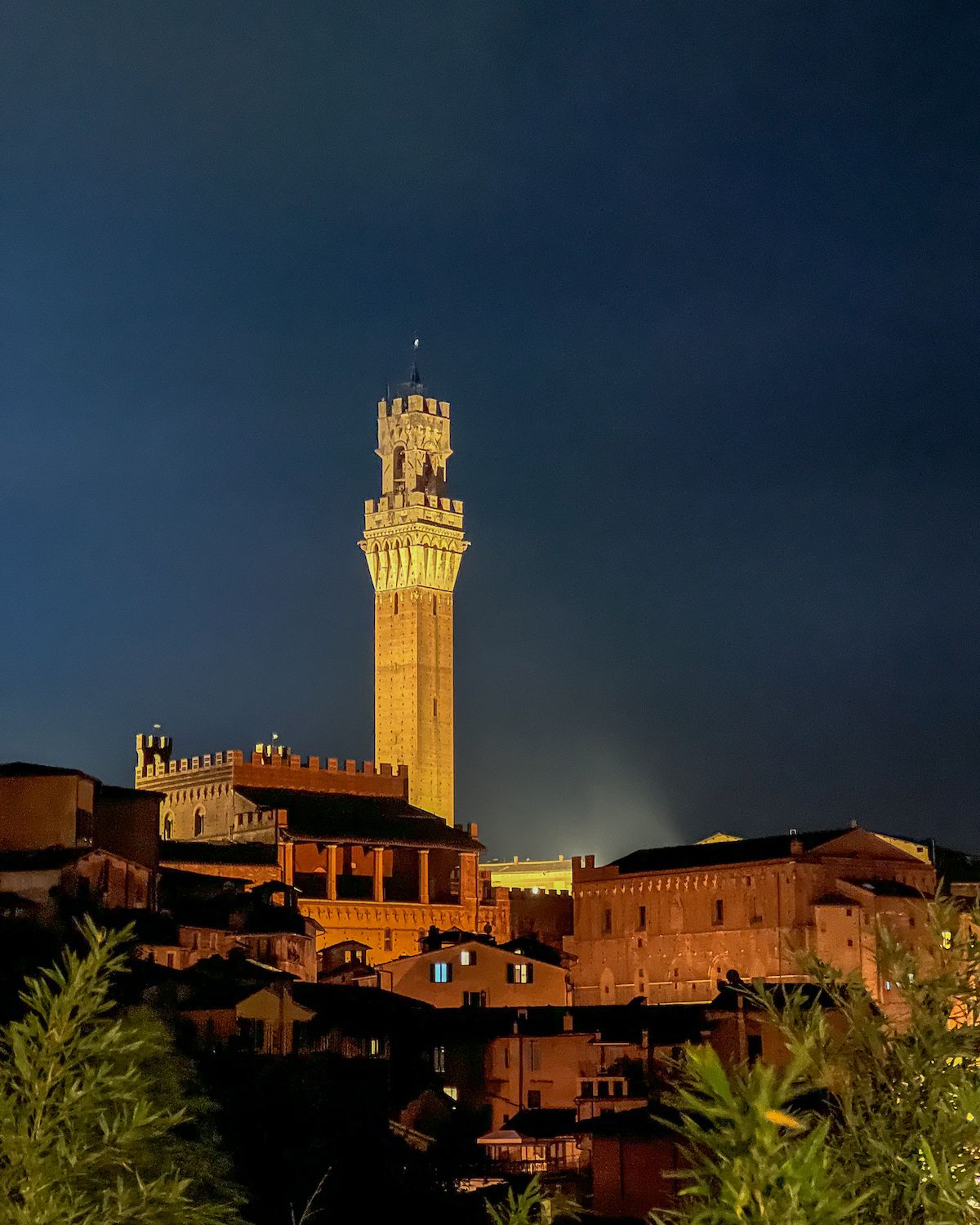 After your tour of Montalcino, spend the evening in the medieval city of Siena. Its UNESCO-protected historic centre is encircled by an 11th-century fortified wall that luckily escaped damage from WWII.
🥂 Enjoy aperitifs in the historic square, Piazza del Campo. It has an excellent view of the Renaissance palace, Piazza Piccolomini.
🍝 Afterwards, eat authentic Tuscan cuisine at La Taverna di San Giuseppe, one of the city's best restaurants. Call to make your reso far in advance.
🍹Finish the night with cocktails upstairs at Key Largo, on their hidden balcony overlooking the square.
See our 1 Day Siena itinerary for more things to do in the medieval city
Enjoy your 4 days in Florence and Tuscany!
---
Get started on booking your trip to Italy
---
Want to add or take away days from your trip to Tuscany? Check out our other itineraries:
---
Don't miss our other Italy travel guides:
---
Save and pin this Florence and Tuscany 4 day itinerary for later: