Although Piedmont is Italy's second largest region, most international tourists have never heard of it. Renowned for its prestigious Barolo and Barbaresco wines, this region is a hot spot for Italians seeking a wine escape into nature.
Piedmont (known as "Piemonte" in Italian) is not going to stay under the radar for long with its new sustainable luxury hotels, culinary scene championing the slow-food movement, and unique wine tasting and white-truffle foraging experiences. All of this combined with its breathtaking landscape of huge vine-covered hills and the Alps in the background make it a true gem in Italy.
Discover the world of Barbaresco and Barolo wines in our 3 Day Piedmont itinerary. We include the best wine region to visit, superb wine tasting experiences, unique eateries, charming villages, scenic places to stay and our top tips for your 3 days in Piedmont.
Overview: 3 Days in Piedmont, Italy
Day 1: Unwind in the gorgeous Langhe wine region

Day 2: Uncover the world of Barbaresco, known as the "Queen of Wines"

Day 3: Discover the world of Barolo, known as the "King of Wines"
Disclosure: Some of the links below are affiliate links, meaning at no additional cost to you, we will earn a commission if you click through and make a purchase. We only recommend products or services we have used or that we believe will add value to our readers. Thank you for supporting us!
Best time to visit Piedmont, Italy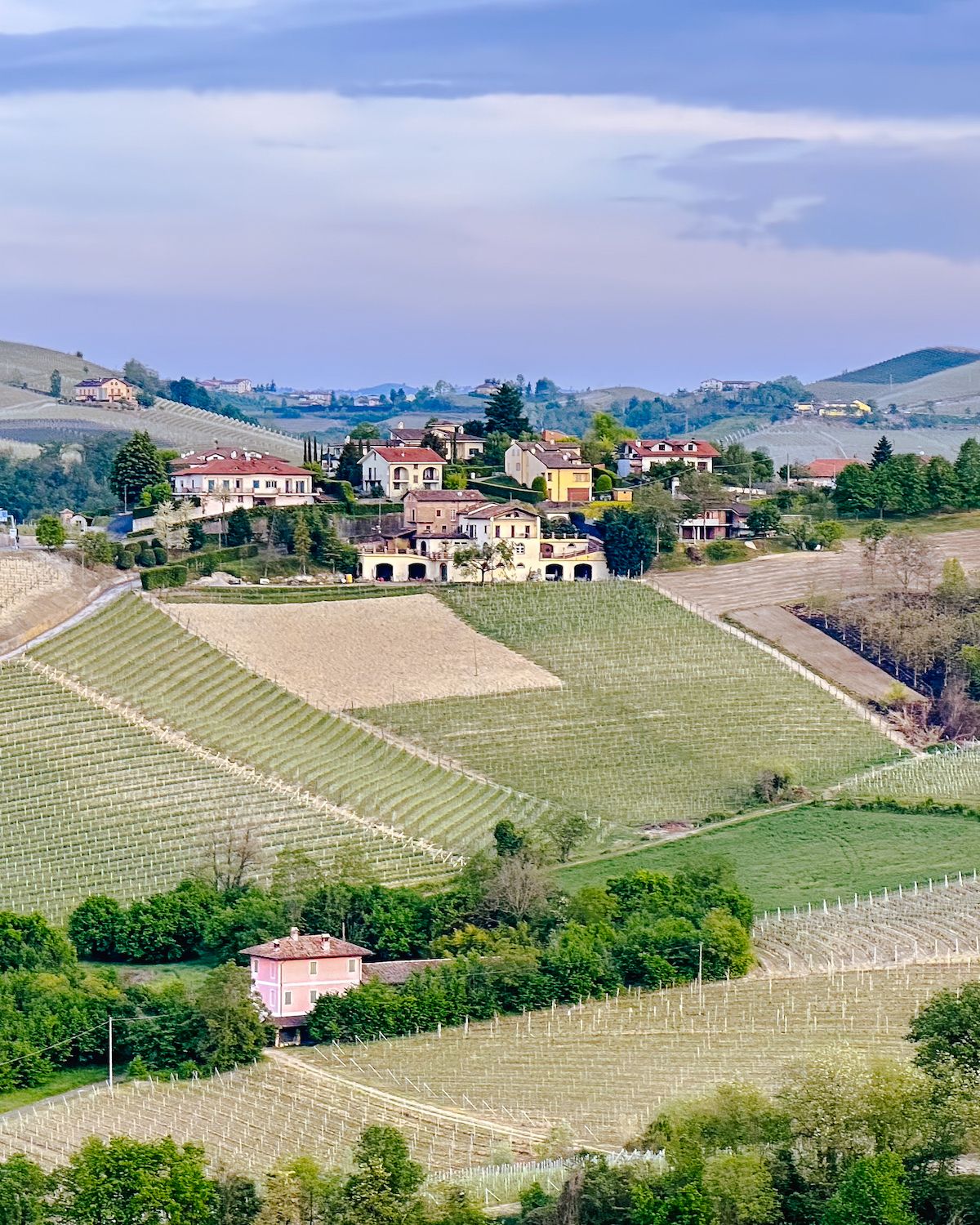 The best time to visit Piedmont is from June-July and September for a few reasons:
The weather is warm with highs reaching 22-27 °C. It's so beautiful you'll want to be outside as much as possible, especially for dining. December - February can reach temperatures below freezing and have snow.
April-May and October-November see the highest average rainfall.
August isn't included since many wineries take about a 2 week break for summer holidays during this time.
Note that once harvest starts in September, it can get quite busy and harder to arrange winery tastings.
If you don't mind pressing your chances with the rain, May is also a lovely time to visit and quieter. We visited in May and had one rainy day out of our four days. Highs reach 20 °C.
How many days do you need in Piedmont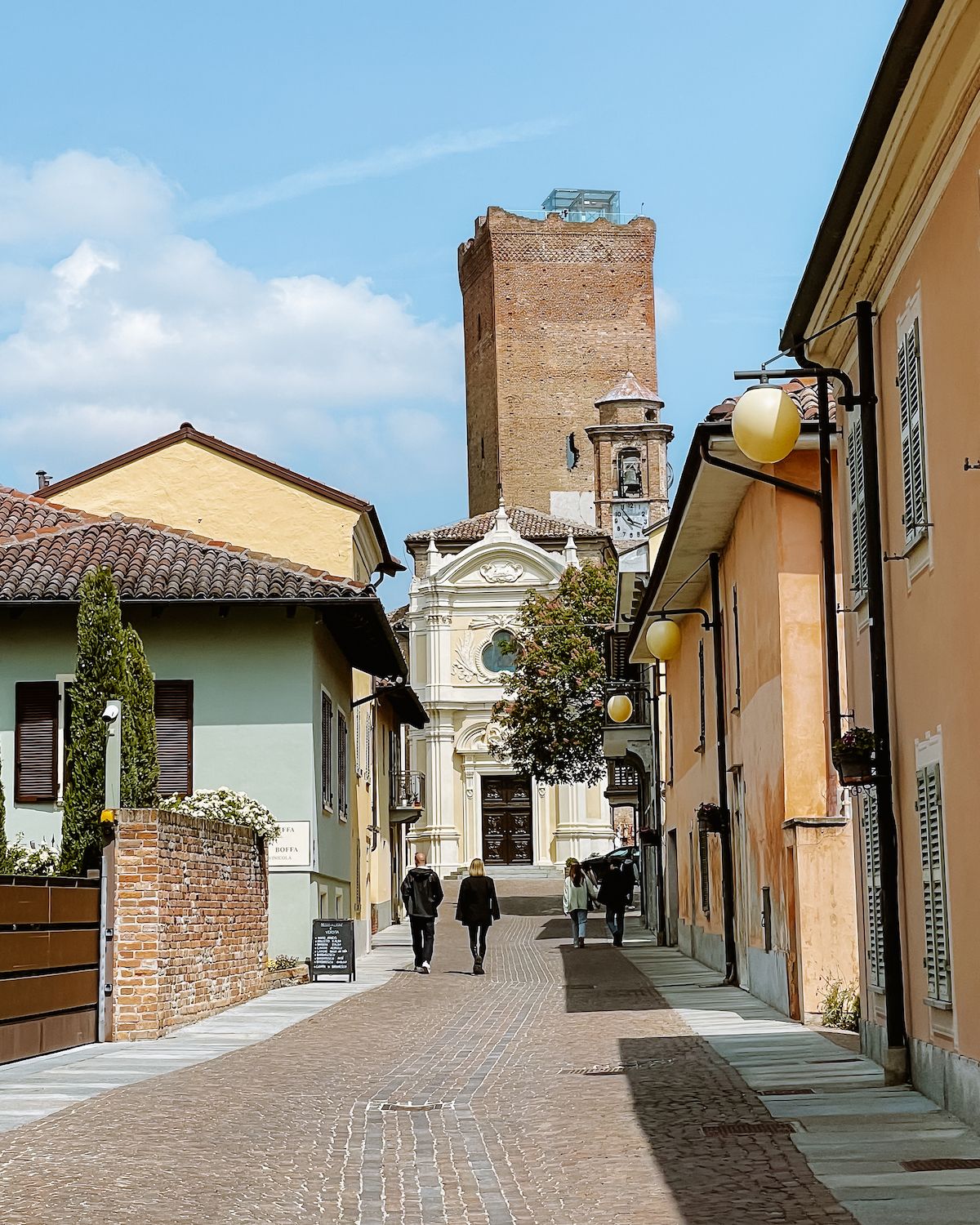 With so many wine regions, villages and top-notch restaurants in Piedmont you could easily spend more than a week here. However, for an introduction to Piedmont you can definitely see the highlights in 3 days if you stick to just one of the wine regions.
What are the best wine regions in Piedmont, Italy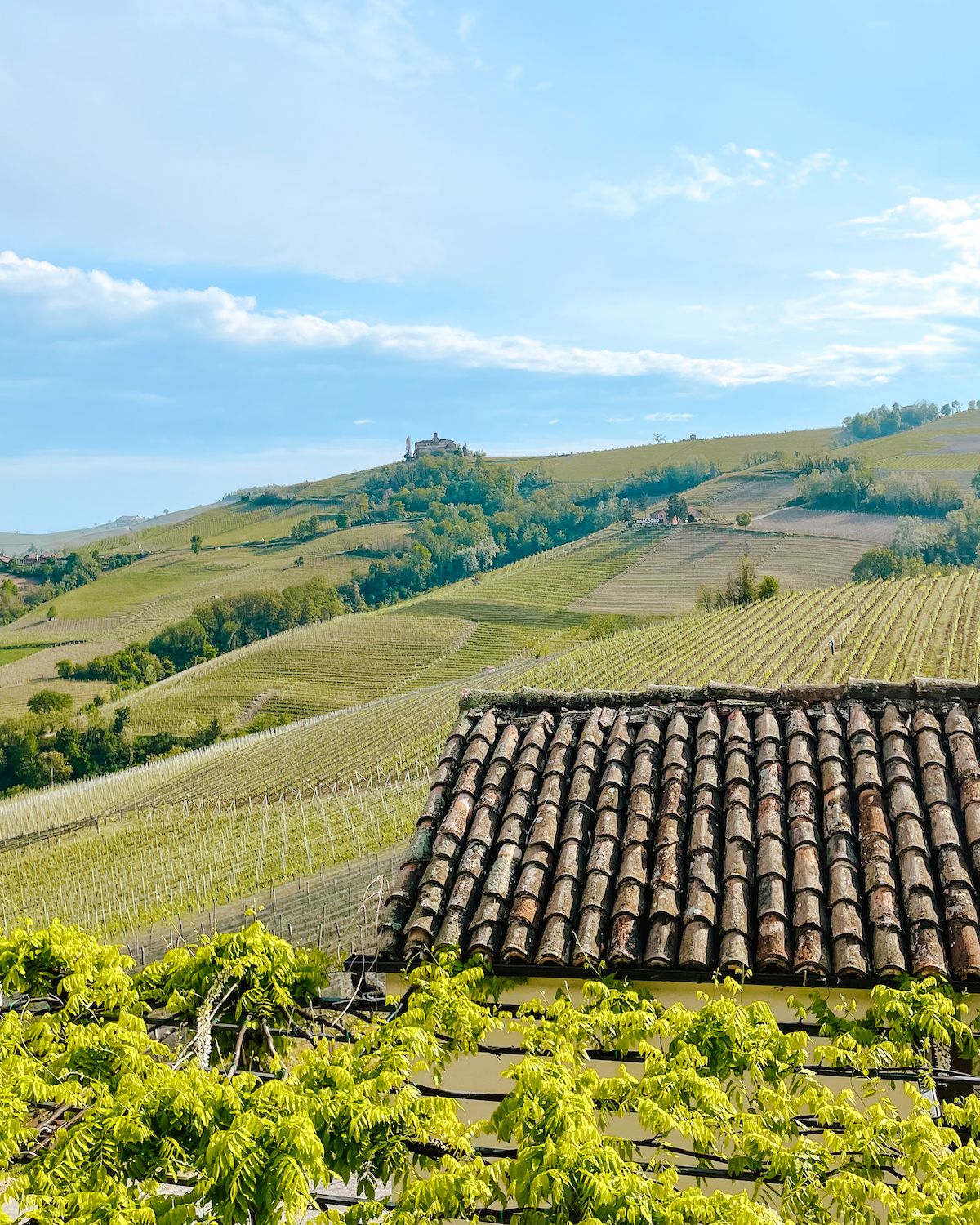 Although many people haven't heard of Piedmont, it's actually the second largest region in Italy. Like Tuscany, The Piedmont region can be broken into different wine regions and within these wine regions it divides even further into 59 wine subregions!
Below is a concise summary of the wine producing areas, what wine region you should choose and what grape varieties to look out for:
Wine regions of Piedmont
Piedmont can be broken down into 7 different wine producing areas:
Langhe (south) –  famous for its Barolo, Barbaresco, and Barbera d'Alba wines
Roero (south) – known for its Arneis and Nebbiolo wines
Monferrato (central) – known for Barbera d'Asti, Barbera del Monferrato, Dolcetto, Moscato d'Asti, Nebbiolo, Cortese and Brachetto wines.
Turin Hills (west) –  known for its Malvasia, Freisa and Barbera wines
Canavese (north-west) –  known for its alpine wines
Novara and Vercelli Hills (north) – known for its Ghemme, Bramaterra, Spanna, Carema, Boca, and Gattinara wines
Tortona Hills (south-east): — known for its Colli Tortonesi, Timorasso, Croatina, and Barbera wines.
For your 3 days in Piedmont, Langhe is the best wine region to visit. Its home to the most renowned wines of Piedmont: Barolo and Barbaresco. It also has an incredible food scene and is famous for its white truffles. See our list of 11 fun things to do in Langhe.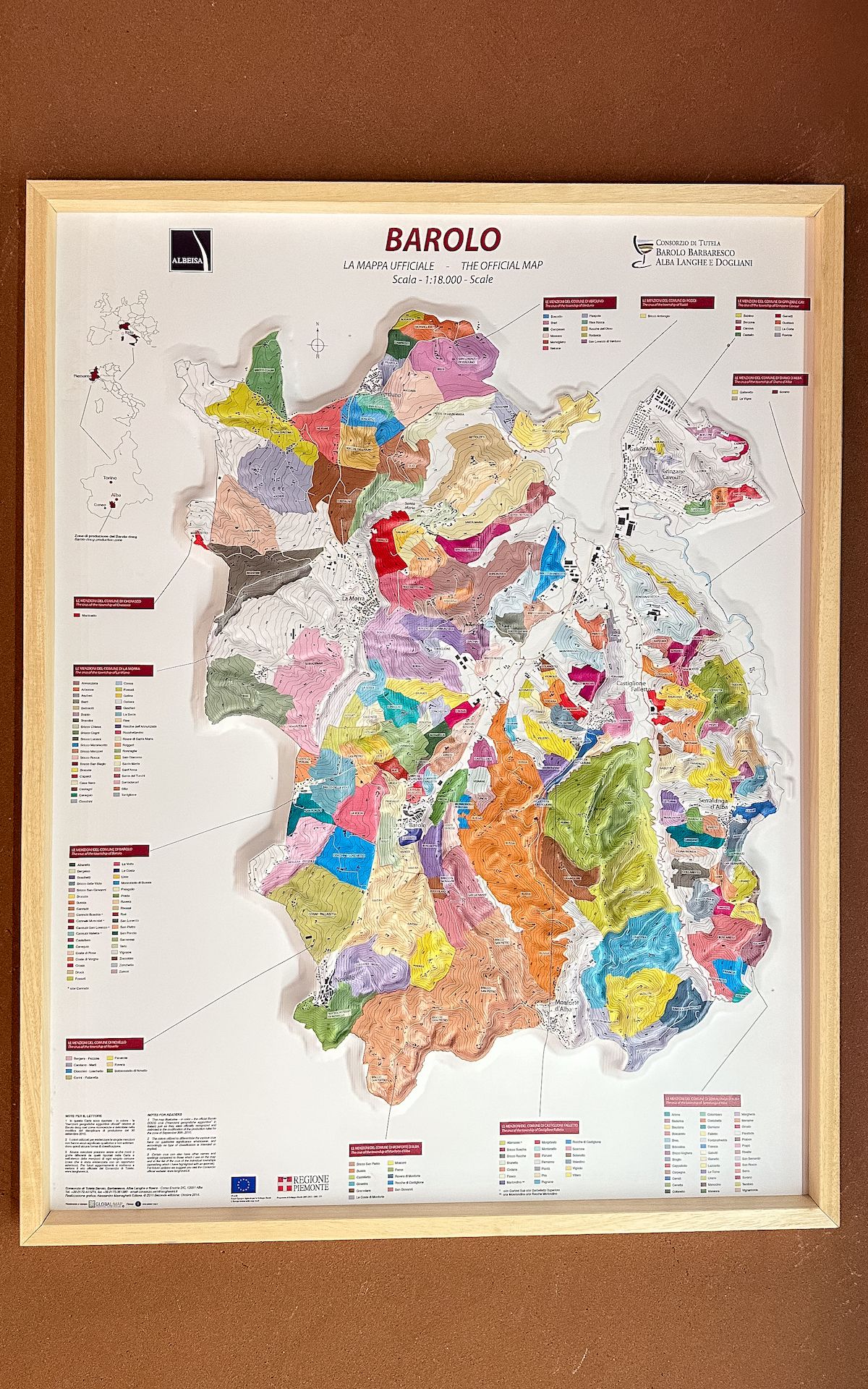 Grape varieties in Piedmont to take note of
There are many grape varieties in Piedmont, but the most popular ones you will see are:
Nebbiolo  –  makes full-bodied red wines with high tannins and acidity, such as Barolo and Barbaresco.
Barbera –  makes a juicy medium-bodied red wine that pairs well with many dishes. It has low tannins but high acidity, making it dry.
Dolcetto –  a medium-bodied red that doesn't need to age that long. Has medium tannins with a balanced acidity and a good price tag.
Arneis – a dry medium-bodied white with no tannins and a moderate acidity. If you like pinot gris you may like this wine.
Cortese –  a refreshing light-bodied white with high acidity
Moscato –  a sweet white wine that is personally not my fave
Getting around Piedmont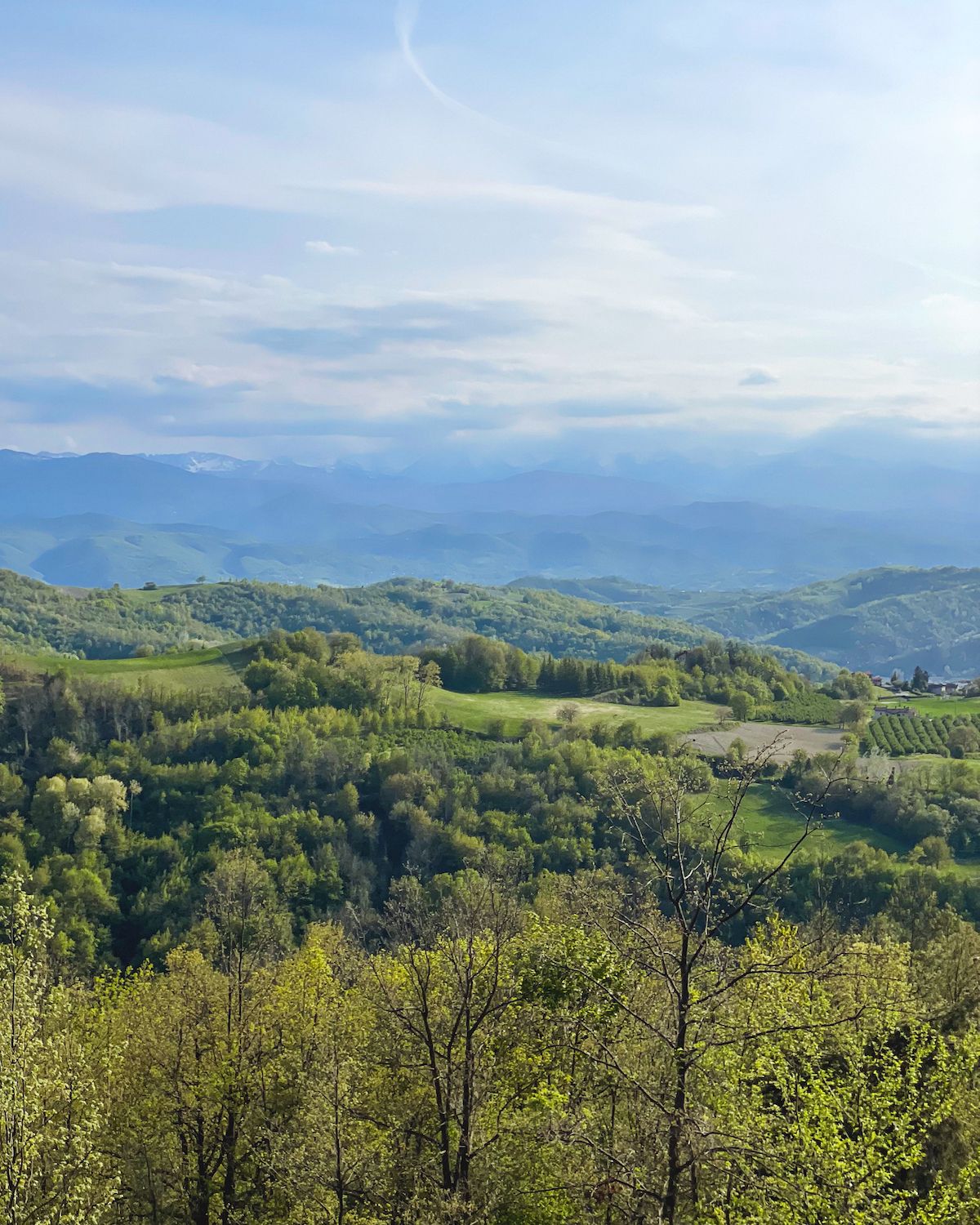 By Car
The best way to get around Piedmont is by car. Its winding roads lead you through a landscape of rolling vine-covered hills and charming villages with brick houses and terracotta roofs. Take note of the peculiar chimneys as you drive by.
With your own vehicle, you have the freedom to discover wineries, stop at scenic viewpoints and dine at restaurants at your own pace. Driving in the region is a breeze if you stick to the small villages and countryside.
Top Tip: Combining Piedmont with a trip to the South of France? Bringing your rental car from France and a dropping it off in Italy can double the price of your rental! We saved 50% by dropping our first rental car off in France and taking the train to Savona, Italy. In Savona we rented a new car for the next portion of our trip to Piedmont. The Langhe region is a 1.25 hour drive away from Savona.
See our 4 Day Provence Itinerary and combine Piedmont with a trip to the South of France.  
Hire a private driver
If you would rather not drive, you can also hire a private driver to take you around. This is handy if you plan to drink a lot of wine. There are companies like
Travel Langhe Wine Tours
that specialize in custom wine tours.
Rent ebikes
Another option is renting e-bikes to visit wineries and villages.
BikeSquare
offers self-guided tours where you can download their app to get scenic, quieter routes.
Where to stay in the Piedmont wine region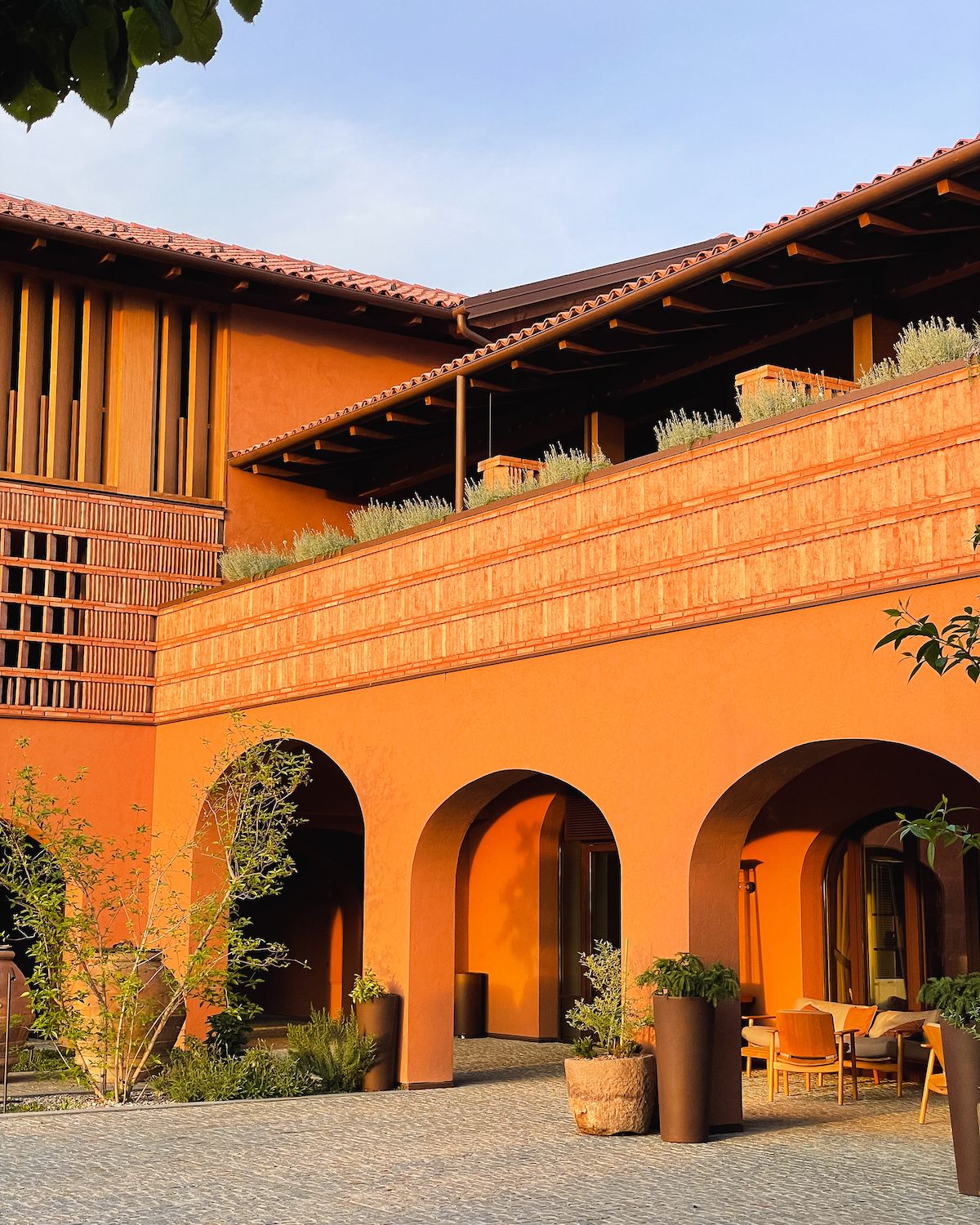 We recommend staying at a hotel in the countryside rather than in a village or city. Immersing yourself in the quiet, natural surroundings is all a part of the Piedmont experience. Stay in one place for your 3 days in Piedmont to make checking in and checking out easy.
We stayed in two different places and they were both great for different reasons:
Best for wine enthusiasts: Palas Cerequio
Located just 6 minutes from the village of La Morra, this
boutique hotel
in a renovated old-manor house feels like a hidden gem. Owned by Michele Chiarlo Winery, it's located right in the middle of Barolo Grand Cru vineyards. The hotel also has an excellent restaurant called La Corte overlooking the vines. From Palas Cerequio you can drive to Barolo in 12 minutes and Barbaresco in 28 minutes.
See rates for Palal Cerequio
Best for luxury: Casa di Langa
Recently opened in 2021,
Casa di Langa
sets the scene for sustainable luxury in the region. The design-led hotel feels like no expense was spared with its granite floors, large heavy wooden doors and furniture made by top Italian designers. What sets it apart is its outdoor pool overlooking the gorgeous landscape, Michelin-recognized restaurant, wine experiences and white truffle foraging tours. Barolo is a 20-minute drive away and Barbaresco a 30 minute drive away.
Note:
The pool bar and poolside service don't open until late May.
See rates for Casa di Langa
If we had to pick one hotel over the other, we would pick Palas Cerequio since it's a great value and felt more authentic to the area.
🛏️ Browse more hotels in the Langhe wine region
3 Day Piedmont Itinerary
Day 1 - Unwind in the gorgeous Langhe wine region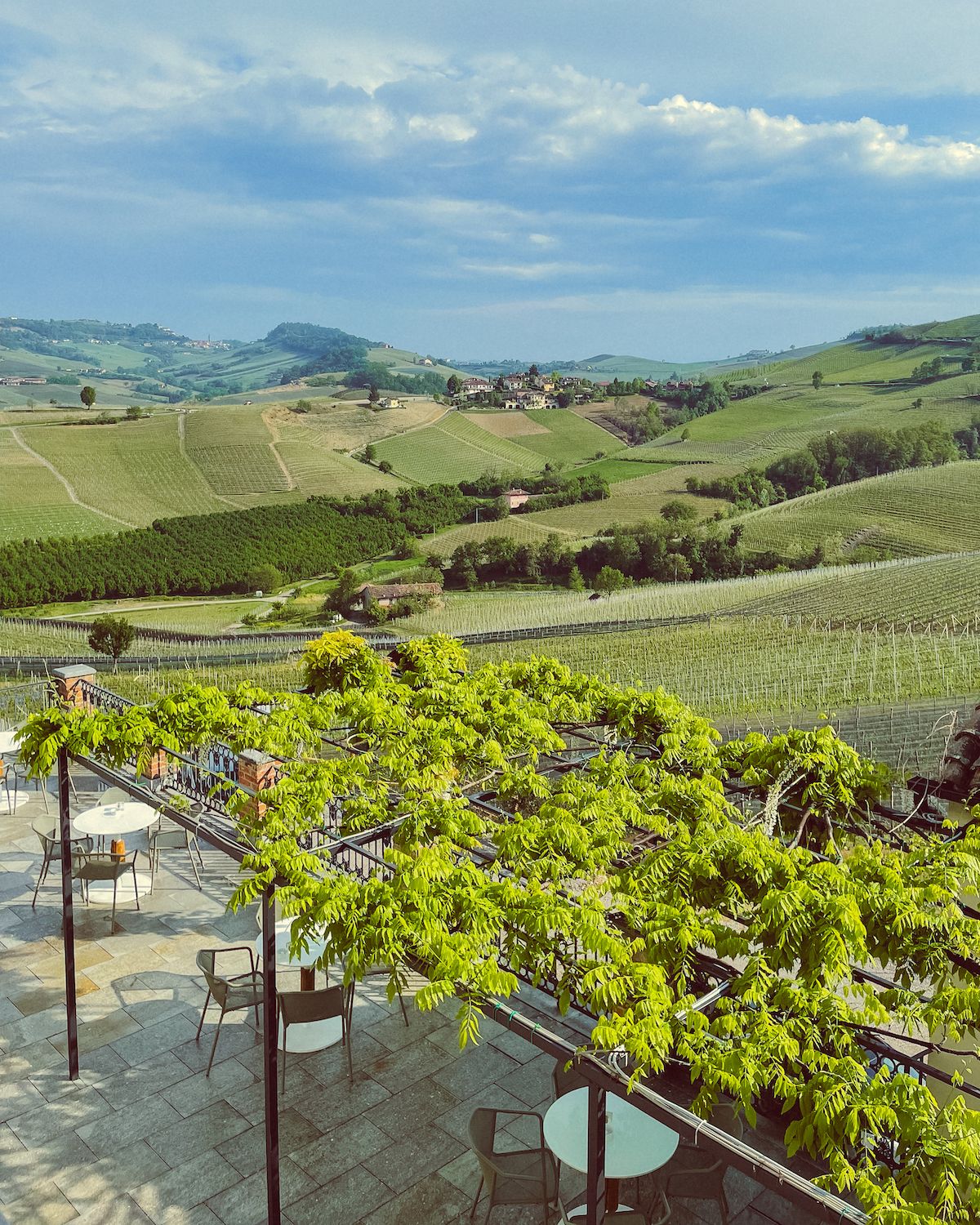 Unwind in nature and go on an introductory wine or truffle experience
On your first day, absorb the natural surroundings at your hotel and choose a local-guided tour to introduce you to the region, whether it's a wine tasting experience or white truffle tour. We settled into our hotel and enjoyed some of the amenities before going on a small wine tour.
We booked the Langhe Experience at Casa di Langa, which was the perfect introduction to the wine region for us. We tasted six wines and learned about the history, terroir and different types of wines in the region.
Viator and GetYourGuide also offer highly-rated wine tasting experiences and truffle tours.
We like how most tours have free cancellation up to 24 hours in advance.
Dine at Faula for farm-to-table Piedmontese cuisine
Afterwards, dine at Faula, a farm-to-table restaurant in the Casa di Langa Hotel. The modern-Piedmontese dishes feel extra fresh considering they are made with ingredients from their biodynamic garden. The restuarant is one of the best in the region and is recognized in the Michelin Guide. Reserve your table.
Day 2 - Uncover the world of Barbaresco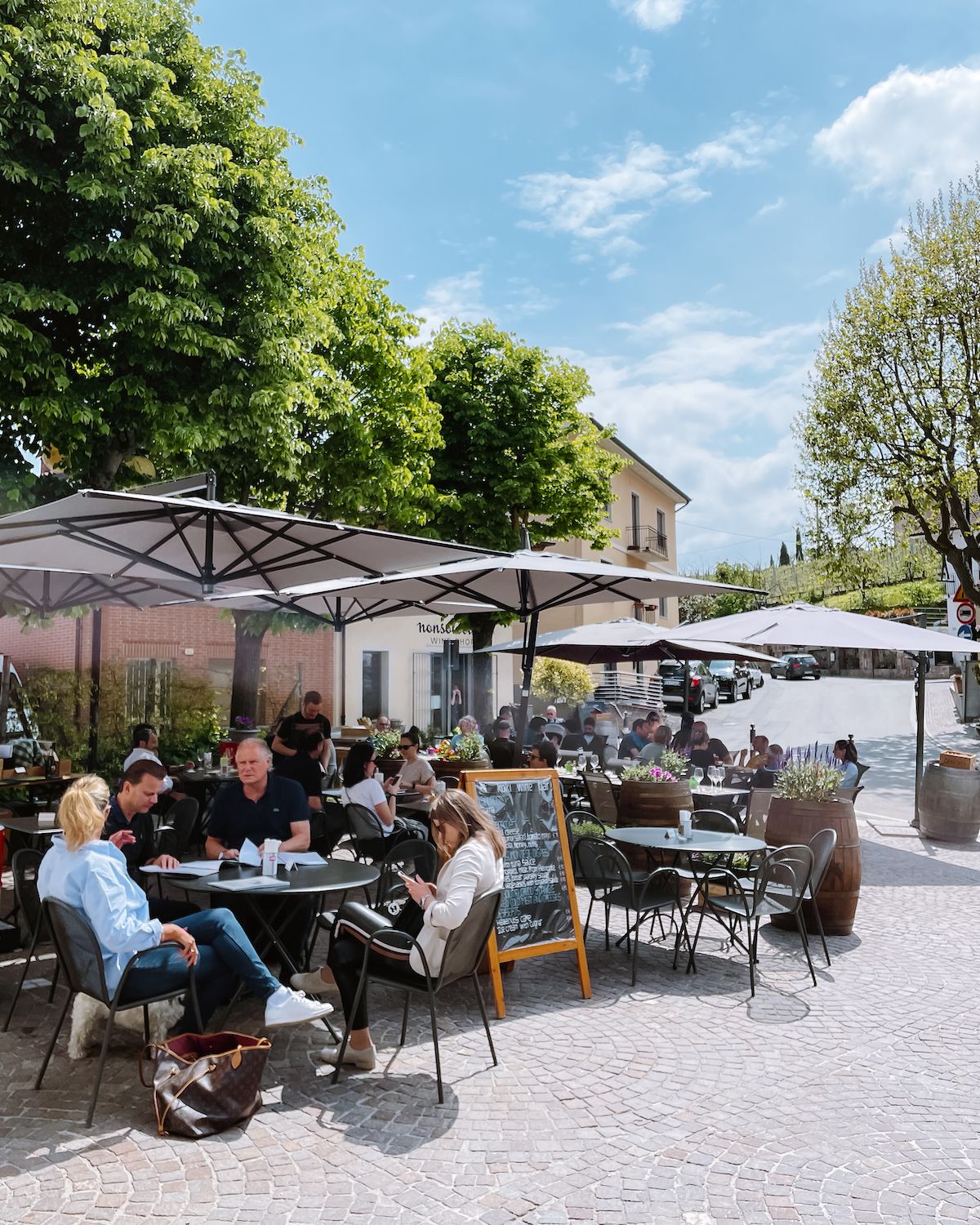 Explore the village of Barbaresco
Start your day with a leisurely stroll through the charming village of Barbaresco, where you'll find historic buildings, sidewalk cafes and wine shops. The village's history dates back to Roman times and was built around a 10th-century siege tower that today provides a panoramic viewpoint.
Treat yourself to a gourmet lunch at Campamac Osteria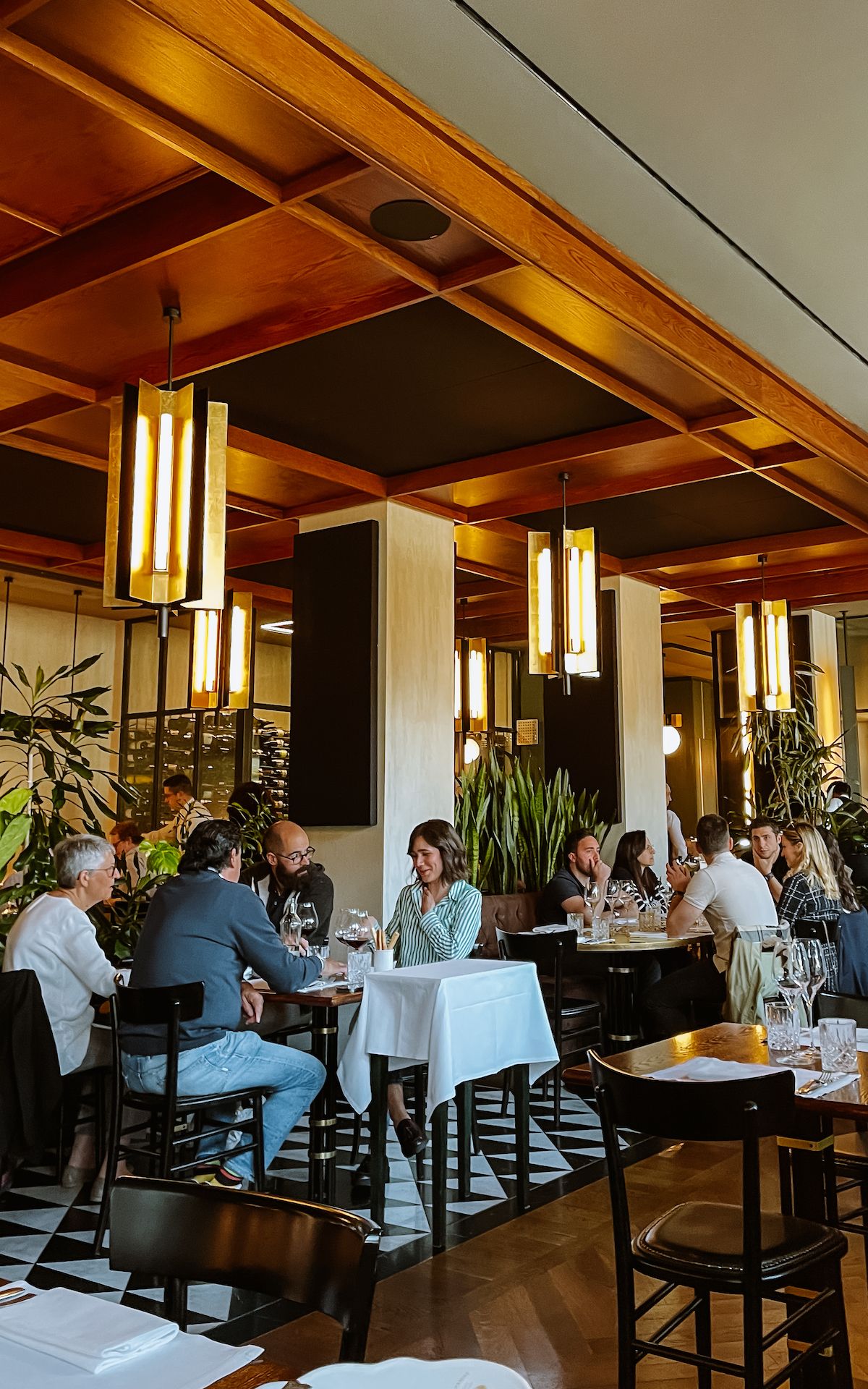 Campamac Osteria is unassuming from the outside, but once you buzz yourself in, its retro-glam interior is a welcome surprise. The restaurant specializes in Piedmontese meat dishes and is a hot spot for Italians. We shared a charcoal-grilled Fassona beef steak and loved how extravagant it felt for lunch. A real treat! Reserve your table.
Must try: any Fassona beef steak and their Russian salad (a very traditional plate in Piedmont).
Top tip: restaurants typically open for lunch from 12:30pm - 2:00pm. After that, they usually don't open up again until 7:30pm for dinner, so plan accordingly.
Go on a wine tasting tour at Ca' del Baio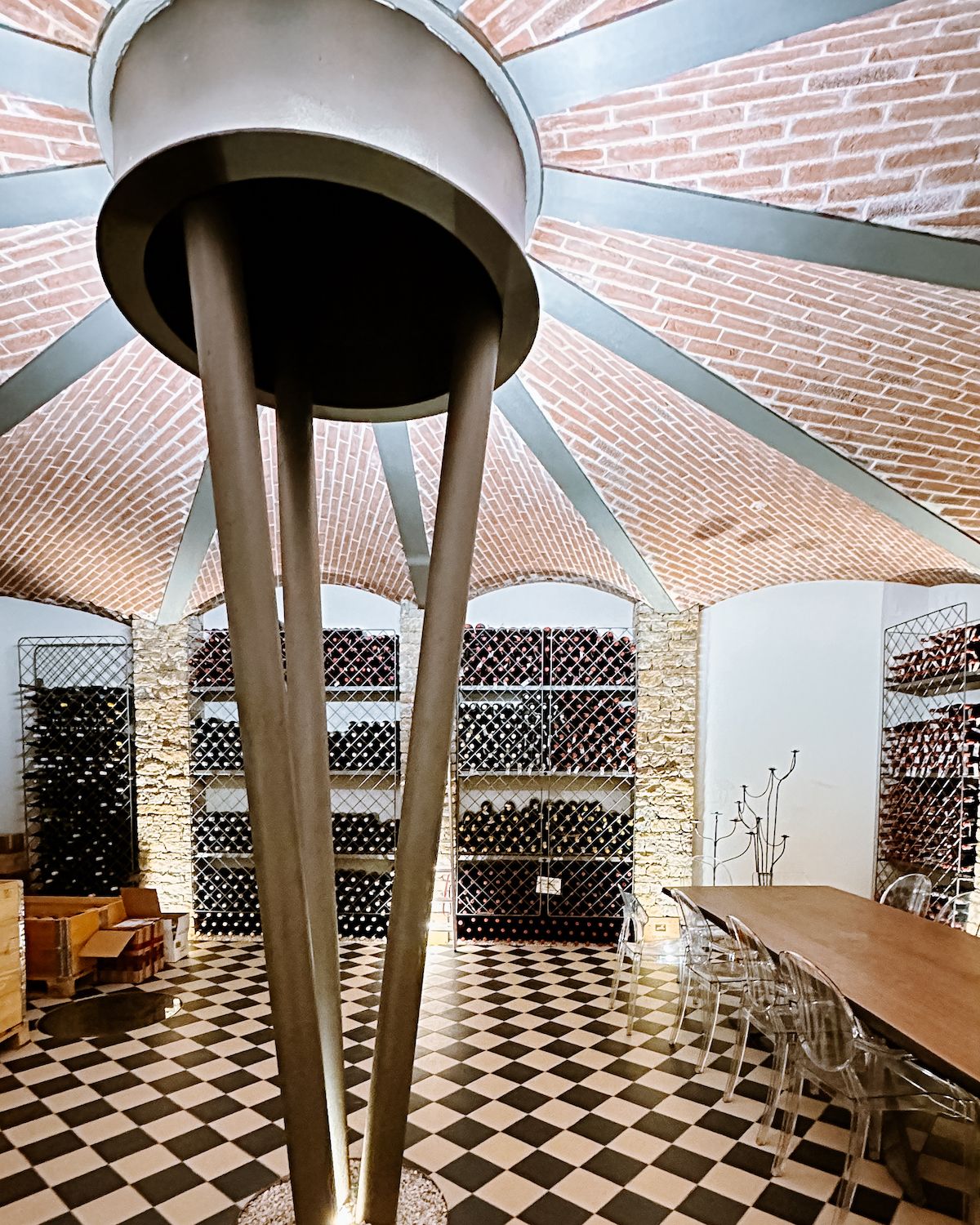 Next up on the itinerary is a visit to a local winery and cellar in Barbaresco to taste its exceptional wines. Made with 100% nebbiolo grapes, the minimum aging requirement for Barbaresco wines is 26 months, with at least 9 months in oak barrels.
We were fortunate to get a list of "must-visit wineries in Piedmont" from a wine sommelier at Mirazur, a world-famous restaurant in the South of France. One of these wineries was Ca' del Baio, a small family-owned winery specializing in Barbaresco wines.
When we mentioned our plan to visit this winery to locals, they all had the same surprised look and response: "good choice, Ca' del Baio is one of the best wineries for Barbaresco."
At Ca del Baio, you can see the passion that runs through the family. One of the daughters enthusiastically guided our small group tour through the winery followed by a tasting of six wines. To add to the experience, we were lucky to share our table with a wine critic who sought out this very winery. It made the experience even more interesting.
Book your tour in advance through their website.
Dine at La Corte Restaurant overlooking Barolo Grand Cru vines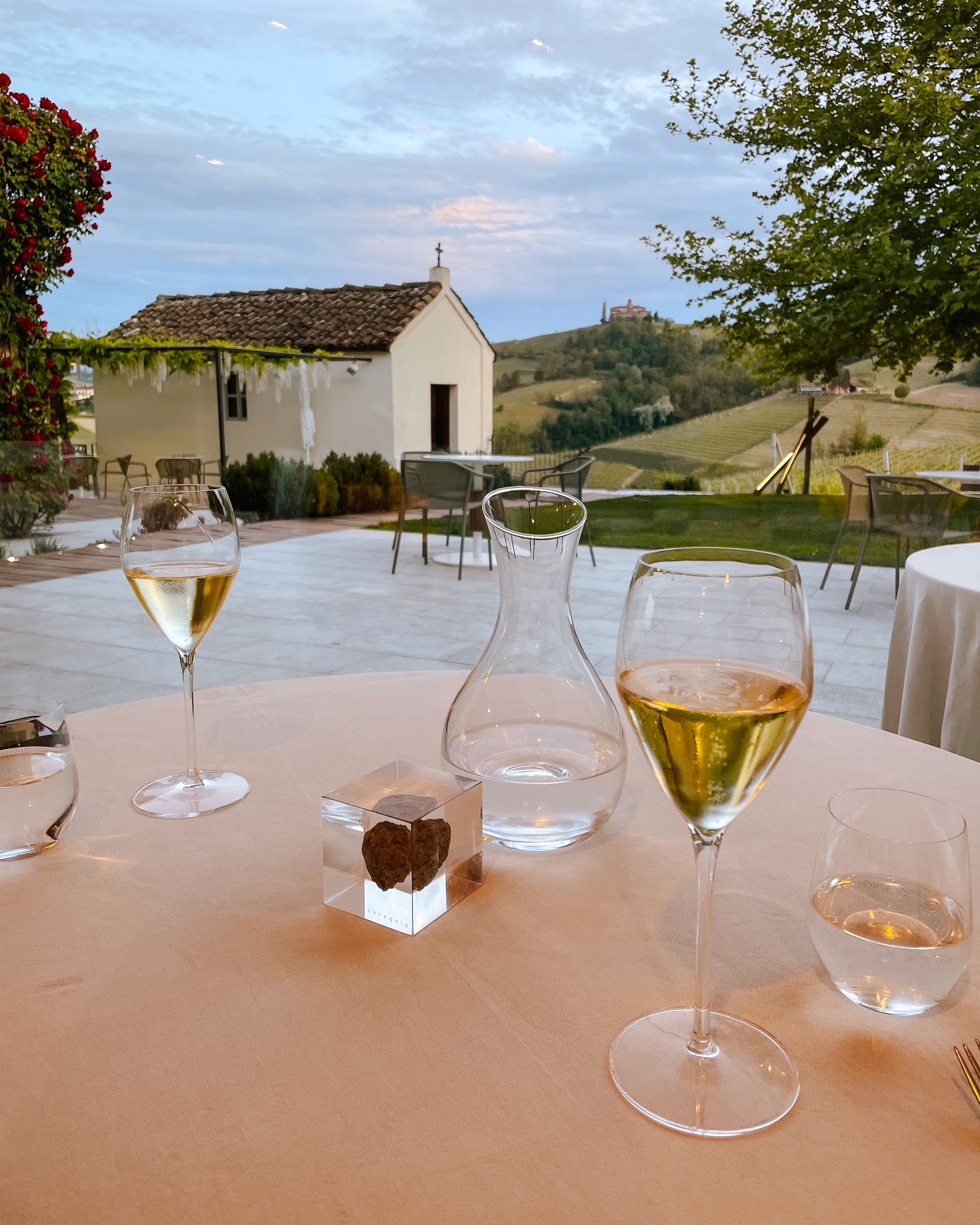 After your lunch and wine tour, unwind back at your hotel until dinner. Switch it up from Barbaresco, and reserve a table at La Corte Restaurant for a romantic dinner right in the middle of a Barolo Grand Cru vineyard. When vines are classified as Grand Cru, this means that they are producing the highest quality of grapes.
Located at Palas Cerequio, an old-manor house turned boutique hotel, the restaurant feels intimate and the setting is just magical! The dishes inspired by the Langhe region are delightful.
Top Tip: stop at the magnificent viewpoint of the vine-covered hills on the small road that takes you down to Palas Cerequio.
Day 3 - Discover the world of Barolo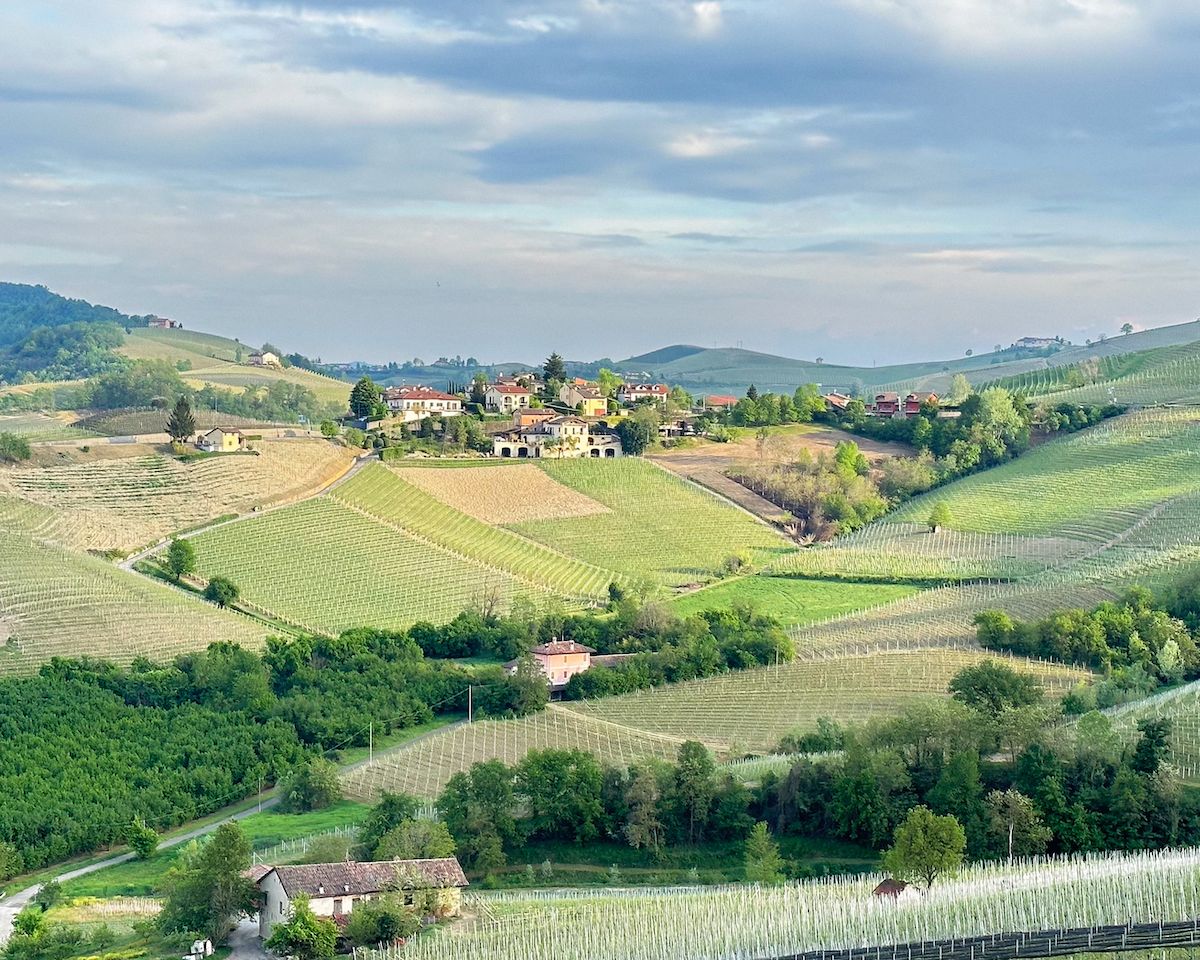 Go for a wine tasting an Ceretto
For your last day, explore Piedmont's most prestigious wine region, Barolo. Like Barbaresco, Barolo is made with 100% nebbiolo grapes, however its terrior and longer aging process make it a different wine all together. Barbaresco is typically softer and ready to drink at a younger age, whereas Barolo is more tannic and has a very long aging potential.
If you thought the aging process was long for Barbaresco, Barolo is aged even longer. It must be aged for at least 38 months with 18 months in oak barrels before going to market.
Another winery that was recommended by the sommelier we met was Ceretto. This winery is larger and more commerical, however its architecture and tours are fanastic. It was also named the #29 best winery in the world in 2023. They make some of the best Barolo wines you can find. Famous wine critic, Robert Parker, has rated many of these wines in the 95+ range!
Ceretto is popular, so reserve your tasting far in advance.
We had a Barolo tasting at another popular winery, however it just didn't compare to Ceretto. Ceretto is definitely worth the splurge.
🍷 Top Wine Tasting Tip: If budget allows, we highly recommend doing Ceretto's vertical tasting, where you taste the same wine from the same plot, but from different vintages (years the grapes were harvested). This experience allows you to taste how the weather impacts a vintage and how age evolves the wine over time. A unique way to learn more about wine!
Walk through the medieval hilltop village, La Morra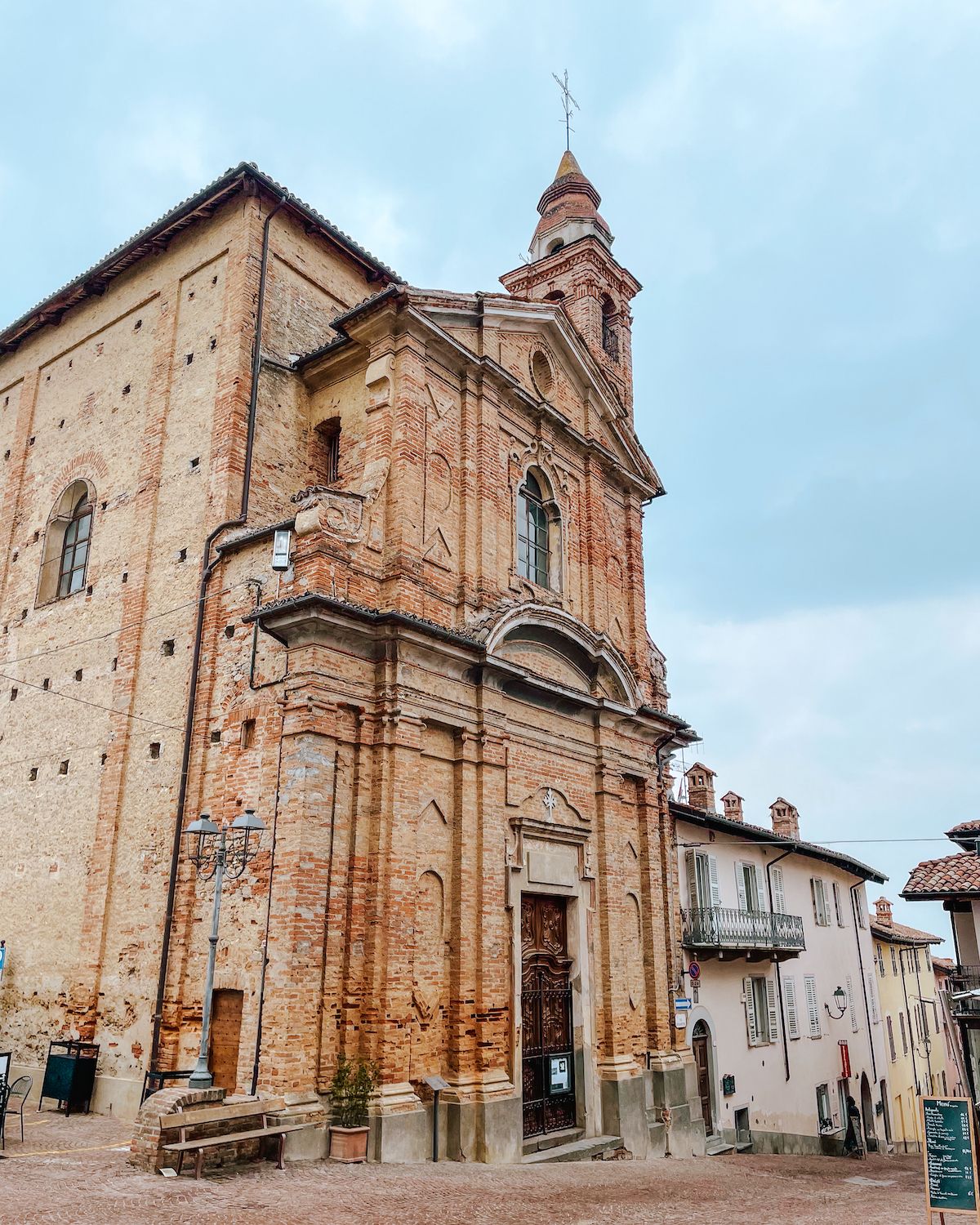 After your wine tasting, drive to La Morra, a medieval hilltop village overlooking the Barolo wine region. La Morra was more charming than the village of Barolo in our opinion.
There is a charming loop you can walk that takes you past historic buildings, a panoramic viewpoint, wine cooperatives and wine bars: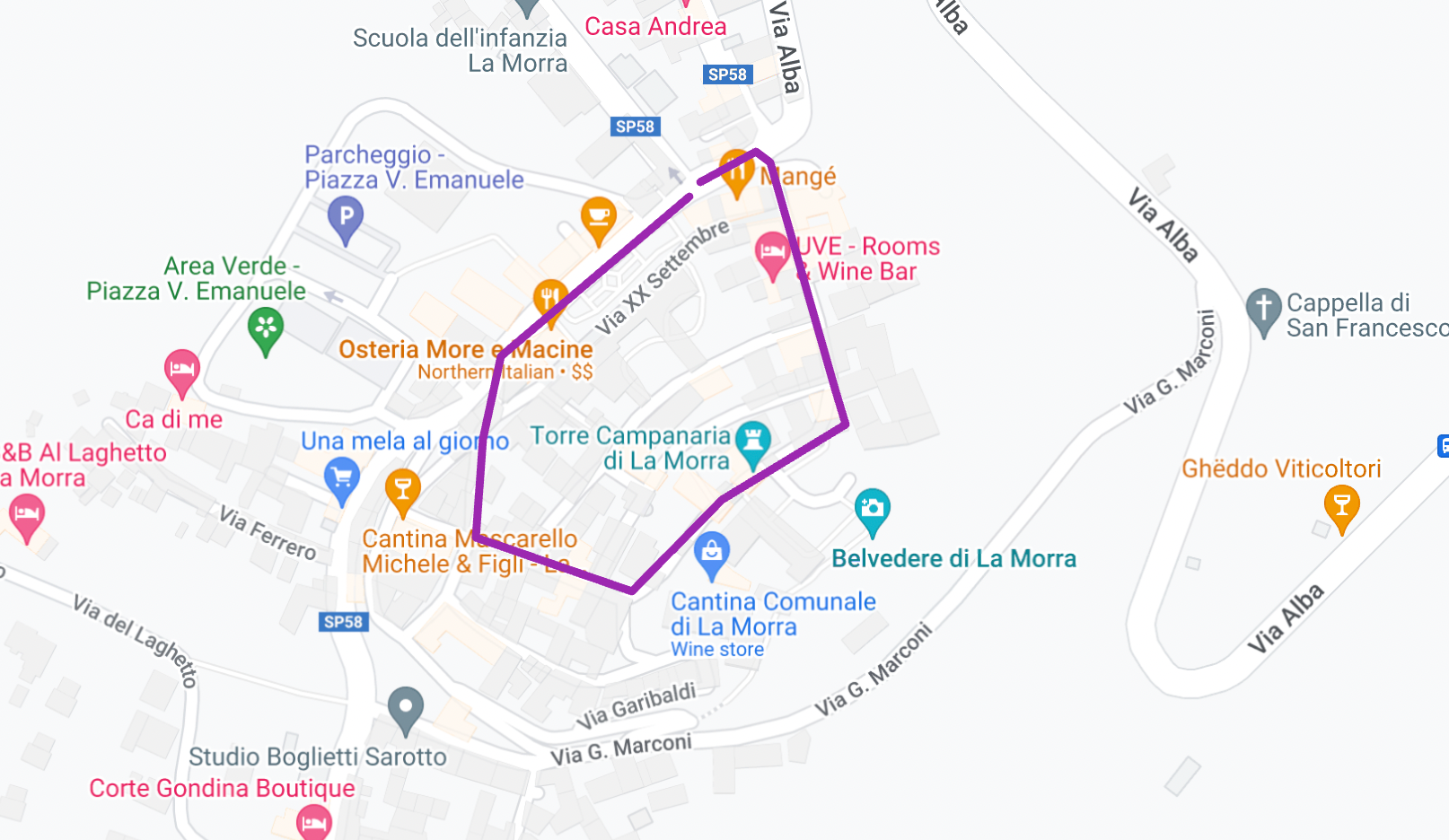 👀 First walk up to Belvedere di La Morra to see a panoramic view of the region.
🍷 Next pop into Cantina Comunale di La Morra to try different wines from the region. How it works is that the cooperative has 8 wines available to choose from for a reasonable tasting fee. It's a great way to try different wines you didn't get the chance to try yet. They also have many bottles you can purchase.
🥂 Afterwards stop in at Vineria Sociale for bites and a glass of wine. They list their wines of the day on a blackboard. We saw more of a young, local crowd here sipping wine among friends. We enjoyed the alternative tunes that played in the background.  
Walk through Barolo village and treat yourself to Neapolitan-style pizza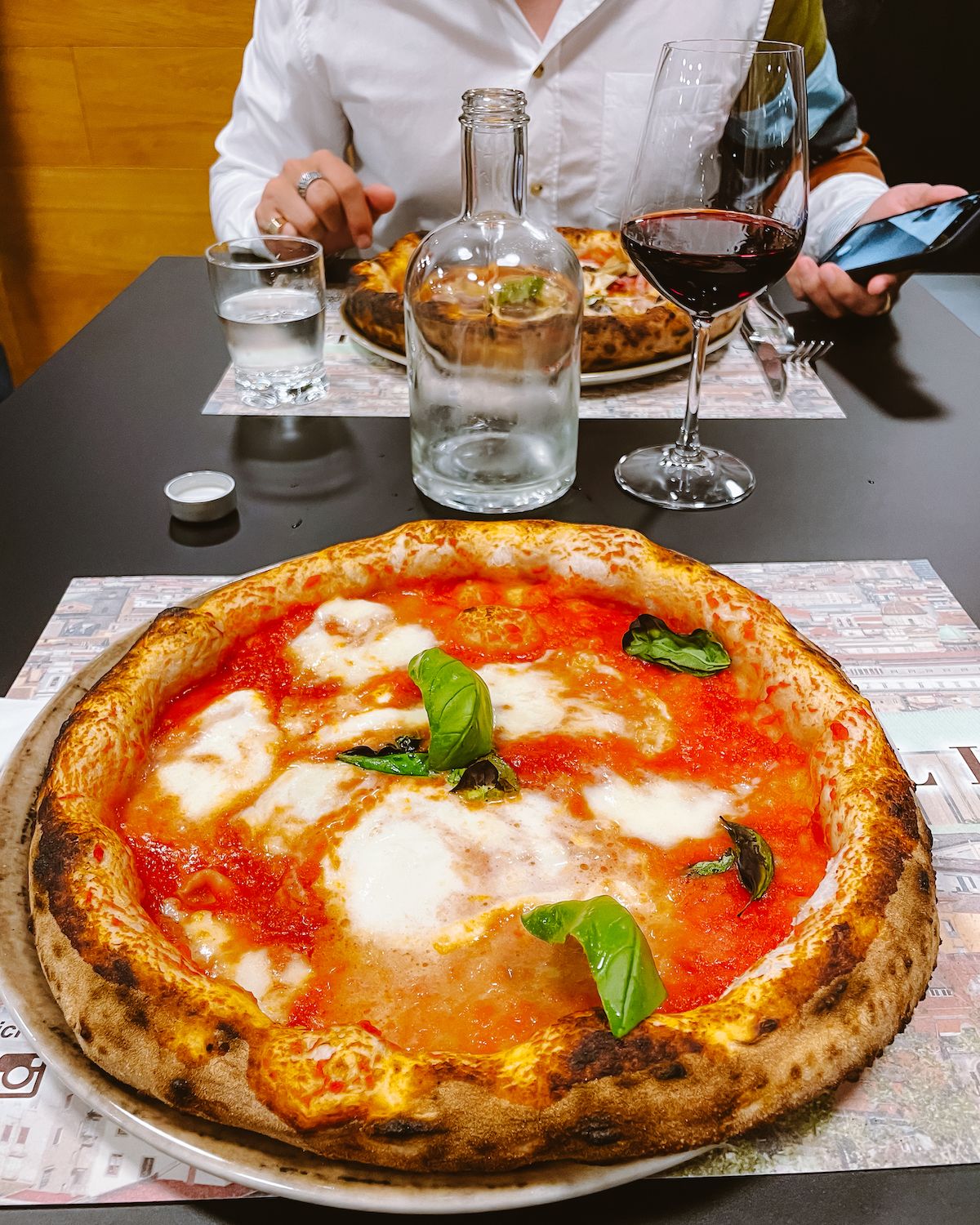 Ari's a pizza fanatic and he has a nose for the best pizza spots. When we were in the village of Barolo, Ari spotted Pizzeria Rosticceria Spacca Napoli. They were booked solid for the evening, but told us to try coming back at 9:30pm as a walk-in. It was worth the rainy evening wait, because as soon as we took the first bite of authentic neopolitan-style pizza Ari said, "I could die happy right here!"
The contemporary space has a fun atmosphere and is a great value for dinner. Reserve your table by giving them call.
6 helpful things to know before your trip to Piedmont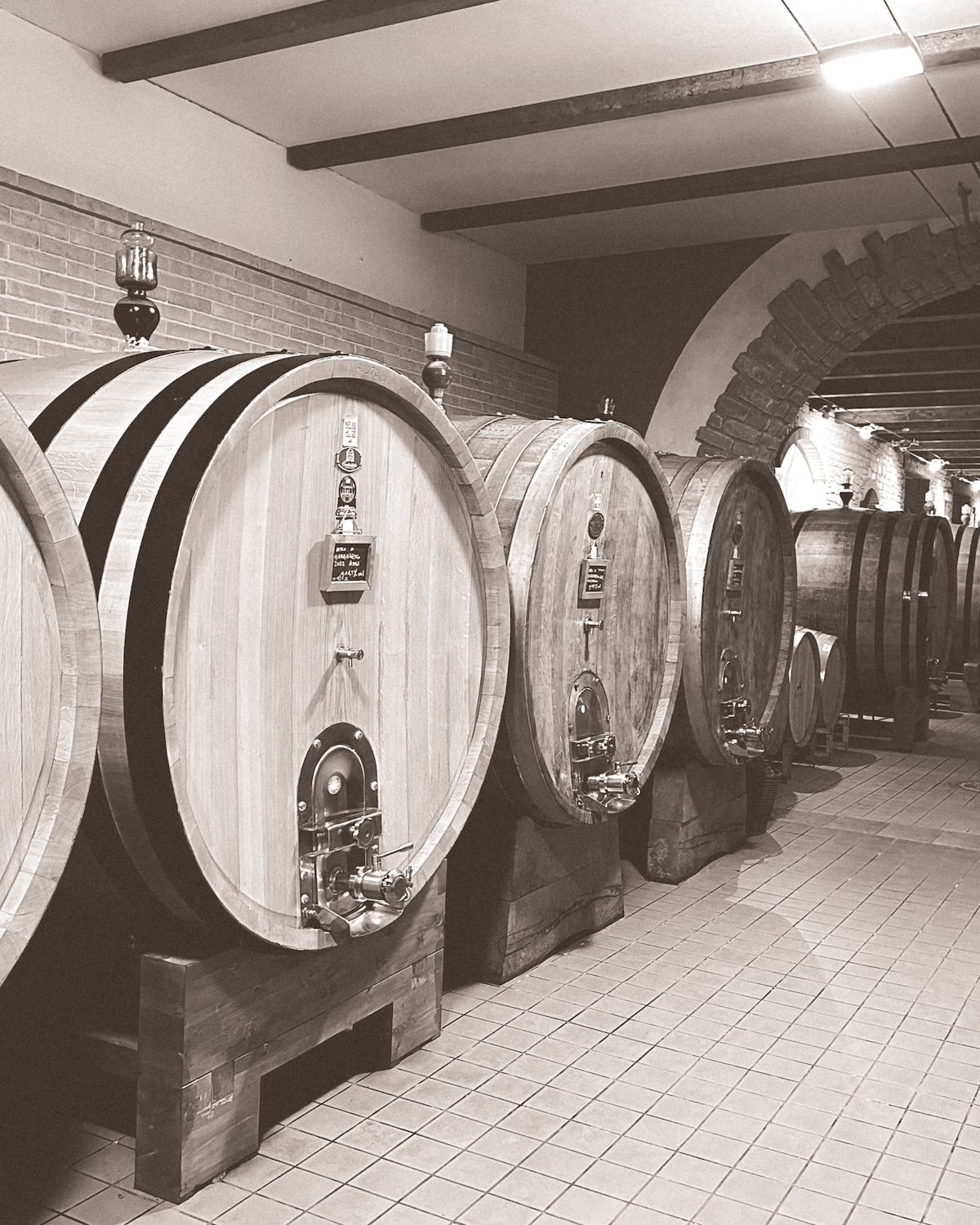 1. Although this wine region is under the radar, it doesn't mean it's cheap. Barolo and Barbaresco tours with tastings at wineries are typically around 25 €-60 € per person depending on how many wines you taste and how distinguished the winery is.
2. There is a cheaper way to try wines in Piedmont - go to a cooperative/cantina in one of the villages, like Cantina Comunale di La Morra.
3. Book your wine tours in advance at wineries. Unlike some wine regions where you can just show up, in Piedmont you need to make a reservation.
4. Our cost savings hack for lunch: go to a grocery market and buy meat, cheese, fresh vegetables and buns to make sandwiches. Enjoy as a picnic or back at your hotel overlooking the surroundings.
5. Restaurants are typically open for lunch from 12:30pm-2 pm for lunch and open again at 7:30pm for dinner. We found out the hard way when we were trying to find a place to eat for lunch at 2:30pm. Book your restaurant reservations in advance to avoid disappointment. Michelin has a great guide for the best restaurants in the area.
6. Try a vertical tasting. It's a really unique way to taste how the weather of the year impacts a bottle of wine.
Enjoy your 3 days in Piedmont!
---
Start booking your trip to Piedmont, Italy
---
Don't miss our other Italy guides with wine experiences:
---
Save and pin this 3 day Piedmont Itienrary for later: