After visiting Camogli, a nearby seaside village that mainly attracts locals, we weren't sure if we were going to like Portofino. Portofino in contrast, is a ritzy retreat that lures international travellers and the rich and famous on their yachts.
When we arrived however, it was the postcard-perfect village of our Italian Riviera dreams. It may not have the authentic local feel that Camogli has, but its captivating beauty and glamorous atmosphere make it exciting.
It was a place that was fun to just feel like tourists for the day, sitting along the harbour front eating pasta, sipping spritzes and people-watching.
Our travel guide covers how to spend one day in Portofino, including the best way to get there, where to stay, the best things to do, a one day itinerary and our top 5 tips.
Outline: One Day in Portofino, Italy
Morning: Swim and relax at a sheltered cove framed by cliffs.

Daytime: Enjoy a leisurely lunch along the harbour front, walk up to a viewpoint overlooking Portofino, explore the village and shop the boutiques.

Evening: Have an aperitivo along the harbour front and people-watch.
Disclosure: Some of the links below are affiliate links, meaning at no additional cost to you, we will earn a commission if you click through and make a purchase. We only recommend products or services we have used or that we believe will add value to our readers. Thank you for supporting us!
Best time to visit Portofino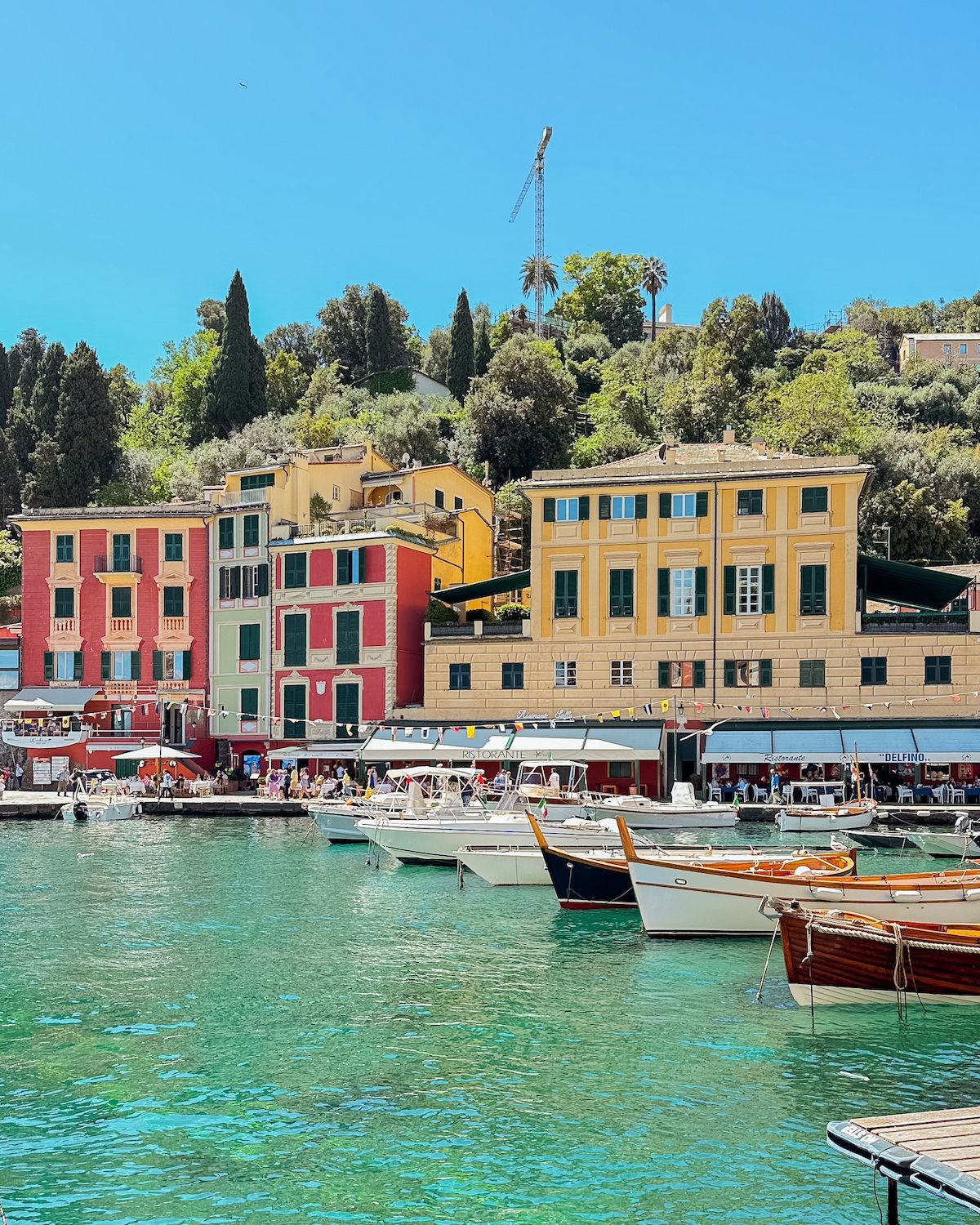 The best time to visit Portofino is between May - September for a few reasons:
These are the warmest months with highs ranging from 18 - 27 °C. This is perfect for enjoying outdoor dining at restaurants.
These months have the lowest average of rainy days. October - January see the highest average of rainy days.
Everything is open! During winter months some restaurants and shops close.
We travelled at the very beginning of May and had perfect weather.
Is one day enough for Portofino?
Portofino is tiny and can definitely be done as a day trip. It's also very expensive, so limiting yourself to one day will help with the budget. If you're up for splurging on a stay in Portofino however, we recommend staying for two days so you can use the amenities and relax.
Where to stay in Portofino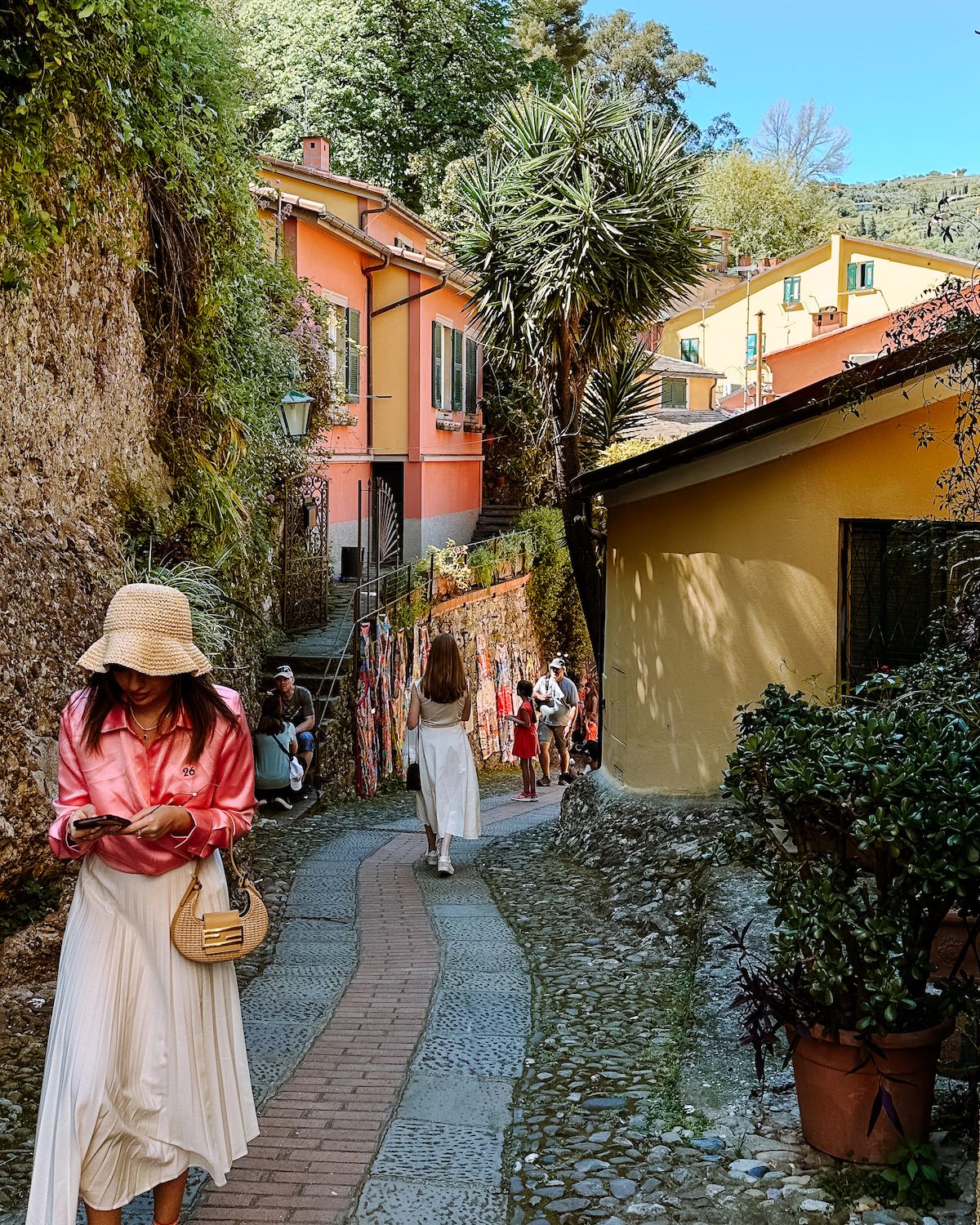 When looking for accommodation you can either splurge on a stay in Portofino or stay in a nearby village for way cheaper rates.
Our top Portofino picks for a glamorous getaway
Olives Bay Terrace in Portofino - this chic one-bedroom house has a private terrace and village views. For Portofino, this place is a great value.
Fully Loaded Experience 🥔✨: Belmond Spendido & Belmond Mare - these sister hotels are verrry expensive, but are the top of the top if you're looking to splurge. Belmond Mare is a 1950s-inspired hotel located right on the harbour, whereas Belmond Splendido is located up the hill in a former 16th-century monastery. Rates change significantly based on the time of year.
🛏️ See more stays in Portofino
Our top budget tip for accommodation
Rather than staying in Portofino, stay in the seaside village of Camogli.
It has a charm of its own and Portofino can easily be visited as a day trip.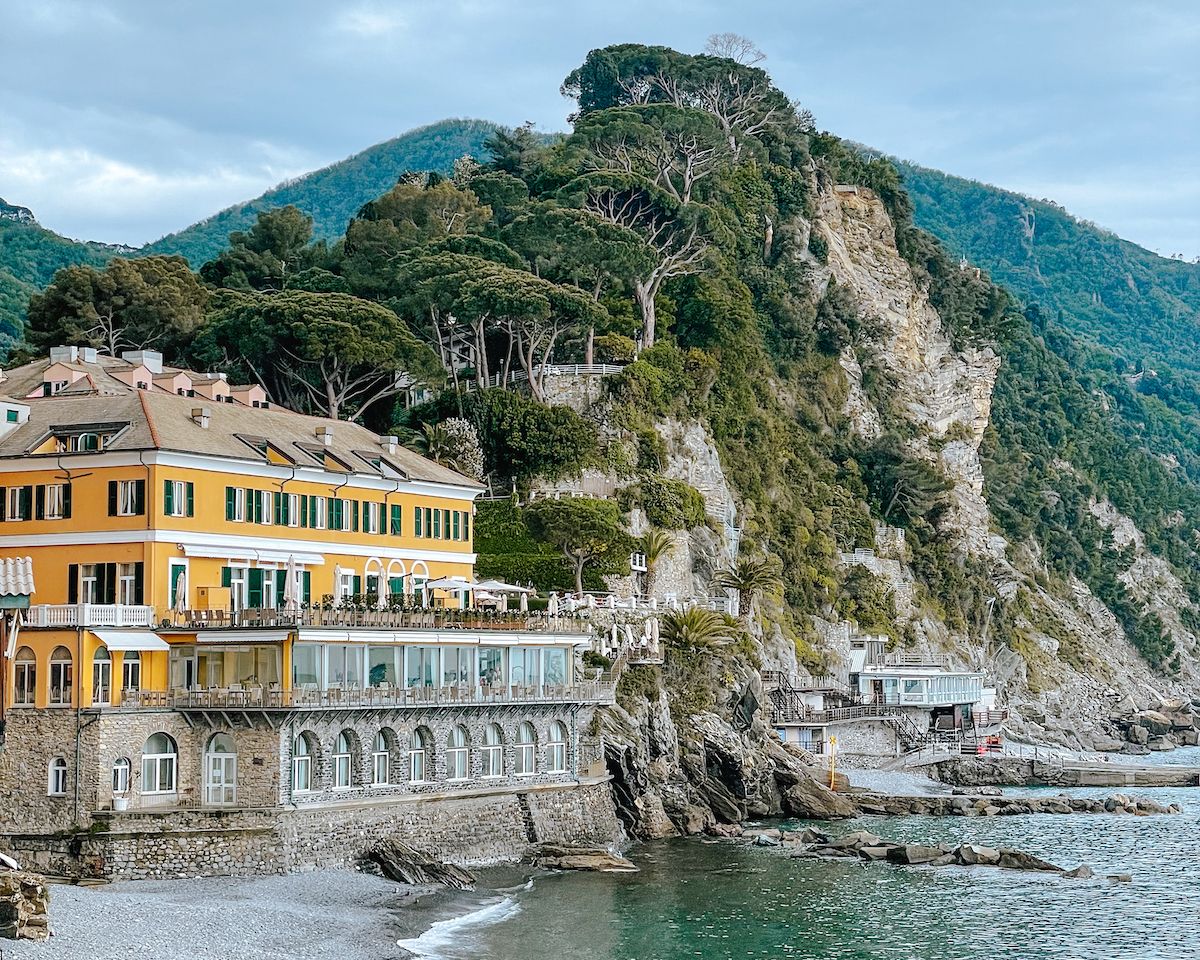 We stayed at Hotel Cenobio Dei Dogi,
which was named one of the 24 Best Beachfront Hotels in Europe by Conde Nast. The seafront hotel even has its own private beach.
🛏️ Browse more stays in Camogli
What to do in Portofino in one day
1. Walk up to Saint George's Castle for a viewpoint of the harbour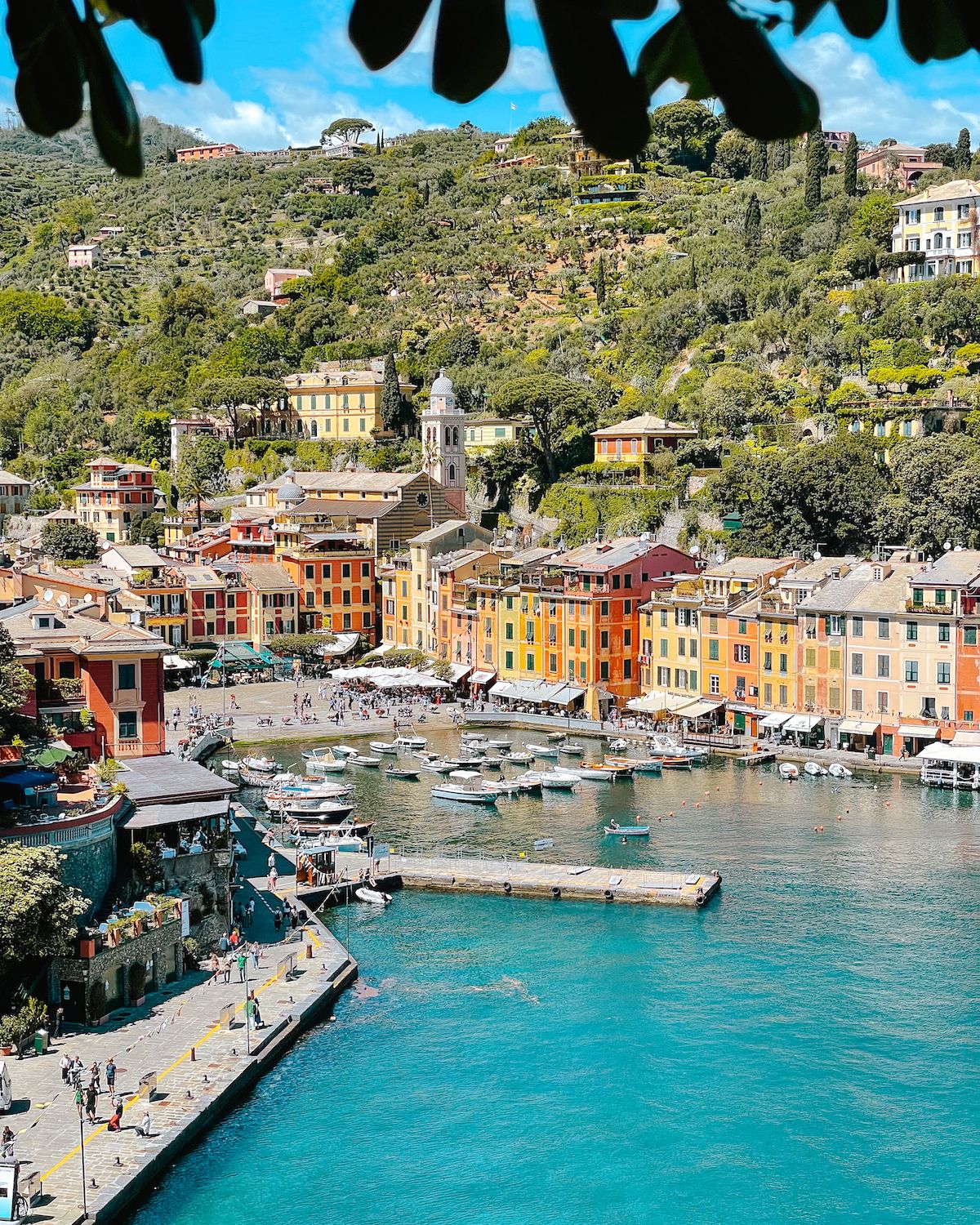 From the harbour front, it's just a 5-minute walk uphill (22 m ascent) to reach St. George's Castle for gorgeous views overlooking Portofino. Just search St. George's Castle Von Mumm on Google Maps for walking directions.
2. Have a leisurely lunch at a restaurant along the harbour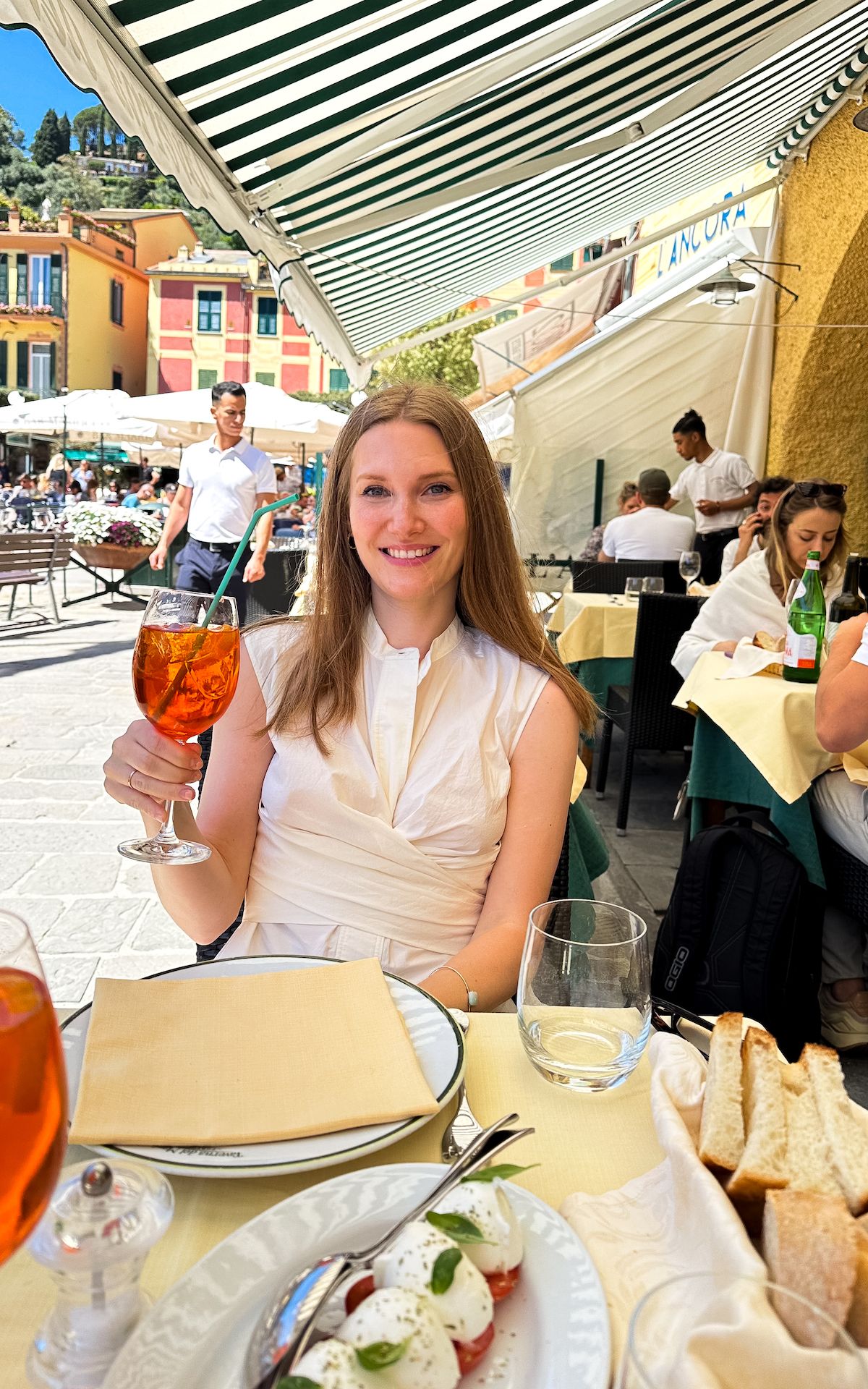 Our favourite thing we did was eat lunch along the harbour. Portofino isn't the kind of place where you're going to find tucked-away restaurants with locals. It's a destination where you want to choose one of those "touristy" restaurants right on the harbour front for excellent views and people-watching.
It was hard to pick what restaurant to eat at because we were scared of tourist trap quality meals and didn't want to pay extravagant prices for the ones listed in the Michelin Guide.
The restaurant that stood out for us was Taverna Del Marinaio. It had fair prices for its location and we loved its green-striped decor with yellow tablecloths. Our meal there was great! Apparently Taverna Del Marinaio and Restaurant Puny are two classics and celeb favourites.
✔️ Top tip: most restaurants are open from 12:30pm - 2:00pm for lunch, so plan accordingly.
3. Explore the village and shop the boutiques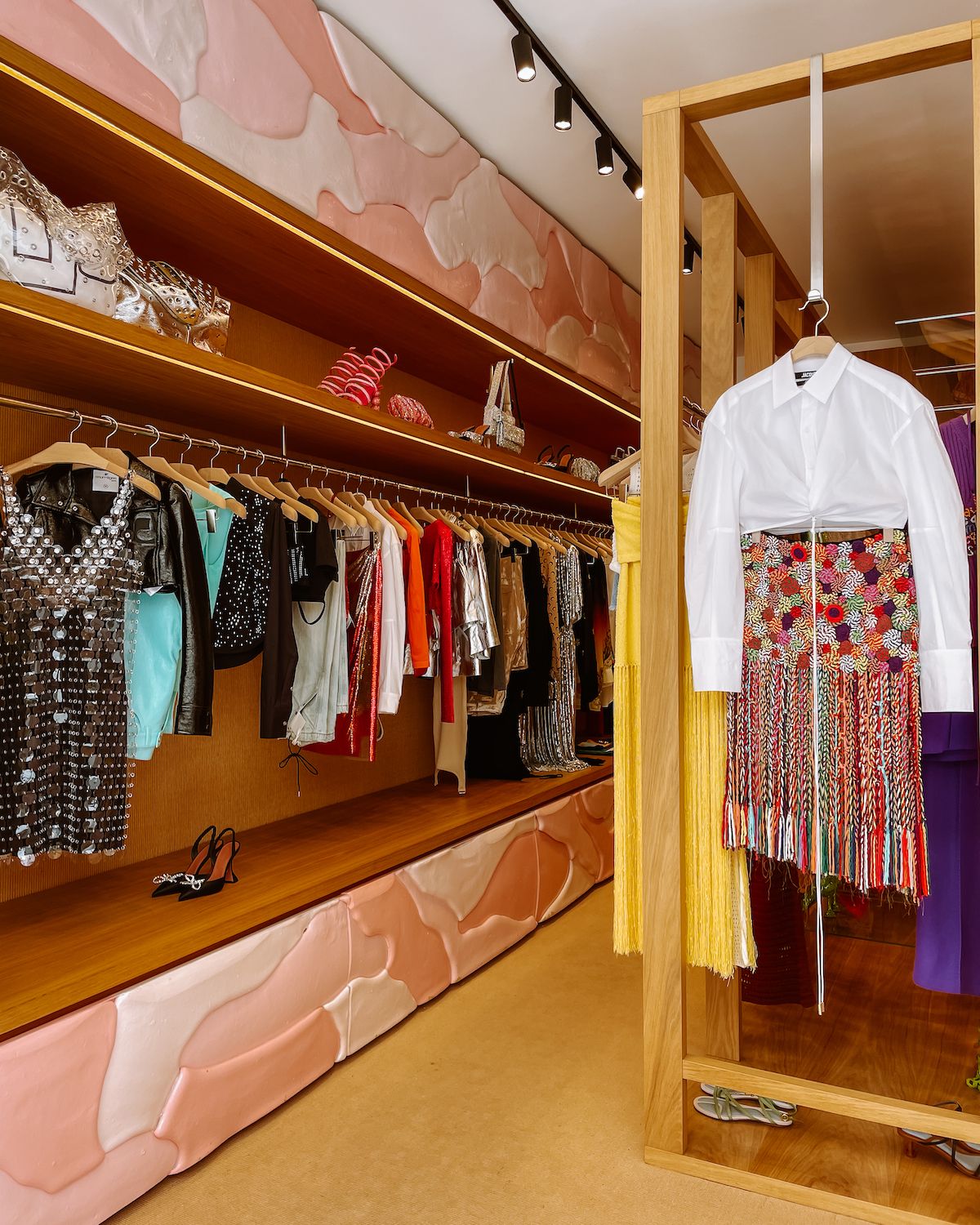 Portofino is a mecca for luxury boutiques. In the tiny village, you will find plenty of high-end brands like Balenciaga and Dior, as well as boutiques that curate a variety of high-fashion brands. I was in awe of the pieces at Modes Donna - they were all current items and trends you would see on runways.
What surprised us was that off the main strip, there were cute shops selling items at great prices. I bought a chic colourful sarong for only 10 € from a shop along Salita S. Giorgo Street.
4. Swim at Baia Cannone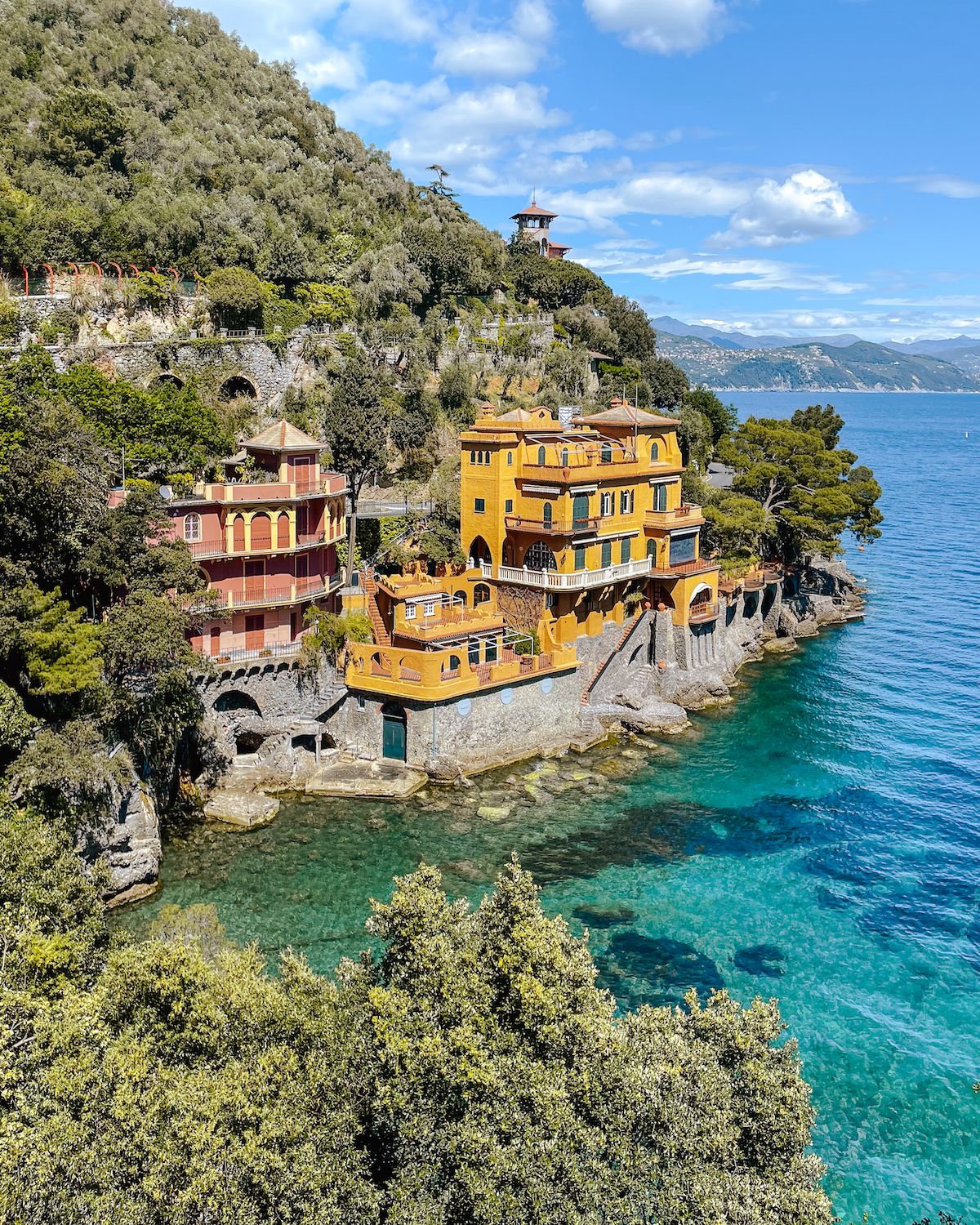 While Portofino itself doesn't have any beaches, there is a sheltered cove nearby framed by cliffs that is perfect for a swim. Called Baia Cannone, its crystal-clear waters are best visited early in the day when the sun hits the rocky beach. The best part is that you can walk there from the village in about 10 minutes.
How to get to Baia Cannone from Portofino village
Take the pedestrian path that's located above the busy road towards Hotel Piccolo Portofino.
Once you reach Hotel Piccolo Portofino, you will have to backtrack about 60 meters south on the road until you reach the staircase that brings you down to the beach. You'll see a brown sign that says Spiaggia Libera Public Beach.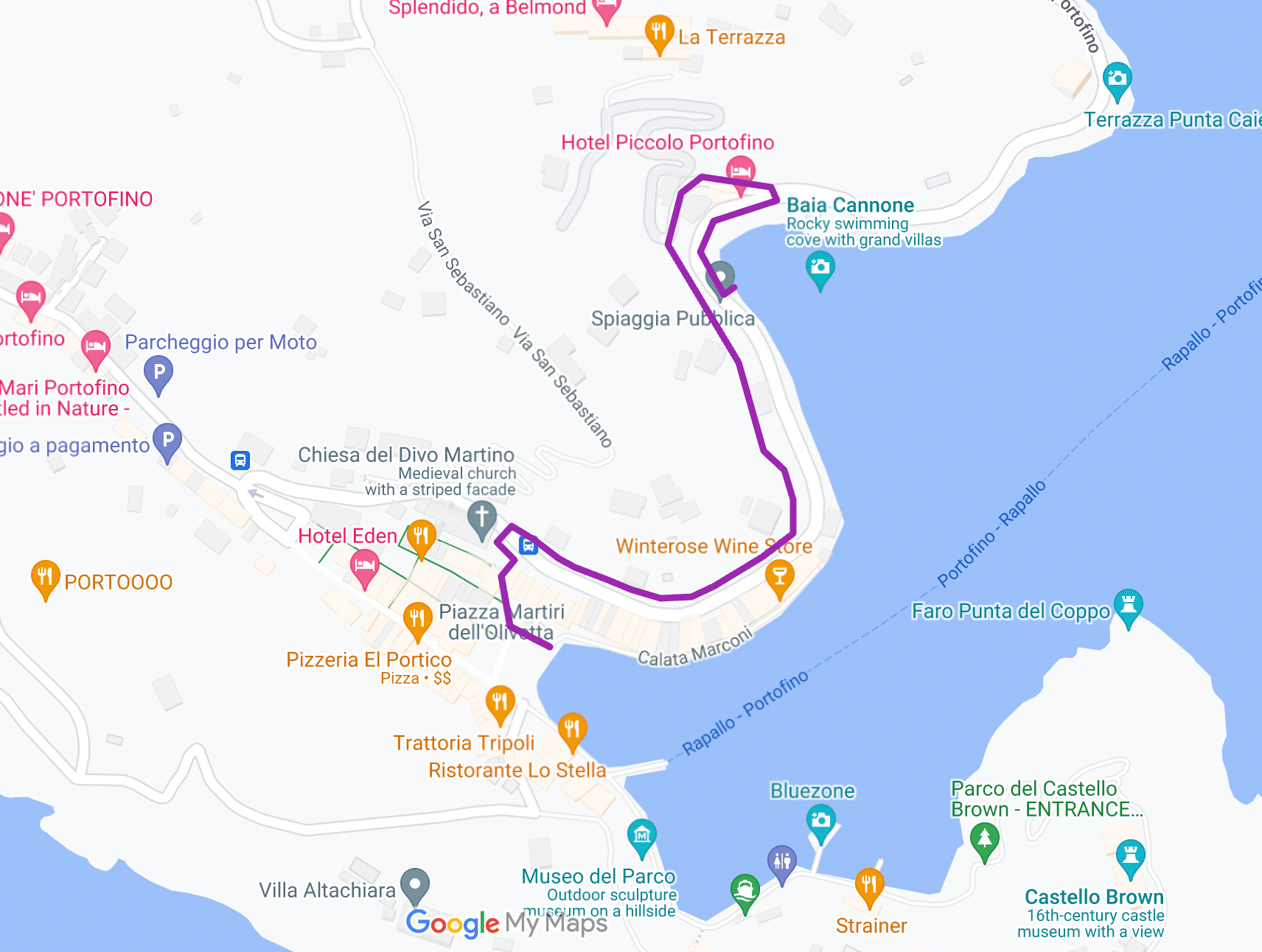 Don't forget to bring a beach blanket, towel and swimsuit!
5. Have an aperitivo along the harbour front and people-watch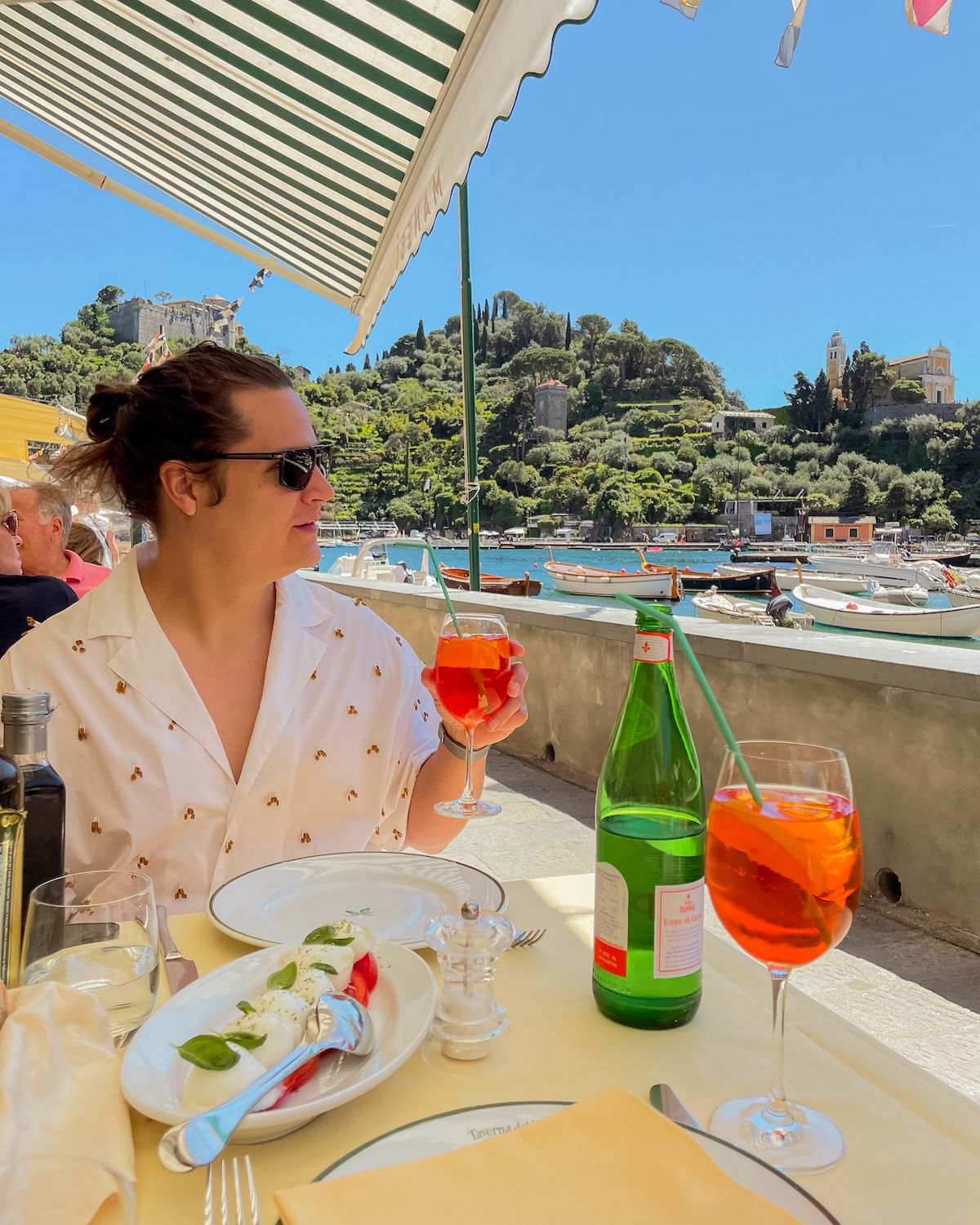 After exploring and shopping in the village, take another break along the harbour front and order some spritzes. Make sure you check the menu for prices because they can vary significantly. We saw Aperol Spritzes range from 10 € - 20 €.
6. Get out on the water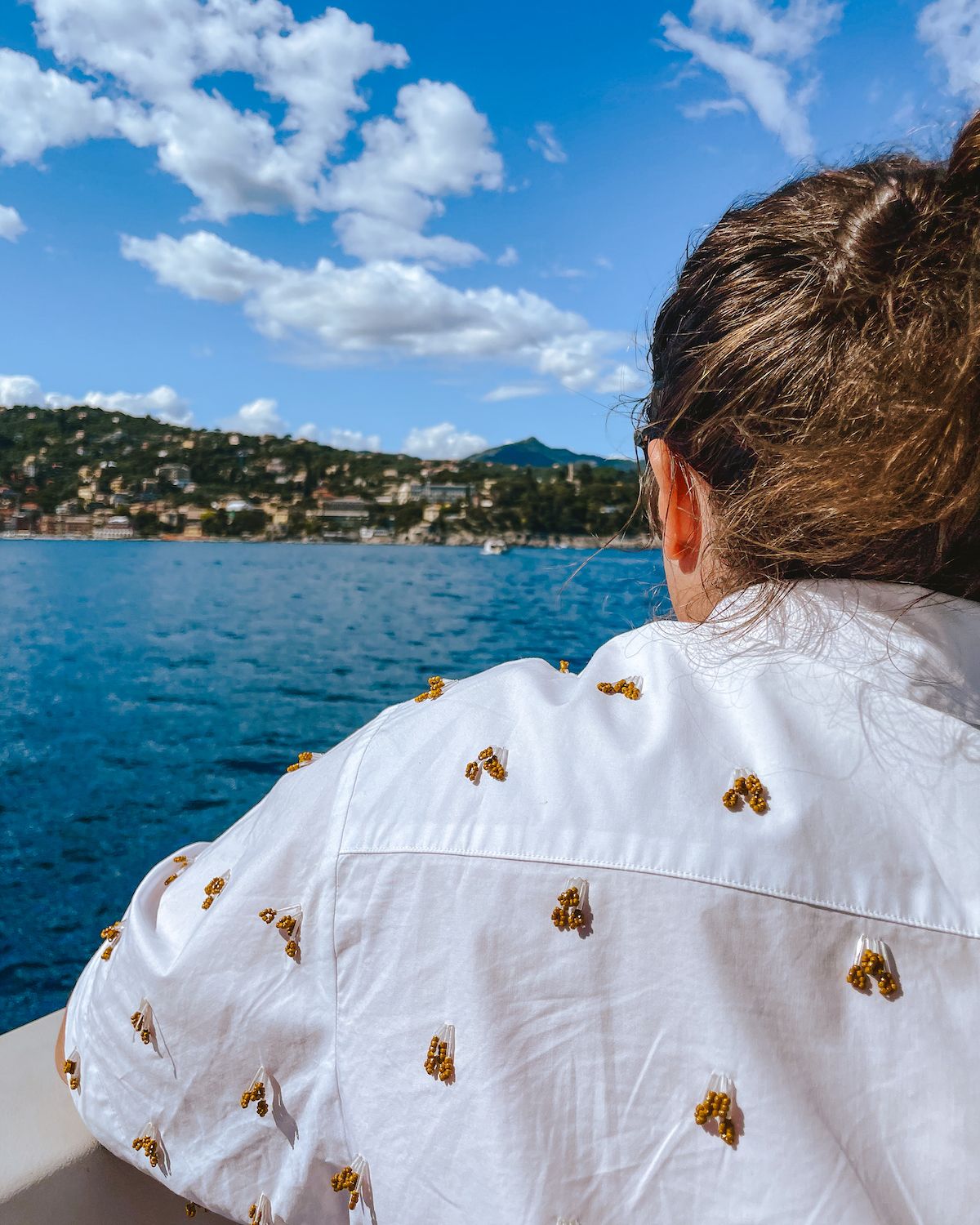 If you love to be out on the water, check out these three highly-rated guided tours in Portofino:
1 Day Portofino Itinerary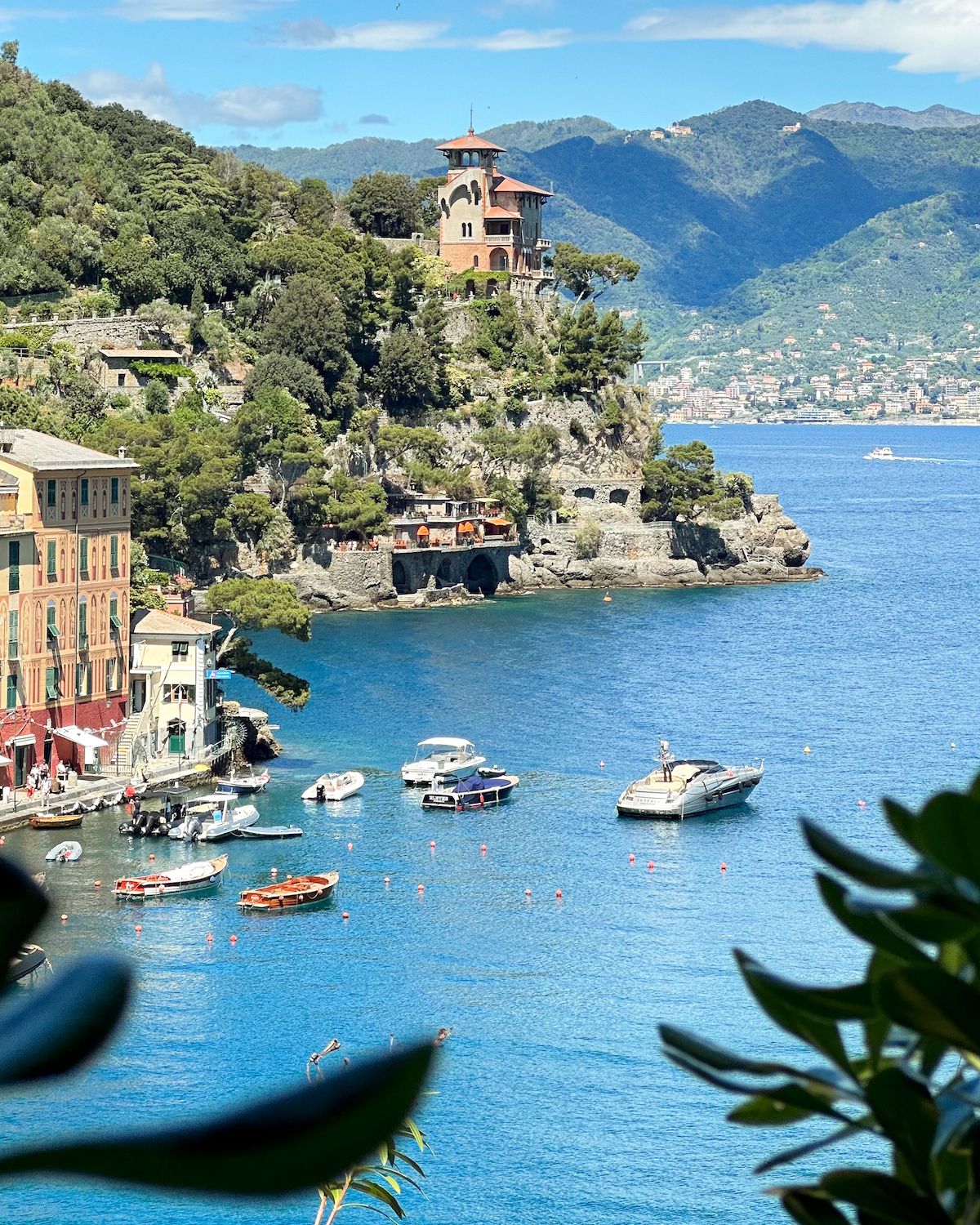 Morning
Daytime
→ Eat lunch along the harbour front - we recommend Taverna Del Marinaio
→ Walk up to Saint George's Castle for a gorgeous view overlooking Portofino
→ Explore the village and shop the boutiques - walk along Salita S. Giorgo Street to find vendors and independent shops
Evening
→ Have an aperitivo along the harbour front and people-watch
→ Optional: go on a sunset boat tour
How to get to Portofino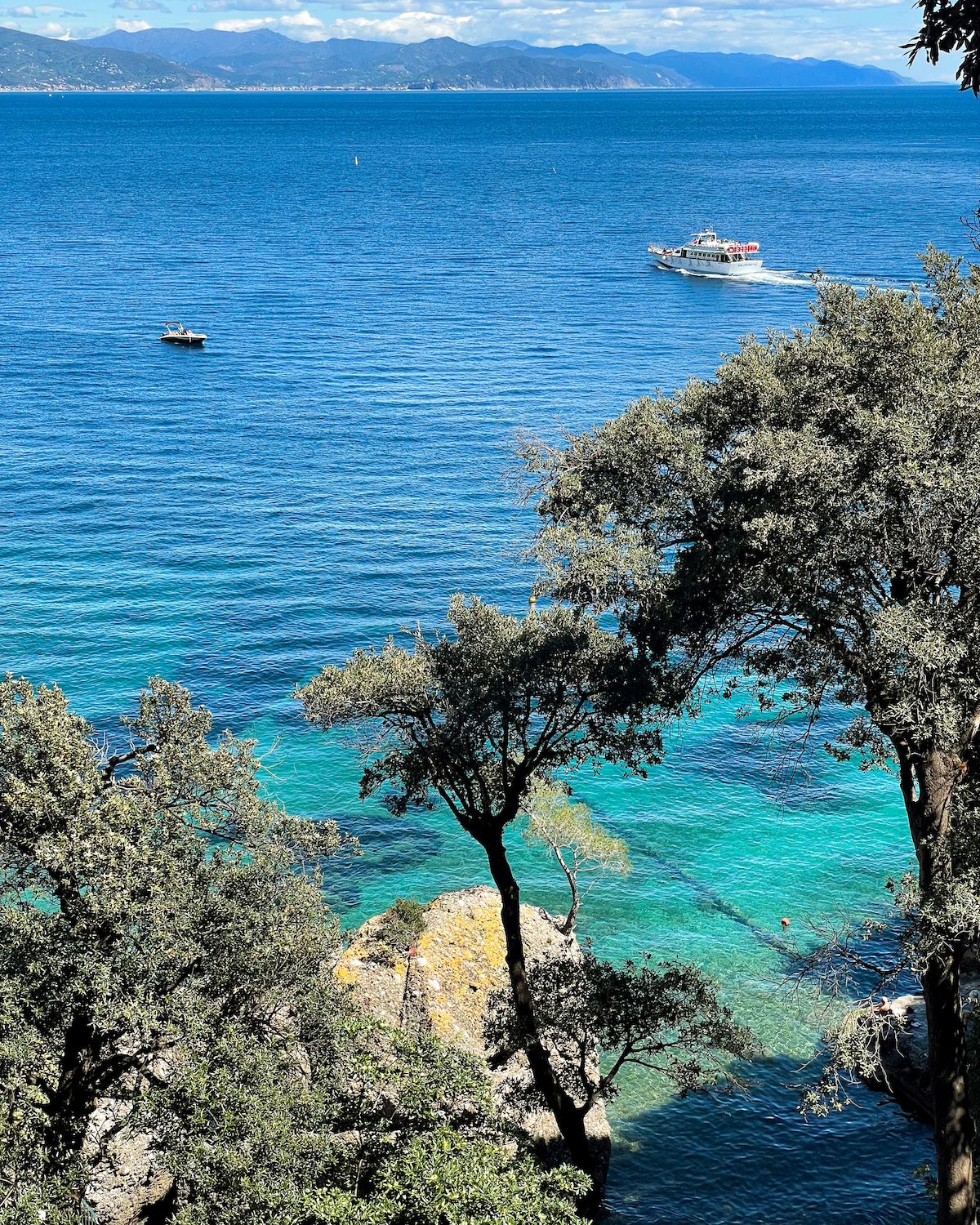 The best way to get to Portofino is by taking the train to Santa Margarita Ligure and then either taking the bus or passenger ferry to Portofino. The bus stop is right beside the train station and takes 17 minutes to get to Portofino (Bus 782). We were able to pay with our credit card on the bus (3 €). If you would rather take the 15-minute passenger ferry, it takes about 8 minutes to walk to the ferry terminal and costs 9 €.
We don't recommend driving there unless you are staying at a hotel and they have parking. Driving is difficult since the village itself is car-free. There is just one winding road that takes you there and the small parking lots fill up fast and are expensive.
Compare train rates:
trip duration ranges from 16 minutes - 1 hour, so plan your time accordingly.
it's just 5 minutes from Camogli to Santa Margarita Ligure.
train times range from 2-3 hours, depending on what one you take.
Our Top 5 Portofino Tips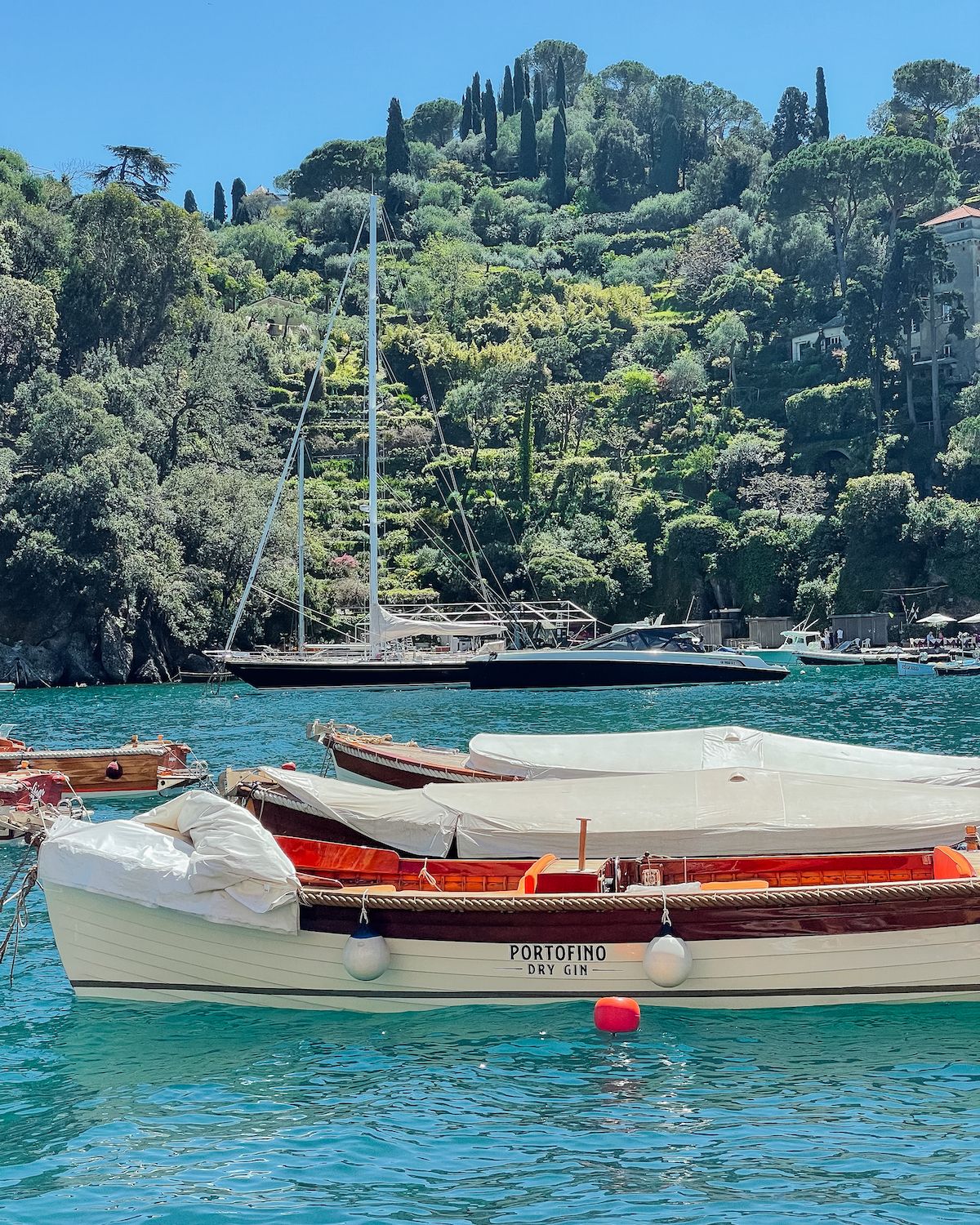 Look at menu prices before you sit down, even if it's just for a drink. We saw Aperol Spritzes range from 10 € to 20 €.
Stay in Camogli instead of Portofino to save considerably on hotels. Camogli is another beautiful seaside village and Portofino can easily be reached as a day trip.
Take the train and bus or ferry to Portofino rather than driving. Parking is scarce and expensive in Portofino. If you take the bus, sit on the lefthand side for the best views on the way there.
Check out train departures in advance, since the duration can vary quite a bit based on the time you leave. For example, from Genoa trains take between 16 minutes to 1 hour. We like to compare rates and times with Trainline.
Take the passenger ferry on the way back for a different scenic route. Sit on the left-hand side outside at the front. It had the best view and we were one of the first to get off.
Enjoy your day in Portofino!
---
Get started on booking your trip to Portofino
---
Portofino is a great destination to combine with Tuscany. See our 3 Day, 4 Day, and 7 Day Florence and Tuscany Itinerary.
Don't miss our other Italy travel guides:
Combine Portofino with a trip to France in our 12 Day Italy and France itinerary.
---
Save and pin this one day Portofino itinerary for later: